Impaq
Category

Advice Column, Education, Home Education, Parenting
Learners in the Foundation Phase (Grade R to 3) should be introduced to reading in a fun and engaging way. And, that's exactly what the Impaq readers do. The books accommodate different levels of reading and allow young learners to join in the adventures of Ben, Lebo and Hanna. The main characters are from different ethnic backgrounds and genders, which ensures that learners relate to one or more of the characters and help them grow with the stories.
The books start with basic sight words to help learners recognise words earlier. Phonics are engraved at the learner's own pace as the readers help learners spend enough time on each phonic before moving onto the next one.
Reading structure
The reading structure is divided into three groups:
Here the learners learn each letter of the alphabet and they learn how to spell words.
This includes words such as this, the, that, etc. These words are written on flashcards and learners practise them daily so that they can easily recognise them while they read.
These are longer words that learners will not learn off by heart and that should be placed where learners can see them every day, i.e. up on the wall so that they will eventually start to recognise the words. Sight words can be used along with the theme of the week, e.g. if the theme of the week is careers, sight words can include firefighter, policeman, nurse, etc.
Learning to read is fun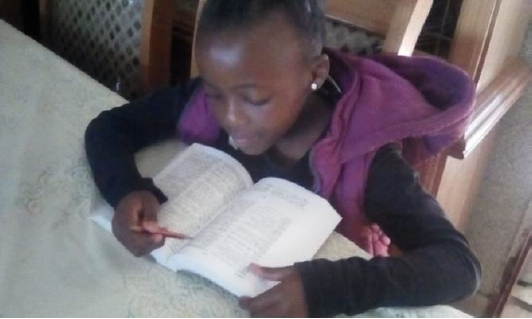 Impaq learner, Sindisiwe Rangaza, attended a rural pre-school and struggled to adjust in Grade 1. She particularly struggled with learning English and Afrikaans. Her mother, Patricia, bought Impaq's reading books to help her daughter develop her reading skills.
"The Impaq books made learning fun and easy," Patricia says. Sindisiwe has since developed a love for reading and writing and is doing well in learning to speak English and Afrikaans. Before buying the Impaq readers Patricia struggled to keep Sindisiwe busy during the school holidays but, as you can see in the photo below, she is now reading up a storm.
The Impaq readers are unique:
Broadens the learners' vocabulary.
Teaches learners how to read longer sentences and develops peripheral view.
Consists of 12 phases that stretch from Grade 1 to 3.
Can be used independently or as part of an integrated language or phonics programme.
Learners are taught to think, talk and become familiar with basic language rules while exercising their knowledge of English/Afrikaans.
The Impaq readers are aligned with the CAPS curriculum.
As learners progress through the phases, they will follow Ben, Lebo and Hanna and experience thrilling adventures. Click here to learn more about the Impaq readers or to order yours online.