Child's Farm
Category

Advice Column, Baby, Parenting, Pregnancy & Baby
Everything we make is tested and trialled to ensure it's safe for your little ones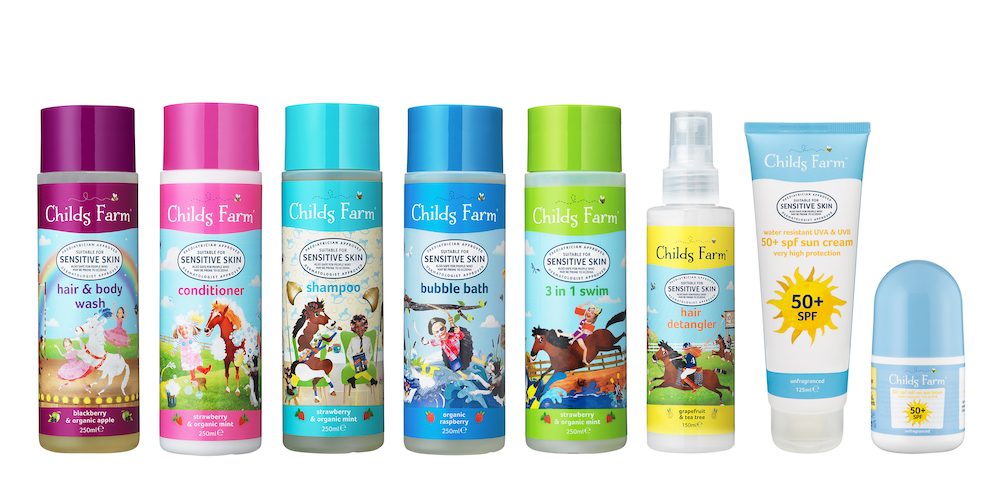 No parent wants to see their child suffer from Eczema and sensitive skin conditions. We started Childs Farm because we wanted to make natural and fun toiletries that cared for the unique needs of young skin and hair; our products are suitable for sensitive skin and safe for people who may be prone to eczema.
When your child has sensitive skin, you need extra reassurance, so all Childs Farm products undergo clinical tests and controlled user trials. As parents ourselves, we want to be sure that the claims we make on our packaging can be trusted 100%.
So, when we tell you that our products are dermatologically tested and approved, and paediatrician-approved as suitable for newborns and upwards – even those who may be prone to eczema – you can rest assured that we've jumped through hoop after hoop to make these claims.
Designing products for babies and children
When our founder, Joanna, is thinking about a new product, she works her way through a giant box of essential oils for sensory inspiration. That's how we chose the gorgeous scents for our Organic Sweet Orange Hair & Body Wash, Strawberry & Organic Mint Shampoo and Grapefruit & Organic Tea Tree Moisturiser. But just because something smells nice, it doesn't mean it's safe to use on young skin. So a huge amount of research goes into every choice we make for an essential oil (not all our products use essential oils – some use extracts).
Once we've chosen an essential oil and matched it with a base product, we then start stability testing, a robust process that all our products go through for three months. This involves stress-testing our products at various temperatures to show that they can tolerate temperature changes, are stable and will last. If the product passes stability testing, it's ready for a clinical test.
Clinical tests for peace of mind
A clinical test is a managed and controlled test procedure carried out by an international medical research company, so that all results are universally recognised. Over 96 hours, a group of men and women with medically diagnosed eczema do a patch test.
The researchers put a sample of product onto a medical disc, stick it on each participant with medical tape and leave it undisturbed for 23 hours. This is then removed and the participant's skin is reviewed for an hour, recording any reaction or redness. Researchers reapply the product multiple times over 96 hours and if there's no irritation during that time, it's good to go.
Getting the docs' approval
The results of this research are then examined by a dermatologist and a paediatrician. If both these doctors believe they substantiate the claims for which they've been tested, they confirm their approval by signing all claim documents. At Childs Farm, these claims are:
✓ dermatologically approved
✓ dermatologically tested
✓ clinically tested
✓ suitable for people who may be prone to eczema
✓ paediatrician-approved
✓ suitable for newborns
✓ kind to skin
✓ mild for skin
✓ safe for skin
What parents think
In addition to our clinical tests, we also conduct user trials, which allow us to try out our products on groups of babies and children. This means we can give you, our customers feedback from real parents – including those whose children have sensitive skin and medically diagnosed eczema.
At least 100 parents are given a bottle of one of our products, and asked to use it for a week as part of their baby or child's normal bathing routine. They then thoroughly review the product; our medical research team uses these reviews to write up the trial results. We're dedicated to this rigorous product-development process and we hope the care we put in means you can relax and enjoy bath time with your children even more.
Childs Farm products are available at Baby City stores nationwide, selected Clicks, Dis- Chem, Pick 'n Pay, selected Checkers stores as well as takealot.com, loot.co.za and www.babiesafrica.com.
*RRP is at the sole discretion of the retailer.