Philips Avent
Category

Advice Column, Baby, Parenting, Pregnancy & Baby
If you're picturing a mini flood when you introduce your baby to a sippy cup, think again. Here are some of the things all parents worry about when it comes to introducing a sippy cup, and the safeguards Philips AVENT have put in place to make sure it all goes smoothly.
You're probably wishing you'd bought a darker couch to hide those baby spills.
Philips AVENT's fix: Okay, so baby spills can happen, but there's no need to worry with Philips AVENT's sippy cups. Every cup has a leak-proof design to help save your couch from even the messiest drinker.
You may also be wondering how to make the big jump from bottle to cup.
Philips AVENT's fix: Generally, babies, take around 15 months to complete the transition from bottle to cup, beginning at around 4 months, however, every baby learns at their own pace. Learning new skills can be overwhelming at first, so Philips AVENT has broken the process down for your little one. First, teach your baby to drink with handles using the sippy cup trainer. Then, when your baby is starting on solids, you can help them learn a new skill: drinking from a spout. A spout requires a bit more finesse than a nipple to draw out liquid. It also supports your baby's transition from a suckling to a sucking drinking motion, which typically happens around the 6-month mark. To support those first sips, Philips AVENT created a soft spout that's flexible and soft on gums. When your little one starts using their teeth more you can switch to a hard, bite-resistant spout.
You might be just a little worried that you'll lose cups at the same rate you lose baby socks.
Philips AVENT's fix: Things have a way of getting left behind, dropped and discarded when they're in the hands of your little one. Philips AVENT gets it, so they designed their sippy cups with rippled edges and handles, making them easy for your little one to carry when they're on the go. <image001.png>
'My Penguin' Premium Cup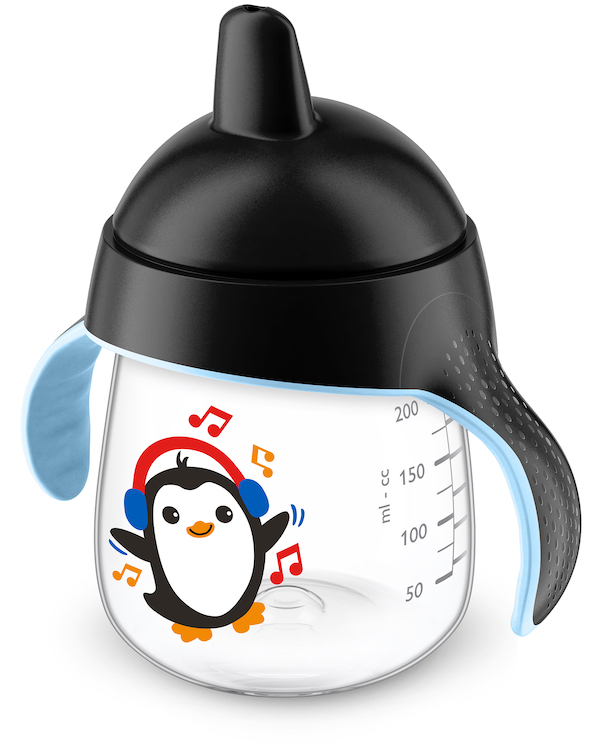 Easy for your child and convenient for you, the Philips AVENT new BPA free sippy cup features a patent pending valve that guarantees no spill. The soft non-slip handles ensure easy grip for little hands and the hard spout is bite resistant.
Benefits:
Angled spout mitigates head tilting – the angled spout is designed to help toddlers take their first sips easily without tilting their head back too much.
Soft touch trainer handles for little hands – trainer handles help your toddler to hold the cup and drink independently. These handles are not only shaped for little hands to grasp easily, they are also rubberized for a non-slip grip.
This cup is made from BPA free material
All parts are dishwasher safe for convenience
Leak free! Moms confirm NO more mess! The new patent pending valve ensures that water comes out only when the child is drinking from the spout.
Hygienic cap to keep cup clean on-the-go
Whether at home or on-the-go, the protective hygiene cap always keeps the spout clean.
Available in the following sizes:
200ml 6m+
260ml 12m+
360ml 18m+
'Easy Sip' Classic Cup 200ml 6m+
This Philips Avent spout cup is great for both toddlers and parents. The soft silicone spout makes sipping easy and fewer parts ensures easy cleaning of the cup.
Benefits:
Non-spill – Built in valve for spill free drinking
Easy to drink – Rippled container shape and soft silicone spout for easy drinking. The 200ml suitable for 6 month old babies has non-slip handles to ensure easy grip for little hands.
Easy to clean – One piece silicone spout for easy assembly
All parts are dishwasher safe for convenience
Made from BPA free material
Available in the following sizes:
You may well also be thinking, wow, babies sure do come with a lot of stuff.
Philips AVENT's fix: A new addition to the family can lead to an, err, fuller life. So how can you live a simpler life and make sure your baby has everything they need? Philips AVENT sippy cups are designed to be interchangeable. So you can use the one top on multiple bottles and cups—and always find a lid quickly.
So, ready to help your little one drink like a grown up? You're going to ace it.
Available at Baby City, Toys R Us, Baby Boom, Dis-Chem and Clicks as well as online at www.takelot.com, www.babiesrus.co.za, and www.babiesafrica.com.