Parenting Hub
Category

Advice Column, Baby, Parenting, Pregnancy & Baby, Toddler
Potty training does not have a season, but summer is a great time to give it a go. Warm weather encourages more fluid intake that in turn helps for extra potty practice.
Potty training in the December holidays helps, as you can be around to help. Summer means less clothes, so much easier than winter when you are wearing three layers. Even better when it is sunny, let them run around naked. – just remember the sunscreen on those little bums, they have never seen the sun. Another good thing about being out in the garden is accidents will water the lawn and not your carpet.
Make sure you give it enough time as most pre-schools will expect fully potty-trained children. Do not try potty train the week before school starts. This may just backfire on you and they could regress.
Do try Summer potty training with the My Size Toilet Potty by Summer Infant. This little toddler sized toilet with flushing noises can be placed anywhere inside or outside to catch the unexpected run for the loo.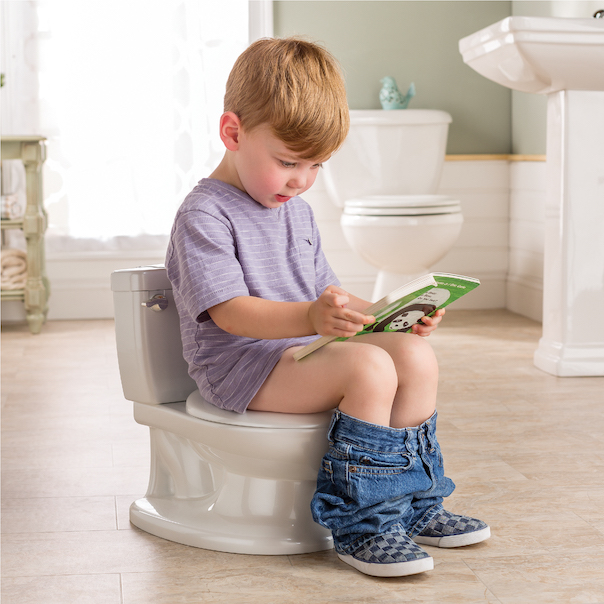 Summer Infant's My Size Potty features the look and feel of an adult toilet to help ensure your child has a comfortable and confident transition to the real thing. Realistic features include a toilet handle with a flushing sound to encourage your child while potty training. The clip-on splash guard and flip-up lid help boys in the potty-training process, and the built-in wipe dispenser is perfect for promoting good hygiene. A removable bowl makes clean-up easy. For children 18 months up
Have a great potty-training summer!
Celebrate your child's independence and your extra cash now that you will not be spending money on nappies!