Missing Children South Africa
Category

Advice Column, Parenting
Try not to panic and DO NOT WAIT 24 hours to report your missing child.
Get a responsible person to stay at your house while you're at the police station or searching for your child. This person can take messages if someone calls about the child's disappearance or if the child returns home.
Go to your nearest police station and take a recent photograph of your child with you.
Make sure that the photograph is of good quality so that your child will be easily identifiable.
Give a good description of what your child was wearing, their last whereabouts and any information that may help the police.
Complete a SAPS 55 (A) form which safeguards the police against false or hoax reports.
This form also gives the Police permission to distribute the photos and information of the missing child.
Make sure the police give you a reference number and a contact name and number of the SAPS officer(s) assigned to the investigation.
Click on our Report Now button, and complete the form: https://missingchildren.org.za/report/.
Remember that if your child returns home, you should go to the Police station to report that your child is safe and let MSCA know that your child has returned home safely.
Top Tip: Do Not Wait 24 Hours
Parents or guardians MUST not wait for 24 hours to report a child that has gone missing. This is a myth, and if a child is reported missing immediately, the chances of recovering the child in the first 'golden 2 – 3 hours' is far more successful.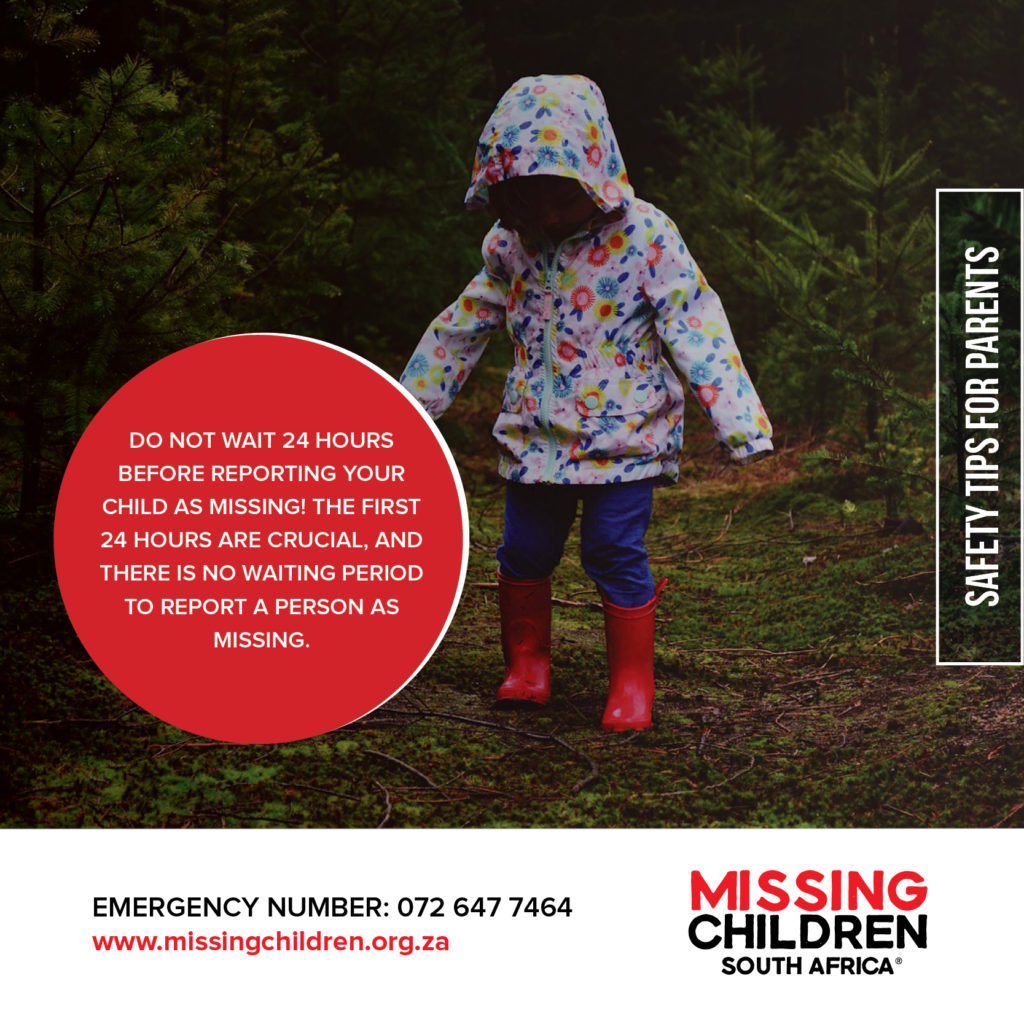 MCSA Identity Kit
Missing Children South Africa has developed an Interim ID Kit, and this is a great way to document all the important information about your child. Download it here https://missingchildren.org.za/wp-content/uploads/2020/01/Interim-Kit-2020-1.pdf.
Print and complete one for each of your children and keep it in your bag, just in case you might need it. Losing a child is one of the most traumatic experiences and this will relieve a lot of stress, having the information with you, when you need it most.
Our website www.missingchildren.org.za acts as an emergency report facility, as well as being MCSA's platform for informational and educational material with regards to Child Safety.
The service MCSA offers to the community and government is invaluable and as you can imagine we certainly have our work cut out for us. We provide our services free of charge to anyone who needs us. Sadly we don't necessarily enjoy the same privilege for our needs and our financial requirements quite often outweigh our resources! We rely solely on the goodwill of individuals and corporations for financial support – funding remains MCSA's biggest challenge.
You can assist us now by clicking here https://missingchildren.org.za/donate/ and donating – this will be deeply appreciated and is much needed. Education plays an incredibly vital role in the life of Missing Children South Africa, and all funds received is utilised to further MCSA's educational program; 'Tips for Children' and 'Tips for Parents' which promotes Child Safety. The education is targeted to all the vulnerable and orphaned children, and also children with disabilities. The education is also shared with parents, guardians and the families who take care of these children. The education focuses on not only the dangers, but also the solutions with regards to what to do to keep children safe, and especially what not do.