Parenting Hub
Category

Advice Column, beauty, Child, Lifestyle, Parenting, Toddler, Tween & Teen
For little ones, summer spells loads of fun outdoors, but it also means being exposed to the sun's harmful rays and other negative factors that warmer weather welcomes. We've come up with a few ways you can keep your little humans safe and healthy this summer:
Load up on child-friendly sunscreen
Apply a child appropriate sunscreen generously all over his/her body and remember to re-apply every two hours as well as after hopping out of the pool. For babies younger than six months, you can dab a tiny bit onto exposed skin.
Look for sunscreens with a UVA symbol on the packaging, like Nunuki Lello's Protecting SPF30 Sunscreen that specially formulated for young skin and endorsed by CANSA.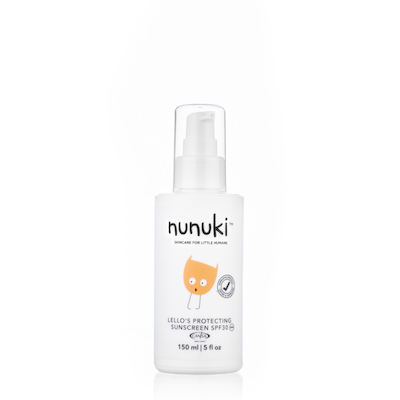 Get into the right gear
Did you know that melanin (the pigment in our skin that gives us our unique colour and helps to protect us from the sun) only starts to develop in our skin from the age of six months?
Wide-brim hats that shade the face and the back of their necks, swimsuits and light shirts with long sleeves, and long pants or leggings. Choose light cotton fabrics to avoid overheating and perspiration that could cause heat rashes.
Keep the mozzies and miggies at bay
The sun isn't the only bad guy to worry about, as insects also come out to play more when the weather gets a little warmer.
Apply a thick layer of insect repellent cream to your little one's skin in the daytime, and more to exposed areas at bedtime. Maxi's Mosquito & Bug Repellent from the Nunuki range has a special blend of citronella oil and lemongrass that will help keep mosquitoes and other bugs away, as well as avocado and grape seed oil for soft, moisturised skin.
If your little one does get bitten, here are some remedies to reduce swelling and itching:
Place a washcloth with ice blocks inside of it on the bite for 10-15 minutes.
Apply used green tea bags from the fridge and dab it over the bite (coldness soothes, and green tea has natural healing effect on insect bites).
Slice a lemon and rub on the affected area.
Dissolve a teaspoon of bicarbonate of soda in water to make a paste and apply to affected areas (the alkaline neutralises the pH levels of the affected area and helps in relieving itchiness. Leave it on for 10-20 minutes and then wash with lukewarm water.
Keep your little one's skin healthy and bite-free by keeping these tips in mind as we head into the summer holidays.
Find out more about the Nunuki range of skincare products specially designed for babies and children, which are all dermatologically tested and approved, CANSA endorsed, and Proudly South African, at www.nunuki.co.za.