Parenting Hub
Category

Advice Column, Pregnancy & Baby
You do not want to miss The Baby Show & #MeetUp with Meg Faure, sponsored by Pampers
The Baby Show & #MeetUp with Meg Faure, sponsored by Pampers
The UK's much loved Baby Show has been running for the last 15 years. This year The Baby Show & #MeetUp, with Meg Faure, sponsored by Pampers, brings that super successful formula to South African parents, grandparents and parents-to-be, for the first time. 
Staged at the Kyalami Grand Prix Circuit and International Convention Centre, September 28 – 30, the highly anticipated event is expected to attract over 15 000 visitors. 'Learn, prepare, try and buy' is the event's motto, with several top brands joining forces to present a fantastic weekend of learning and family fun. 
On the Saturday of the event, the #MeetUp workshops with Meg Faure provide a platform for visitors to have face-to-face interaction and enjoy high energy entertaining talks from top experts in pregnancy and childcare. There, Australian research associate Dr Danielle Prime will be discussing medical research into human milk. For deprived mums, sleep expert Dr Alison Bentley will be giving sleep saving tips, and for the fathers and male role models out there, best-selling author and 'dad coach' Craig Wilkinson will get into those sometimes difficult to talk about topics, such as why don't many SA men step up to fatherhood? Also talking about his recent surrogacy experience and being a single dad, will be former referee, Jonathan Kaplin, in the Parent Sense workshop, aptly titled "Winging it". 
At the Jacaranda FM catwalk stage, MC'd by health and fitness guru Letshego Zulu and Radio DJ Rozanne McKensie, the latest in maternity, baby and toddler fashion and accessories will be showcased, alongside fantastic kid's entertainment. 
The Boutique Boulevard with Belly Blessings Maternity Market will present an array of completely unique products, including their well-loved handmade gifts, such as custom designed baby mobiles by Lads and Ladies. 
Porsche South Africa's #SportscarTogether Zone will celebrate everything that is Porsche and family. Mom & Dad can view the all new Cayenne, amongst other models, whilst little ones take Porsche push cars for a test drive. Teens and teens at heart can experience a virtual drive around Kyalami Grand Prix Circuit and learn more about the models in the range through an interactive augmented reality timeline wall. Porsche Driver's Selection clothing and accessories will be available for purchase during the show and you can stand a chance to win a Porsche Driver's Selection hamper for the whole family.
Four-wheeled adventures continue at the Pushchair Testing Track with the latest pushchairs on offer to tackle a dedicated obstacle course; the best way to discover the perfect pushchair fit for your growing family. There will also be plenty of fun and adventure for the little ones with Peg-Perego's Drive & Go area. A fun, safe and picket fenced enclosed area, where children can experience the adventures of Peg Perego's world leading battery operated ride on toys. Let your little ones try their hand at driving a mini replicate of world famous names such as Ducati, John Deere, Polaris and Vespa.'
Snacks will be in abundance with a Craft Food Market and nutrition is covered at the Floradix Juice Bar, where mums, dads and parents-to-be will be educated with the latest Floradix's time-tested supplements into the latest smoothies built by the creative team from Sir Fruit. The Medela Feeding Area provides a private breastfeeding and pumping area allowing mothers to breastfeed in a quiet comfortable environment, with seating, chilled water and complimentary Disposable Bra Pads. The team will also provide the state of the art Medela Symphony for use by all breastfeeding moms. This Breastpump is a hospital grade, multi-user pump. The team will also provide these moms with their own sterile kit and a milk storage bottle to take your precious milk home with you. 
Tommee Tippee makes everyday life easier for mums.  Whether you breastfeed, bottle feed, express or do all three – Tommee Tippee is with you on this feeding journey. Tommee Tippee has teamed up with Meg Faure and Kath McGaw at the Baby Show for morning and afternoon talks on the feeding journey starting from birth.  Things are sure to get heated up at our Tommee Tippee Theatre when Meg and Kath take on local mommy bloggers in our morning and afternoon Cook-Off's. Our judges will be real parents and parents-to-be. Fun learning activities and games for all. And best of all some of our fans will walk off with awesome Tommee Tippee prizes.
To help you set your child up for lifelong success, experienced Old Mutual financial advisers will be on site. They will demystify financial planning for your family and unpack everything you need to know about education planning. Visitors will also have an opportunity to check out some of the exciting digital tools available to parents, such as Future Mirror, a fun online app that helps you envision different careers for your child using your own photos!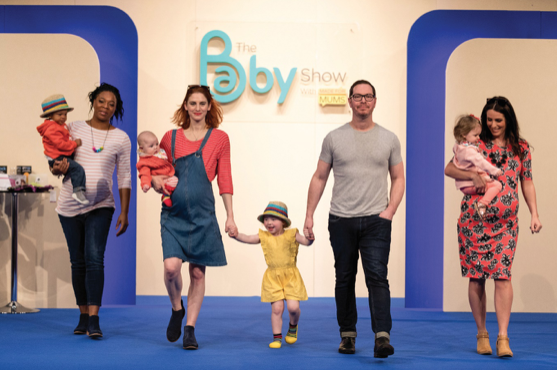 While the event is packed with activities, relaxation for sleep-and-treat-deprived parents isn't forgotten either. The Vicks Pampering Zone will be ready to roll with time-out activities for all, while a safe and secure crèche sponsored by Squish, will keep the little ones entertained. 
Every essential need has been carefully considered, starting with FREE parking for all and never-been-seen before in SA is the tried-and-tested UK model of a FREE shop & drop and collect-by-car service, powered by SA's favourite parenting website, Parent24.com. This service is provided to go the extra mile to make the day as easy and as enjoyable as possible so visitors can take the worry out of carrying heavy or lots of purchases around the show. Kyalami International Convention Centre, which also holds pole position as Africa's largest Grand Prix Circuit lends itself to the most fantastic opportunity for all visitors to drive down into the "pitlane" at the end of the day, to collect the days shopping and their bulk Pampers purchases, with friendly and professional porters to help with the heavy lifting and awkward loading. 
With The Baby Show & #MeetUp with Meg Faure, sponsored by Pampers festivities begin early. Those who participate in the online #MeetUp survey and book their tickets in advance, will stand a chance to win a BabiesRUs GIFT REGISTRY worth R35 000! For more info and to buy tickets visit the https://goo.gl/qVoc78