Solarpop
Category

Advice Column, Child, Solarpop, Toddler
Since its introduction into the market, Magformers has won the hearts of parents and children alike. More than just an educational magnetic construction toy, Magformers has grown into a brand parents trust, children love and that grows as your child does.
Just as Magformers start the play journey as 2D flat magnetic shapes and transform into amazing 3D structures, so too Magformers has become a journey of growth and change you can explore with your child as they grow and develop.
The award-winning design of the Magformers magnetic construction toy helps to explore and develop children's creativity. At the core of the product, is the concept of 3D Brain Training – which helps children to develop comprehensive three-dimensional thinking through play.
The Magformers family of products has something for children as young as 18 months and evolves and grows with your child to their tween years. The wonderful thing about Magformers is that even adults can't put them down, with the "click" as the magnets meet being just too alluring to resist. Join us as we explore the Magformers family and find the perfect starting point for your child's amazing Magformers journey.
Sensorimotor Stage – 18+ months
From birth to age 3, 80% of a child's brain development is formed. This development is accomplished through sensory stimulation activities. This positions the Stock-O range perfectly to aid in early development
Magformers Stick-O's is the chunky magnetic construction toy for little hands. Designed to be super fun, safe and durable, kids can have endless enjoyable hours making all sorts of cute and imaginative creations. It's also a great introduction to the wonderful world of magnets.
The Magformers Stick-O collection uses hidden encased magnets to ensure children's safety and are "tiny hand approved." The size and shape of the pieces are made to fit perfectly inside toddlers' hands or in the hands of children with functional challenges. This feature helps develop fine motor skills while playing.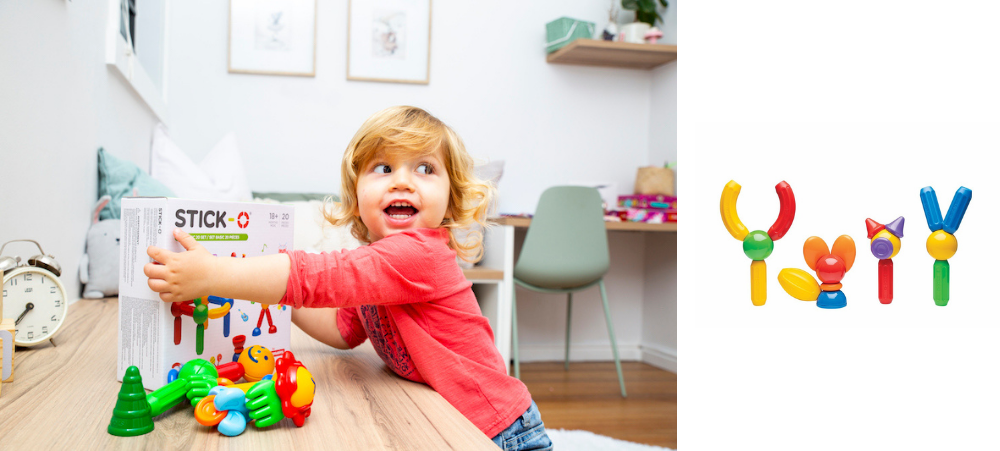 Exploration Stage – Age 3-5

During this phase children passionately exlore their environment. This stimulates their curiosity and develops their symbolic thinking. It is at this stage where children engage in imaginative and pretend play.
My First Magformers is the perfect guide to assist children in exploring the world around them. Learn 6 different colours, 2 geometric shapes and all 6 Magformers building techniques. Create towers, houses, and the Magformers Magic Ball.
Magformers My First Sets are safety tested from ages 18 months+ allowing your child the best start to learning as soon as possible. The My First Line uses a solid colour scheme, compared to a translucent one, as young children's eyes are still developing and recognise solid colours easily.
The learning content that is included with the My First products is specifically designed to help young children learn their geometric shapes and colours as well as developing essential life skills such as 2D to 3D modelling, problem solving and more.
The transition from the My First range to the Magformers Basic Plus range is seamless as all the sets are fully compatible and interchangeable.

Independent Behavioural Stage – Age 5-7

It is during this stage that children's actions are triggered by their self-reliance. This is when children truly come into their own and express and develop their own unique ways. The Magformers Basic Plus and Themed Sets are the perfect outlet for children to explore and express themselves creatively during this stage.
Unlock the ultimate playtime with Magformers. Selected sets include play cards to lay ideas flat and then roll, pull-up, transform, fold combine and wall to create exciting 3D ideas. The basic principle is that your creativity and, of course, the amount of fun you have while playing is unlimited. The frequent admiring looks of those who get to see your creations are also limitless.

Concrete Thinking Stage – Age 7-12

During this phase, children are busy developing their observational and analytical skills. Children will be able to think critically about their experiences and reproduce those through play. So, what better time than this to click, connect, create, and explore endless construction possibilities with Magformers House Set.
Your little one can build anything they can imagine when they use the Magformers Magnetic Rainbow shapes and the character and accessories to create and decorate houses. Each geometric shape contains magnets that never reject, so you'll always hear the Magformers click. When playtime is over, use the magnetic power to simply stack and store.
Compatible with all Magformers, add the Maggy, Milo, Minibot and Max sets, or any of the Town Sets for extended building fun!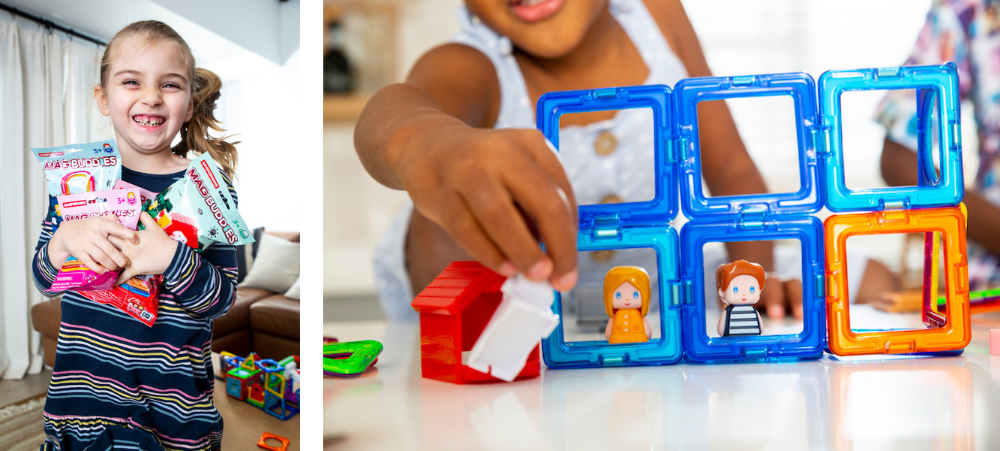 At every stage of your child's development, Magformers will be a trusted partner helping your little ones develop and grow, and don't be surprised if you find yourself joining in on the addictive Magformers fun.