Parenting Hub
Category

Advice Column, beauty, Health, Lifestyle, Men, Woman
There are several reasons to incorporate both dental flossing and using a mouthwash to your oral hygiene routine. Brushing your teeth isn't the only important way that you can protect your mouth. Mouth washing and flossing should also be added to your daily routine to keep your teeth, gums and mouth as healthy as possible.
Whilst brushing your teeth will clear your teeth of food, particles and bacteria; it has limited reach, leaving bits and pieces of food and bacteria in between teeth. Flossing allows you to clean in between each individual tooth, helping to remove plaque and prevent the buildup of plaque, which can lead to tartar. To complete your routine, using a mouthwash every day will ensure that your whole mouth is getting the detailed-attention it needs.
Biorepairs 3-in-1 High Density and Gum Protection mouthwashes are the only high-density formulas with microRepair® that provides greater adhesion to the teeth. Furthermore, they contain 0% alcohol, Fluorine and Chlorhexidine
3-in-1 High Density Mouthwash
Biorepair's High Density Mouthwash (R129.99) is both anti-cavity and antibacterial, protecting teeth from cavity-causing sugars and repairing uncovered dentin with microRepair®, which approximates tooth enamel.
MicroRepair®, biomimetic hydroxyapatite particles that are similar to that found in tooth enamel, repairs the enamel and remineralises it by depositing new biomimetic minerals that protect teeth from cavities, plaque and tartar build-up. MicroRepair® particles easily penetrate areas that are difficult for toothbrushes to reach and, thanks to the high-density formula, are able to adhere better to the teeth, ensuring greater efficacy. In-vitro tests have demonstrated that microRepair® particles penetrate deeply into exposed dentinal tubules, preventing external stimuli from touching the tooth nerve and causing pain.
Anti-sensitivity: The microRepair® particles repair the exposed dentine and provide relief in 30 seconds.
Antibacterial without Chlorhexidine: MicroRepair® and Zinc PCA prevent plaque and tartar build-up without chlorhexidine*
Anti-cavity: The microRepair® particles protect the enamel from cavities
Mouthwash Gum Protection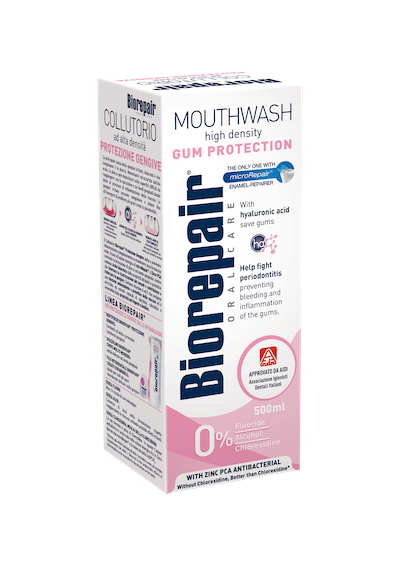 Biorepair's Gum Protection Mouthwash (R129.99) helps fight gum disease, preventing bleeding and inflammation of the gums.
Gums often become inflamed, painful and bleed: Biorepair® Gum Protection Mouthwash provides relief to gums from the very first use, protecting and hydrating with its formula enriched with gum-healing Hyaluronic Acid. Moreover, the hydrating and protective properties of Hyaluronic Acid promote gum healing. Thanks to their combined action, microRepair® and Zinc PCA prevent plaque build-up on the gum line. The antioxidants Vitamins A and E protect the oral mucosa. The natural extracts of spirulina, calendula and witch hazel offer astringent and soothing properties.
Hyaluronic Acid: promotes tissue healing and strengthens gums thanks to its hydrating and protective properties.
Antibacterial without Chlorhexidine: microRepair® and Zinc PCA prevent plaque and tartar build-up without chlorhexidine*
Vitamins A and E: provide an antioxidant and protective function for the oral mucosa.
Spirulina, Calendula and Witch Hazel: relief for gums thanks to the astringent and soothing properties of the natural ingredients
Both Biorepair's Waxed (R49.95) and Non-waxed Expanding Floss (R52.00 – R69.99) is made with microRepair® for regular spaces, making it perfect for everyday oral hygiene.
It is the only dental floss with microRepair®, particles made up of the same substance as enamel and self-cleaning polymer which penetrate the places your toothbrush cannot reach, protecting against the formation of the dental plaque that causes cavities and inflamed gums.
With antibacterial Zinc PCA, the waxed floss is made from approximately 140 micro-filaments that move during use, adapting to every interdental space and removing plaque build-up and food debris.
Made with gum healing Hyaluronic Acid and ultra-soft filaments that expand when used, the non-waxed expanding floss adapts to all interdental spaces without irritating sensitive gums.
Biorepair is exclusive to Clicks stores.