Exigo Care
Category

Advice Column, Baby, Pregnancy, Pregnancy & Baby, Toddler
As a mother, I only want to put the best baby nappies on my little one's bottom. As a nurse, I understand the importance thereof. The super absorbent core and extra depth double leak guards feature are the heart and soul of our Hi Baby Premium Nappies and Pull Ups.
A super absorbent nappy core ensures a dry nappy surface protecting baby's sensitive skin from prolonged exposure to moisture. Excess moisture in a nappy is the leading cause of nappy rash and here is why:
It causes maceration of the skin surface. This is caused when the skin gets lighter in colour and goes wrinkly – just like when you sit in the bath for too long – compromising the skin's integrity. Broken down skin is a free pass for fungal, yeast and bacterial infections which thrive in a warm moist environment. A premium nappy with a super absorbent core can save you on medical bills.
Prolonged contact with urine and faeces irritates the skin which can lead to inflammation and skin breakdown. Contact dermatitis is especially common when babies have diarrhoea, often paired with illness or teething. The effects can be minimised by using a premium nappy that has good absorbency, to lock away excess moisture, combined with a good barrier cream to protect the skin.
In addition to protecting baby's skin, a premium nappy with a super absorbent core is the difference between waking up at night to a crying, cold and wet baby and a good night's rest, with 12 hours of dryness. It means more time to play with your little one. Time to pay attention to the things that matter, and less time spent washing wet clothing and linen.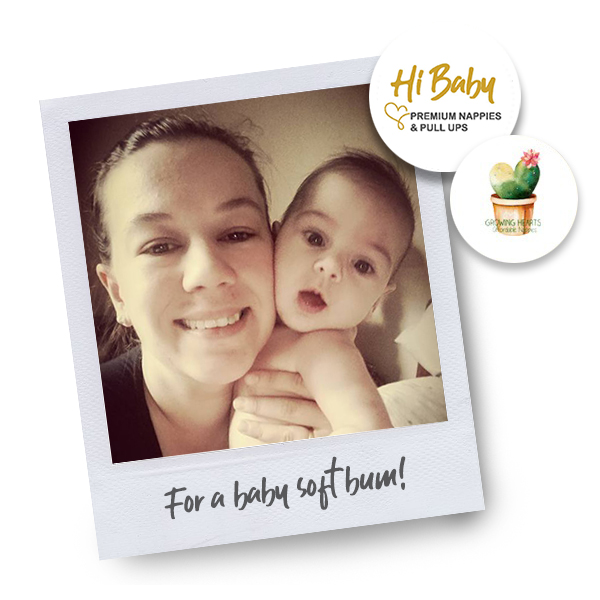 As parents we want what is best for our little humans and with Hi Baby Premium Nappies you are giving them just that.
Til next time
Jessica
(Registered Nurse/Midwife)