Bonitas
Category

Advice Column, Bonitas, Health, Lifestyle, Parenting
Brits couple, Stefan and Brumilda Kruger, in their mid- thirties, were delighted when they found out they were pregnant again. Four years earlier Brumilda had given birth to Ivan, who was born with club feet and other severe medical conditions. 'Our hearts were heavy,' says Brumilda, 'but we accepted it, embraced the challenge and were swept away by the love we felt for this tiny boy with his crooked feet. Not being perfect did not matter!'
The last four years were difficult for the couple because of Ivan's health issues. 'He was hospitalised more times than we can remember, had several operations, visited so many specialists, had numerous MRI scans, CT scans and had Viral Meningitis and Encephalitis at 18 months', says Brumilda 'But, despite these challenges, today he is just a normal 4 year old, with glasses. Laughing, playing, reaching his milestones and giving us more joy than we could ever imagine.'
Despite this, or perhaps as a result of the intense love for Ivan, the couple decided to have another child and were delighted when all Kara's scans were perfectly normal.
Kara is born
'We were ecstatic, she was perfect and quickly slept right through the night. She was my angel, I used to keep her in a wrap, close to me all the time. However at 11 months Kara was not sitting. No matter what exercises I did and tried, she would just throw herself back violently and refused to be in an upright position. She wouldn't eat anything with texture and preferred to just have milk out of a bottle.
'Deep down I knew something was wrong,' admits Brumilda, 'I was in denial. Hoping and praying my child was simply a 'late bloomer'.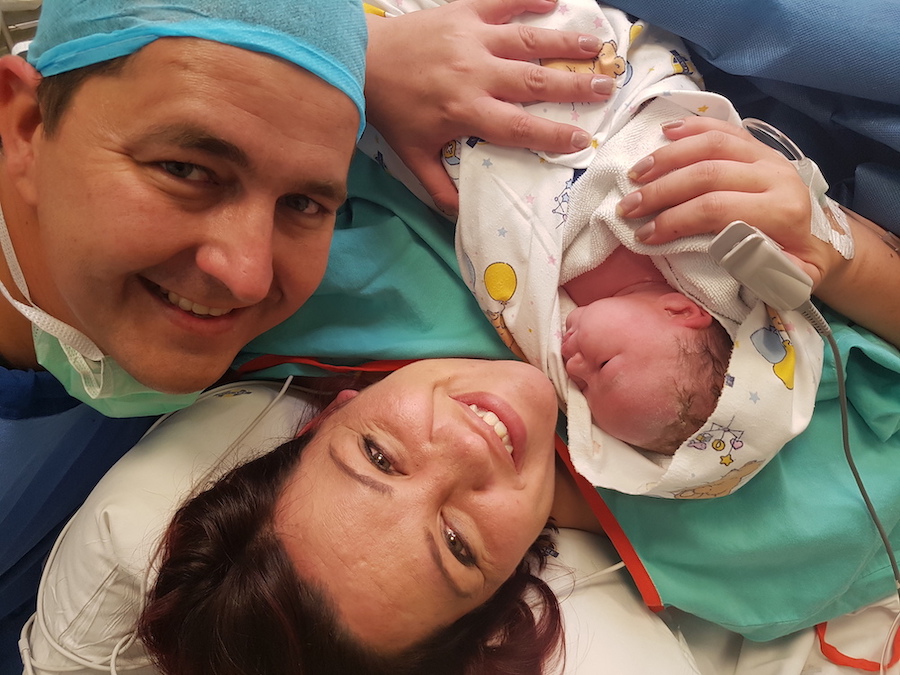 Putting off the inevitable
'After what Ivan had been through, life was just so quiet now, no weekly doctor visits, no theatres, no heartbreak and tears and financial stress – I didn't want this to change. I wanted to hold on to our perfect little girl for a little longer.'
The shock of reality
Brumilda was going back to work after taking two years off to look after her son. 'We decided that sending Kara to a day care would stimulate her development. But when I picked the children up after Kara's first day, I was called in by the Head of the school and was told what I already knew, but needed to hear from someone else. Kara was way behind on her milestones. She needed to be evaluated as soon as possible. I just sobbed.

'I felt really sorry for myself but eventually made an appointment at the Baby Therapy Centre in Pretoria. Kara was evaluated by several therapists and the report said she was on par with an 8 month old. She was 12 months. They ruled out syndromes but were sure there was something wrong with her ears. We drove straight to our paediatrician who sent us straight to the ENT'.
The devastating news
After Dr Dos Santos at Unitas Hospital, inserted grommets in Kara's ears to reduce the pressure he said, 'I have a gut feeling your little girl is deaf, you need to have her hearing tested.' That same day she failed two audio screening tests and again a week later. An auditory brain stem test under anaesthesia was advised.
The first test under anaesthesia in theatre
'Sitting outside the theatre waiting were the longest hours of our lives. When the audiologist came out, accompanied by Dr Dos Santos, he just shook his head. At that moment I felt physical pain as my heart broke for my child. I broke down. I could hear my cries echo through the hallway, people passing stared. It felt as if someone had punched me in the stomach and taken all my breath away. My husband cried too, one of the only times I have ever seen him cry – tears were streaming down his face.'
Kara diagnosed as profoundly deaf
Profound deafness is defined as being unable to understand speech through hearing, even when sound is amplified with hearing aids. Kara would never be able to learn to speak or live a 'normal' life.
'After we'd had a couple of days to process the reality and time to research and read up about her condition, the idea of Cochlear implants became our ray of sunshine. It was scary and we had no idea what to expect, but one thing was certain – we were going to fight for our daughter. As it turns out she was the perfect age for Cochlear implants (the younger the better) so we made an appointment with Dr Burden and the Cochlear Implant Unit in Pretoria.'

The long journey
It took 28 consultations in four months to obtain a correct diagnosis and approval for bilateral cochlear implants! There was also a sense of urgency: If a child has been deaf since birth and they have not heard or learnt a language by the age of four or five, they don't usually benefit from a cochlear implant.
'We had to get Kara implanted as soon as possible.'
Due to Kara's weight and age, two operations were decided upon, not more than six months apart. Also medical schemes only provide benefits for one implant per benefit year, so it is common for children to have implants done a year apart.
But at what cost?
We discovered the combined procedures and devices and therapy would cost around R1 million. 'Although we were on a medical aid each fund and plan differs regarding what is covered. Some pay a portion but most schemes have it as a total exclusion.
'After all our expenses there was absolutely no way we could afford R1 million!
We contacted Bonitas and they went to great lengths to help us, you can imagine our relief.
The day Bonitas approved Kara's first implant I cried. In fact I think I cried more than when we discovered she was deaf. But these were happy tears, tears of relief and our family and friends cried with me.
'I wanted to give Bonitas a big hug and say thank you for changing our lives. The approval had an enormous impact on our family and would change our child's life forever. The decision to pay for everything, even the shortfall, was made by caring humans. What might have seemed like a black and white decision for them, was a life changing one for our family. I hope they realise just how many people were touched by this ONE decision. How it created a ripple effect that will continue for years to come. '
After the operation
Kara's first implant was performed on October 9 by Dr Burden at Zuid Afrikaans Hospital and on November 15 it was switched on. It was nothing short of a miracle. She responded immediately with a smile which then turned to cries. It was all too overwhelming. The most important thing thought was that our profoundly deaf daughter was starting to hear. It took time for her brain to make sense of all the new auditory input, to process it and turn it into meaningful signals. It's process. But it really doesn't get any better than this.
After my first surgery

After my second surgery
The therapy for Kara involves:
Initial weekly mapping sessions where they adjust the electrodes until it reaches the perfect "map" for her optimal hearing. These become bi-weekly, then monthly and eventually she'll end up seeing the audiologist annually
Weekly rehabilitation therapy that helps her learn to "hear". The challenge now is to get her real physical and hearing age at the same level. Her real age is 24 months and her hearing age almost 5 months
Weekly occupational therapy
And when the time comes speech therapy.
'It is a new life, new challenges and a new way for all of us. Our son has learnt to help Kara keep her 'ears' on and will quickly come and call us if they fall off. As do all the other kids in our family and friends' circle.
'The external device needs to be put in a dryer every night, the batteries need to be charged, the covers and cables checked and the spare parts packed every day. School teachers need to be trained, we even figured out a cool new haircut that helps the magnets stick better. What seemed overwhelming in the beginning quickly became routine and ultimately a very small price to pay for the rewards in return.
Saying her first words
'She can hear, she just doesn't react the way everyone expects her to, it takes time and we need to be patient. It took about two months for her to start mimicking words like 'nee' and 'ja' and much later she started saying, 'ma.'
The future for Kara
'In early January (?) this year Kara had a hearing test. After having NO response before the implants she reacted on high and low frequencies and that was with only one implant!' On January 22 she received her 2nd implant and on February 20 it was switched on, the response this time had no tears – only smiles!
'Kara will be able to go to a mainstream school, just like her brother. This will present new challenges but ones we will deal with. Most important is that my daughter will not be separated or labelled. She will be able to do what her heart desires and not be held back by a disability or a mind-set. This makes me so excited for what the future holds! I am proud to be her mother.'
Boxed on the side
The criteria for being approved for a Cochlear implant:
They consider children of all ages (from babies to children up to the age of 18) for possible cochlear implantation. Once a child is enrolled, each patient undergoes a multidisciplinary assessment and the following guidelines are used to determine candidacy for each individual child:
Age
Audiological criteria
Education
Medical
Psycho-social
What is a Cochlear implant?
It is an electronic hearing device that was designed to bypass the damaged inner ear by electrically stimulating the hearing nerve. Unlike conventional hearing aids, a cochlear implant does not amplify sound, it replaces the functioning of the inner hair cells by stimulating the hearing nerve with electrical impulses.
My 2nd Birthday party

Today I am 2

My first "hearing" holiday

Bopping my head to music

Going to school with my implant

My first time at the beach