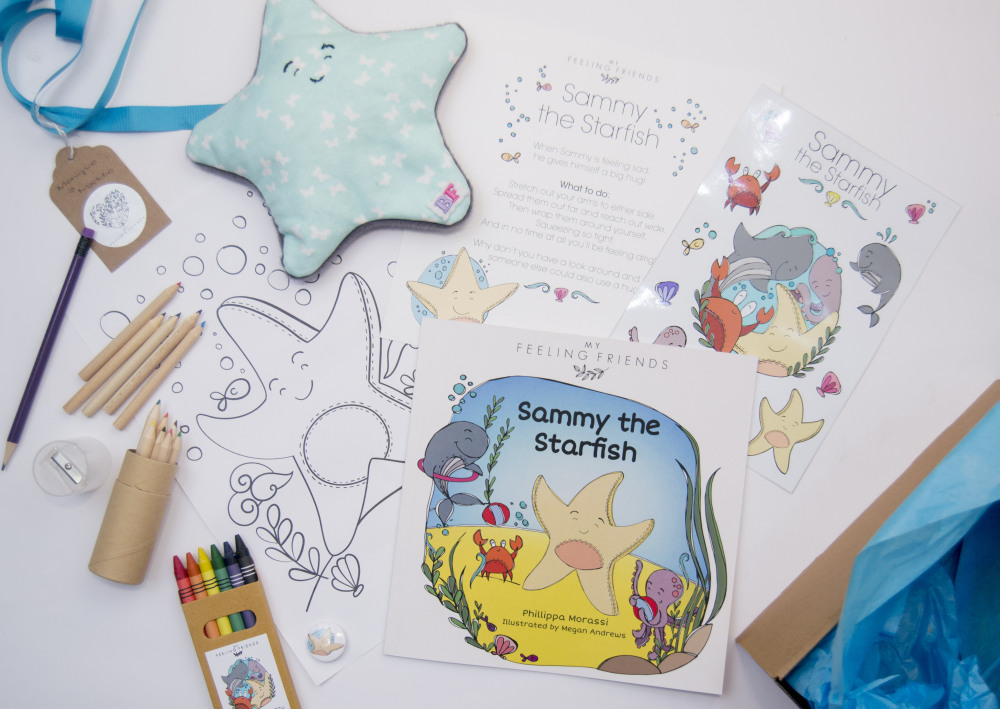 While everyone else was having fun, Sammy the Starfish was feeling glum. He didn't know why he was feeling bad, he felt a little bit tearful, and a little bit sad.
My Feeling Friends is a series of stories written by Phillipa Morassi, a Registered Counsellor with a passion for nurturing children through the development of communication, emotional intelligence, positive, and learning.
The series of stories aim to assist children in managing big emotions. This story introduces Sammy the Starfish, who is feeling sad and doesn't know what he can do to feel better.
Each story presents a coping skill for your child to learn, which will help them overcome a particular emotion. The coping skills include self-regulation techniques, visualizations, body movements, and positive affirmations to boost your child's self-esteem.
The stories also introduce the concept of empathy, which allows for connection and engagement with others and creates an opportunity for friendships to flourish!
Sammy the Starfish is a children's illustrated emotional-health story that allows children to view themselves and or relate to Sammy. Sammy uses his self-sadness to help children overcome theirs. In a very slick and adorable way, Sammy shows children what to do when their upset using himself to demonstrate in a massively fun way! We tried the lovely, illustrated instruction to give yourself a hug on two eleven-year-olds during schoolwork and they found that this technique helped them relax and became a good stretch. We noticed that even if they weren't sad, their focus was increased by this exercise and their mood increased happily. Listen to Sammy the Starfish's advice.
Phillipa Morassi gifted us with a whole, awesome package! We received a beautifully illustrated book, a lovely what-to-do card, an adorable beanbag-like starfish that comes in different designs. Bean bags are filled with maize rice and seams are double stitched for safety.
Bean bags may be microwaved for 30 – 40 seconds as a soothing comfort for your child. Essential oils may also be added onto the fabric on the back for a sensory experience. Colourful, colouring crayons and pencils were included, along with my feeling friends stickers. We love our gifts and know that you will too!
Find out more about Phillipa Morassi and My Feeling Friends at
www.pmorassi.co.za