Solarpop
Category

Advice Column, Recently, Solarpop
Welcome to the future… where humanity is under constant attack from a brutal alien threat. The Komplex spreads through the galaxy, growing stronger with each species they defeat and assimilate. To fight them, humanity relies on an elite team, the Forge, who pilots their own armada of spacecraft known as Snap Ships.
Now YOU can Build to Battle! Snap Ships is a versatile building system for creating multiple crafts with action play, and all sets and pieces are interchangeable, so kids can build however they want.
Versatile building system — Create multiple crafts to build to battle. All sets and pieces are interchangeable, so kids can build however they want.
Real shooting weapon play — Fire away for active play against the enemy.
Full-colour instructions — Includes easy-to-follow instructions for two different builds to get you started! Use your imagination to build even more!
No batteries required — Snap Ships is full of action play, and it's completely fuelled by kids and imaginations!
Reinforcements have arrived!
During November 2021 both the Forge and the Komplex will be adding impressive new vehicles to their fleet starting with a fleet of unmanned drones that combine to form a formidable Mech.
Bolster your fleet with these exciting new sets and let your imagination take flight with amazing new Snap Ships builds. Are you ready to Build to Battle!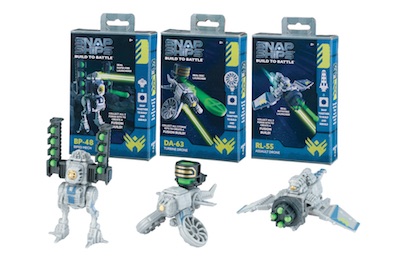 Snap Ships is available from Toy Kingdom, Hamleys, C.N.A. Takealot.com, EveryShop and other fine retail stores.