Cosmetix
Category

Advice Column, beauty, Lifestyle, Woman
We recently launched our CATRICE skincare range which consisted of multiple beautiful serums. However, it did not just stop there! We now have our NEW Skin Lovers skincare range. The beauty range consists of three serums, a versatile balm, and a spray. The Skin Lovers products can be used separately or in combination.
We are all about skincare and loving the skin you are in. Taking care of your skin's needs means that you will also learn to love it.
Want to find out more about our skin lovers' range? Then keep reading!
Pick Me Up!
ENERGY BOOST SERUM
Sometimes the skin needs a kick start and a little pick me up, and this is now available in the shape of the new Energy Boost Serum. When the skin looks sallow and tired, the serum brings it back to life thanks to its booster ingredients: a seven percent ginger complex, hyaluronic acid and PHA (polyhydroxy acid) ensure a revitalized, radiant complexion.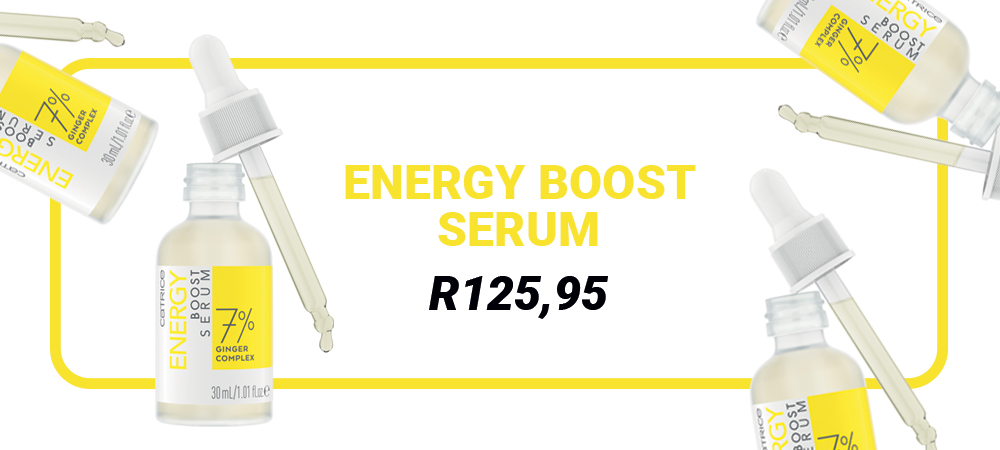 Now you are probably wondering what exactly is Hyaluronic Acid and Polyhydroxy Acid?
Hyaluronic Acid helps your skin cells retain as much moisture as possible so that your skin feels and appears hydrated, plump, and healthy. Polyhydroxy Acid helps brighten up your face and even out your skins texture. These two ingredients certainly hold the key to smooth, flawless, healthy, and hydrated skin!
Show Stopper
MULTI-PURPOSE MAKE-UP FIXING SPRAY
The latest all-rounder by CATRICE is The Multi-Purpose Make-Up Fixing Spray which can be used as a primer as well as for setting and refreshing make-up. The fine mist rejuvenates the skin with a single spray, while the 3% coconut water it contains provides an ultimate boost of moisture.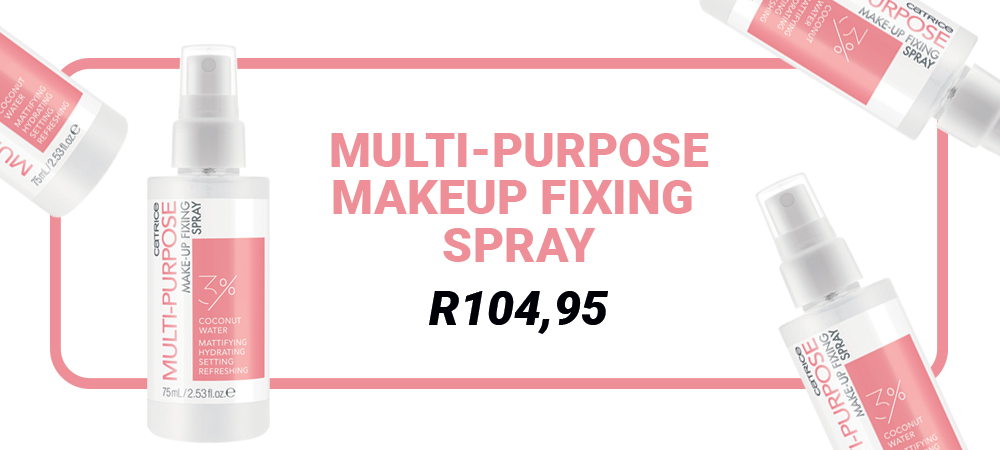 Beauty Tip:
Skin can quickly look dull and sallow. However, this Fixing Spray is ideal for regularly refreshing the skin – even when you are out and about. Thanks to its compact size, it can easily be carried in your pocket, so it is always ready to provide a quick hydrating kick!
Handbag Essential
MULTI-PURPOSE NOURISHING BALM
The Multi-Purpose Balm is a lifesaver for dry, chapped lips and contains 40% coconut oil to ensure protected, soft, and smooth skin. As the name suggests, the balm is extremely versatile and cares for the skin and hands as well as dry lips – and, if that is not enough it comes in a practical size and contains over 80% natural oils and waxes!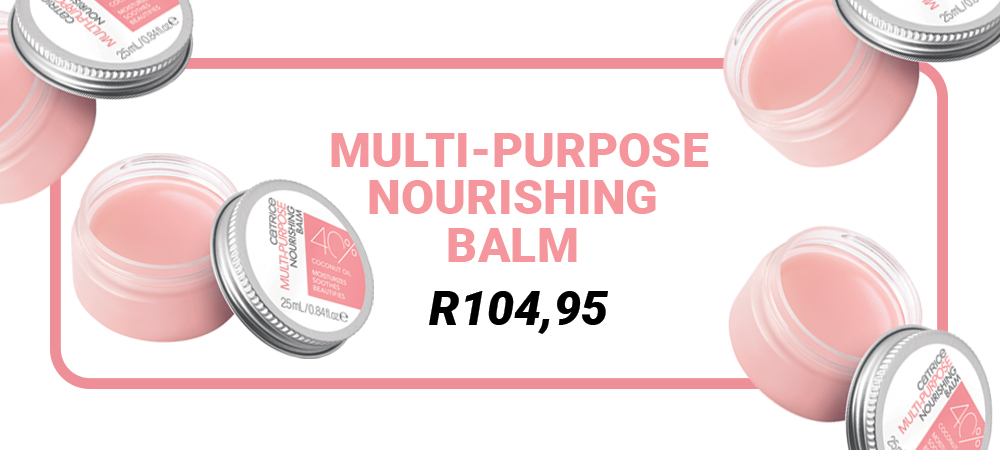 A super convenient product to keep in your handbag if you are someone that is always on the go, but still want smooth and protected skin!
Beauty Tip:
During the colder months of the year, our skin tends to dry out due to falling temperatures and the heating air. This balm is therefore the perfect companion on the go or at work because no matter where or what – it provides relief. Dry, cracked elbows from being propped up at your desk? Just gently massage with a little balm. Chapped lips, but you want to apply a stylish matt lipstick for your next night out? Apply some balm and your lip make-up is ready to go!
Bye, Bye Stressed Skin
RELAX STRESS-DEFENDER SERUM
Spa-Day for the skin! Everyday stress factors like environmental influences and UV radiation can throw our skin off balance. The Relax Stress-Defender Serum ensures regenerated and radiant skin. The facial serum with 5% squalene hydrates the skin without making it feel greasy.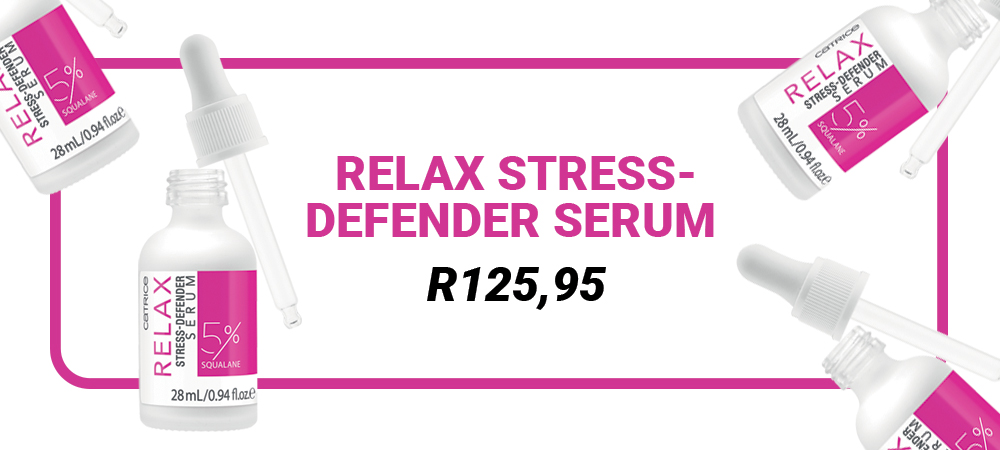 But what on earth is squalene?
Squalene is a moisturising ingredient used in some skin care products. It is known for moistening your skin, making it more supple or elastic and reducing fine lines and dry patches.
Beauty Tip:
Before applying the serum, the face should be thoroughly cleansed in the morning and evening. This way, the skin is relieved of dead skin cells, a little sweat and any excess sebum in the morning, and any make-up as well as harmful environmental influences are removed before going to bed at night. After cleansing, the skin can optimally absorb the serum and regenerate effortlessly.
Let stress be a thing of the past with this serum!
Hello, Youthful Skin
YOUTH BOOST SERUM
Want to look younger? Well, we have just the secret for you. The Youth Boost Serum is an insider's tip for a youthful glow – and a real power package! This serum contains hyaluronic acid and bakuchiol.
Bakuchiol is a gentle alternative to retinol and helps smooth the appearance of fine lines and wrinkles while sealing in hydration. Bakuchiol is sourced sustainably from the Ayurvedic Babchi plant. It ensures a radiant complexion and perfects the skin texture. It also provides a vegan alternative to collagen derived from the seyal acacia to replenish the skin with moisture.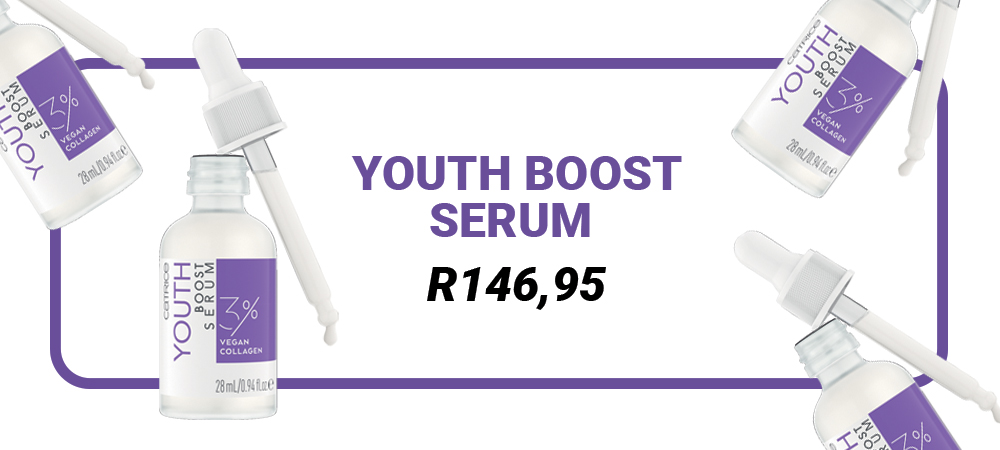 The pipette of this serum allows a simple and hygienic dosage. Apply the serum to your fingers, gently massage into the skin on your face and walla youthful skin in coming!
It is very important to look after your skin, especially in Winter! Prolonged exposure to cold air often results in dry and flaky skin and can even trigger other issues.
The Skin Lovers range consists of products which are great all-round treatments for the skin, in all seasons! Makeup looks good when your skin feels good. Be sure to get your hands on these products in Dis-Chem stores