Elf on the Shelf – A Christmas Tradition
By Carol V Aebersold & chanda A Bell with Illustrations by Coe Steinwart
This amazing tradition was introduced by Carol to her family.  Santa's Scout Elf has the job of reporting to Santa whilst encouraging children to watch their behaviour because he is there, in the home, watching them and reporting back to Santa.  Her children were also encouraged to talk to their Scout Elf every day so that they can be sure that he will take their messages back to Santa every night.
Now in her new book, Elf on the Self – A Christmas Tradition, Carol shares the story of how Santa knows if little ones have been naughty or nice.  Written in the first person by one of Santa's Scout Elves, makes it more credible for little ones to relate to.  He tells children to give him a name which allows him to start his mission – that of reporting back to Santa.  Written also in rhyming format, makes reading the story fun and helps children to not only be good but to do small acts of kindness each day.  Find him every day when he gets back from Santa, as he will always be in a new spot.




Parents can make it a game for children to see who can find him and to come up with unique and inventive places within the home for their children to find him.  One rule to follow is don't touch him, because he will lose his magic and then cannot report back to Santa.  But he'll listen to them so they can tell him anything and he'll report back to Santa.
The night before Christmas his mission ends and he goes back to Santa to spend the est of the year.  What's great about the book too is that there is place at the end for your little ones to record when this tradition started in your family.
Don't forget that you can choose between a girl or boy elf… adopt a new family tradition this holiday season!
Included with the book is a wonderful DVD for your children to watch. (for a limited time only)
It tells the story of the Scout Elves through beautifully animated characters and how their assignments are allocated by Santa through children's letters and how one young Scout Elf can help on special assignment to convince a young boy who no longer believes in Santa.  Nine year old Taylor McTuttle has reached a crossroads and Chippey, the young Scout Elf is transformed into an inspirational character as he interacts with Taylor McTuttle.  Chippey loses his Christmas magic when he is touched by Taylor.  Both characters learn that through the power of love and forgiveness, both can learn the most important lesson of all which is that true belief cannot be taught but must be experienced and really felt deep within.
We certainly found that with the creation of the DVD, we were able to continue the magic of The Elf on the Shelf.
Small tip…. if you purchase the DVD, have your little one's watch it. When the movie is over… have someone knock on the door with your "The Elf on the Shelf – A Christmas Tradition" waiting outside and let the fun begin!
Scout Elf Express Delivers – Letters to Santa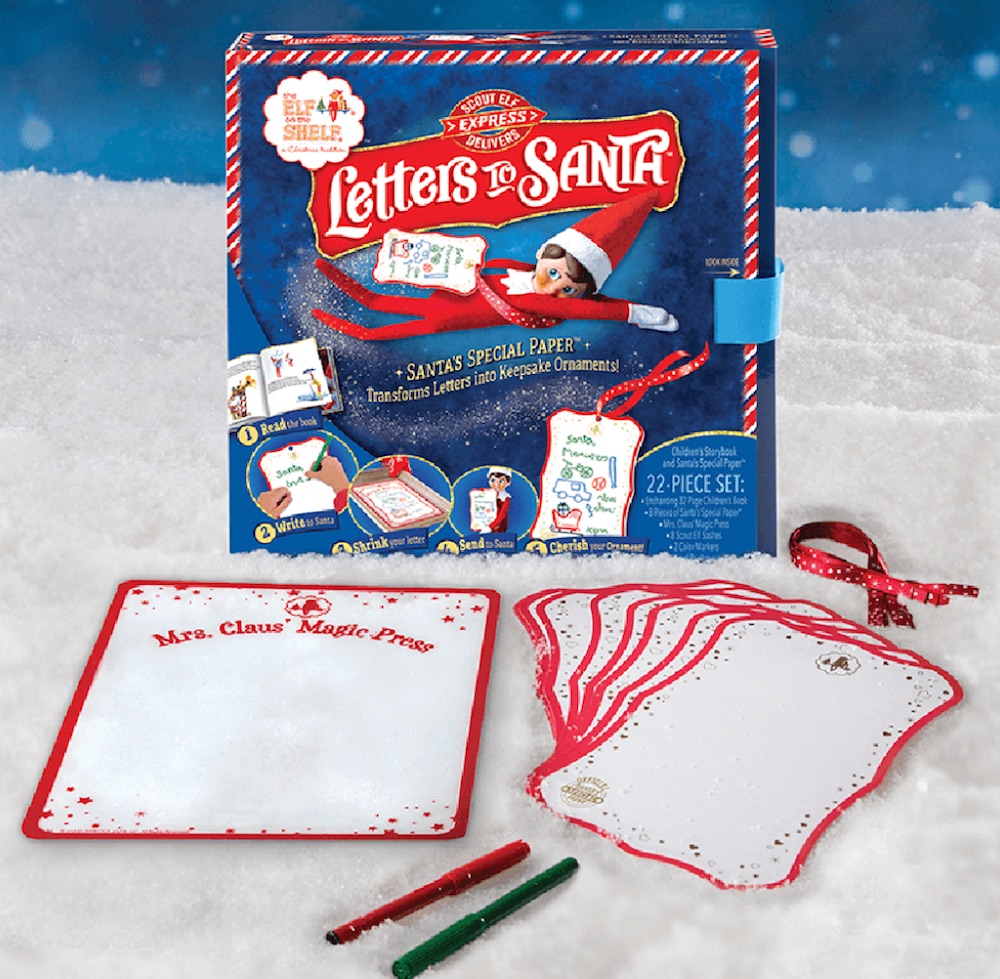 READ THE BOOK, SHRINK YOUR LETTER, SEND TO SANTA AND CHERISH YOUR ORNAMENT! 
In yet another beautfilly illustrated book, Letters to Santa, children are encouraged to write letters to Santa through the story of the Scout Elves who work for Santa in a grotto for the mail team.  Each message to Santa is different and gets to them from under children's pillows, to being sent in bottles thrown into the ocean or messages tied to balloons or even sent digitally.
Elves build fancy traps to collect message and send through every letter, package, post and separate parcels from all over the globe.  Then they ensure that these messages all get to Santa in time for Chirstmas.  They also visit children every day and report back to Santa.  Share in the fun of the misadventures of some of the elves as they work hard to collect the letters and messages to Santa.
Included in the pack is personalised Santa's Official stationery, coloured pens, Mrs Clause's magic press, Scout Elf Sashes and so much more!
Claus Couture Collection
The Scout Elves work so hard they need a good night's rest. 
Imagine having your child place out a bed each night for your Elf to catch a small nap!
You can buy your Elf on the Shelf, a little bed to keep him warm and energised.  Included is his own personal teddy to keep him company. Keep the magic alive by ensuring that your Elf is kept comfortable this holiday season.
The Claus Couture Collection will insure that your Elf is kept happy at all time and more importantly energised enough to get letters to Santa each night!
Elf Pet – A Saint Bernard Tradition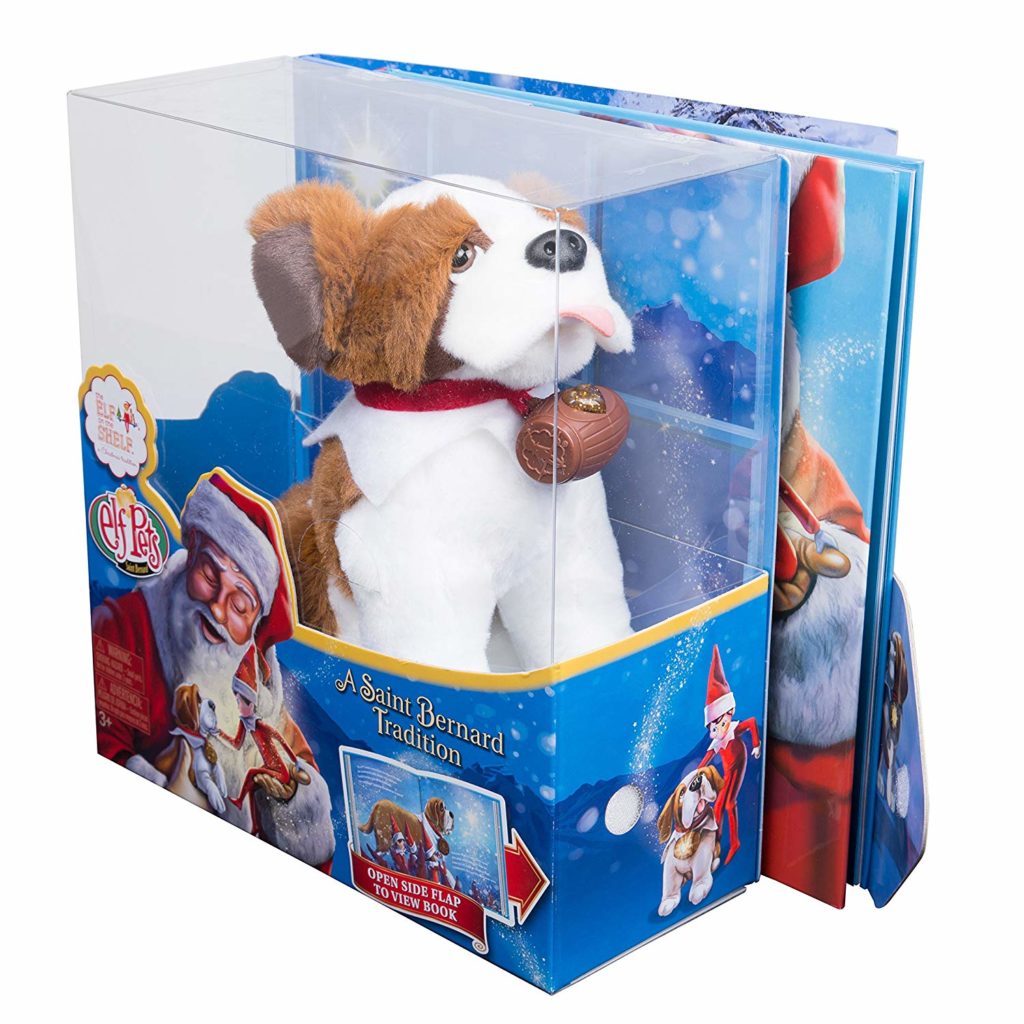 This beautifully illustrated book tells the story of Santa's village where according to legend the first star appears and the elves all stop to measure the world's Christmas cheer.  At this time of the year, Santa steps forward and it's time to start giving Santa the Scout Elves' findings.  Follow the story of Barry the old Saint Bernard whose job it is to guard Christmas.  He's joined by an army of dogs with puffed-out chests who help rescue the Soul of the Holiday Season.  Children are encouraged as the story unfolds, to be kind to one another and to let their inner light shine and to lock up their light in the brown barrel that hangs around their Saint Bernard's neck.  This way they're helping the Elves to store up the Essence, the Spirit they'll need to ensure Yuletide missons will always succeed.
Another adoption is created with your Saint Bernard. But be sure to register your pup with his or her special name to receive your official North Pole adoption certificate. 
All in all your little one will enjoy the ENTIRE Elf on the Shelf experience. Keep the magic alive and bring a little joy to your Christmas this year.
Free DVD included while stocks last of – A St Bernard story.
The Elf on the Shelf Official adoption  sites are below for you to start your magical journey with your little one