Parenting Hub
Category

Advice Column, Favourite Things, Parenting
Certainly the worst part about winter starting and the chill in the air is the sick kids! As a parent, you sit up late at night wondering if your child has a fever and we always seem to have everything in the medical kit except for a good, quick and accurate thermometer.
There is nothing worse than trying to hold a thermometer under the arm of a wriggly and cranky child. The Chicco Thermo Distance Thermometer is a non contact thermometer and can measure temperature approximately between 4 and 6cm away from the child. The thermometer is not only quick in reading the temperature in a single second but it can be used from birth upward.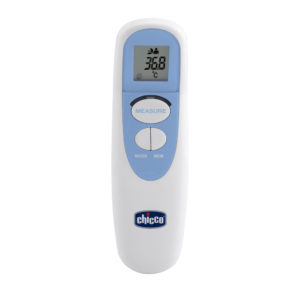 Best of all, when your little one is sleeping, there is no need to wake them to take their temperature. You simply do this by changing the device to night mode. The Chicco Thermo Distance Thermometer has a large LED display so you will be able to check temperatures from now on without disturbing your child!
The Thermo Distance records the last measurement temperature taken, so it will be useful for wanting to check if your child's temperature has gone down or has continued to rise. The Thermo Distance also indicates if it has taken the temperature of your child or of an object close by, thus ensuring that the measurement is accurate every time.
This product certainly is a must in any medicine cabinet and is available from leading retail outlets as well as Takealot, Loot and selected Kids Emporium stores.
This product will set you back from R900 upward