Parenting Hub
Category

Advice Column, Favourite Things, Parenting
Finding the perfect bottle that easily transitions between breastfeeding and bottle feeding is hard, to say the least. The Chicco bottles are not only the wide neck and have a soft nipple-like teat but have the perfect flow depending on the stage of feeding that your baby is at.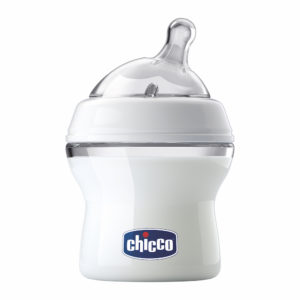 The uniquely designed teat sits on the side of the silicon base rather than the middle of the bottle which improves comfort all round for your baby and it is what aids in baby switching so easily from breast to bottle. Most importantly the angled teat aids in reducing colic significantly.
Each bottle comes with a drip proof cap and uniquely angled teat which is supported by 96% of baby's.
Their range accommodates for:
O Months
2 Months
4 Months
6"Plus
Once your baby reaches the 6 month plus bottle, the teat is then swopped to an elongated teat which accommodates for a stronger latch from your little one.
You are able to purchase between with the:
150ml – 0+ months
250ml – 2 + months
330ml – 6 + months
The bottles themselves are made from high quality plastic which is free from harmful chemicals . They are shaped in a way that really makes it easier for mom to hold and feed baby. Due to the wide neck, the bottles are also easier to clean than most other bottles on the market.
The Variable Flow Teat which is made from 100% soft silicon, helps reduce side mouth leakage when feeding and ensures that baby drinks comfortably at all times. Best of all, the variable flow teat can increase as you change your baby's bottles as they grow.
Available at Baby City, selected Kids Emporium stores, Takealot.com, Loot.co.za and other baby retailers.
Disclaimer: Breastfeeding is always recommended