Parenting Hub
Category

Advice Column, Favourite Things, Parenting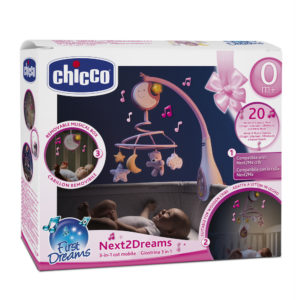 The 3-in-1 cot mobile by Chicco's First Dreams range is fully compatible with most cot designs which makes this a must when planning your nursery. 
The cot mobile comes with 4 soft fabric characters, gentle night light and 15 mixtures of soothing sounds. 
What makes this cot mobile unique is that you can simply remove the electronic panel and attach it to your stroller, keeping baby happy both in their cot as well as their stroller.
The 20 minutes of classical music featuring famous composers like Chopin, Schumann and OftenBach will aid your baby in falling asleep in no time or you can choose white noise as well for them. 
The mobile itself has a sound detector that is perfectly sensitive. The volume is perfect and the mobile does not move faster than a little one can track! 
Then when your little one's outgrows the mobile you simply remove the plush items and you are left with a music box for your little one as well! 
Available from leading online retailers and in a store near you!