Parenting Hub
Category

Advice Column, Child, Parenting, Toddler
'Do your little bit of good where you can. It's the little bits of good together that overwhelm the world.' [Archbishop Emeritus Desmond Tutu]
It is said that volunteers don't get paid, because they are priceless. Volunteering is about caring, empathy, selflessness, generosity, leadership, humanity and fortitude – attributes needed to help rebuild communities. There are so many organisations who rely on volunteers to keep them going, to help make a difference in the lives of the people and communities in which they serve. One such organisation is Restoring Hope based in the Southern Suburbs of Cape Town. This group of young men and women have made it their mission to give back and they say the rewards make it all worthwhile.
Humble beginnings
Restoring Hope is a non-profit organisation established in 2015 by Devin Frans, Mikhail Kroutz, Kelly Jacobs and Marlon Saaiman, all young and optimistic about the future and determined to bring about positive change and hope to previously disadvantaged communities. The group now has seven core members, who are working and studying but manage to juggle a schedule around everyone's 'free' time. They carry out a feeding relief scheme and other intervention programmes within the Victoria Lodge and Cafda Village communities in Southfield, assisted by an additional 30 volunteers who help them tackle challenges that face this community on a daily basis. From unemployment and hunger through to drug and alcohol abuse, lack of youth development and gender based violence.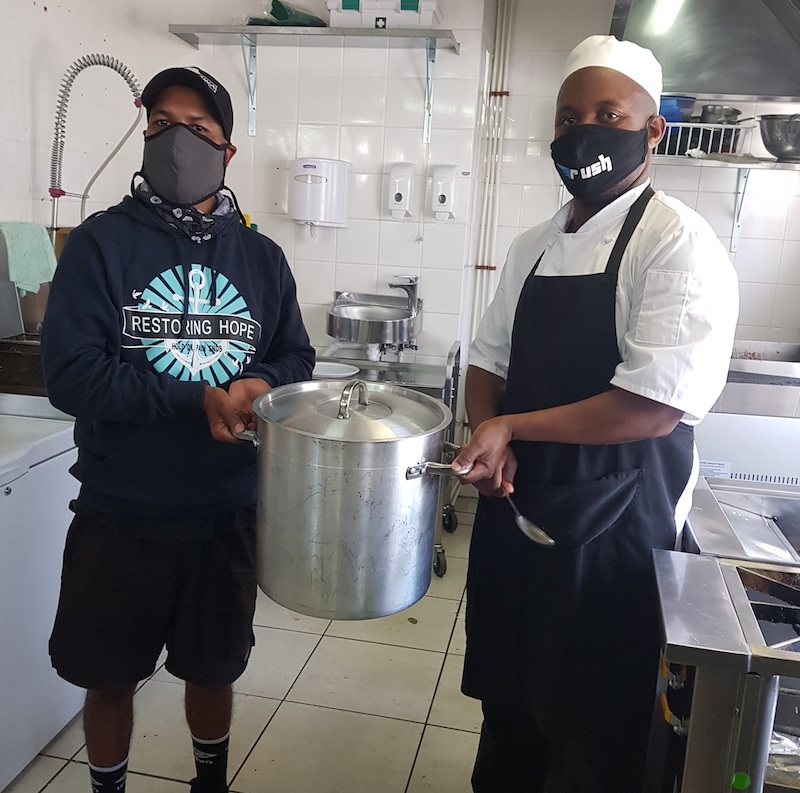 The organisation is not formally funded but relies on the generosity of local businesses, organisations, community members and kind hearted Capetonians to keep them going. 'We make use of whatever donations we receive to support and run our outreach initiatives,' explains Dale Hendricks, director of Restoring Hope. He says without the key role players, such as the volunteers, Red Cross Disaster Relief, the TFG Group, Blue Ribbon Bread, Peace Jam South Africa, Ocean View CAN, Premier Foods, Pie in the sky Bakery, St. George Home for Girls, Help A Girl South Africa and Rush Extreme Sports (Playstation by Rush) this would not be possible.
Covid's impact
The Covid-19 lockdown highlighted and brought about additional challenges for the organisation, especially in terms of feeding the community who were unable to finance a daily meal due to economic challenges. 'We launched a feeding relief kitchen in the community, providing lunch for 1 500 hungry children and residents each week day during the initial three months of lockdown. This has now been reduced to three meals a week for 100 adults and 40 children,' says Hendricks.
Kids Fellowship
One of the greatest needs within the community is the support, mentorship and education of children which is why the 'Kids Fellowship Program' was started. This to provide development structure to children ages 2 to 18. 'The program provides a platform for kids to understand how they can reach their full potential through learning, engagement and expressing themselves through various life skills and recreation activities,' explains Hendricks.
An important part of the Program includes a meal for the 40 children and afternoon clubs held twice a week.
Play becomes a plate of food
Local children's indoor playpark and restaurant – Playstation by Rush – has become an important part of the team helping to give children a hand up. 'We met Devin at Rush, our indoor trampoline park and were so impressed with his passion and vision for helping the local community that we decided to try and help where we could. With the opening of our indoor playpark, aimed at children ages 2 to 13 and located close to the communities Restoring Hope work with, we decided to turn some of the profits from play into plates of food,' explains Damon Walmsley, GM. 'Now every Wednesday, our restaurant staff prepares a warm and hearty mince and vegetable stew with rice to help feed the community.
'Month after month, these guys have been champions for the community and although we are helping in one small way, we want to salute them for the personal sacrifices they make to help others.'
Doing more
Restoring Hope have also put other programmes in place to assist the community, some are seasonal, such as the blanket and clothing drive during winter. 'During the harsh winter we were able to provide over 300 vulnerable and struggling citizens with blankets and food parcels.
'The Toiletry and Sanitary Pack drive, which formed part of Women's Month, was aimed at helping women and children who have been victims of abuse and gender based violence,' says Hendricks.
While Playstation continues to provide a weekly meal they are also planning a fun 'play date' for the children on the Kids Fellowship Program. The children will be hosted at the venue where they will enjoy two hours of play exploring the adventure maze with its challenging levels, swing bridges, nooks and crannies. Or tackling the 4m climbing wall, cycling on the 40m bike track and sliding down the 6m long slides. For the younger children there's a little kids' city and mini-slides.
'We look forward to opening our play park to Restoring Hope and hosting these kids to some well deserved fun time,' says Walmsley.
If you'd like to assist Restoring Hope in any way contact 078 008 9331 or go to www.restoringhope.co.za.