Parenting Hub
Category

Advice Column, Parenting, Toddler
Regression is going from totally dry during the day to having 2 or more accidents every day. This doesn't include a small wet patch or trickle from not concentrating.
A change in circumstances that causes stress and makes your child anxious can cause regression in potty training. For example, it can happen when a new sibling is born and the older sibling feels a little insecure.
Toddlers often test boundaries if there is a change in circumstances like moving house. It is their way of showing you that they do not feel safe and secure.
If you let the boundaries drop and allow your toddler to go back to wearing nappies, you will reinforce the idea that the change is scary and your toddler should not feel safe and secure.
But if you keep the boundaries firmly in place, your toddler will soon feel safe and secure again.
Some toddlers decide they do not like stopping an activity to use the potty and wet their pants instead. If this is the case:
Make it worth his while to use the potty/toilet by praising and rewarding him.
Tell him you are busy and he will need to wait to be changed if rewarding does not work. He will soon feel uncomfortable in wet underpants.
Trust CHERUBS Classic Wipes to keep your baby's bottom soft and clean. Our wipes ensure a deep but gentle cleanse for your baby's skin.
They are flushable and biodegradable making them as kind to the environment as they are to the softest skin.
CHERUBS Classic flushable baby & toilet training wipes are:
Eco Friendly
Flushable & Biodegradable
For Baby & Toddler
pH Balanced
Alcohol, Chlorine & Paraben Free
Made in SA with love
Cherubs Classic Flushable Baby & Toilet Training Wipes Fragranced Wipes 80's : R33.85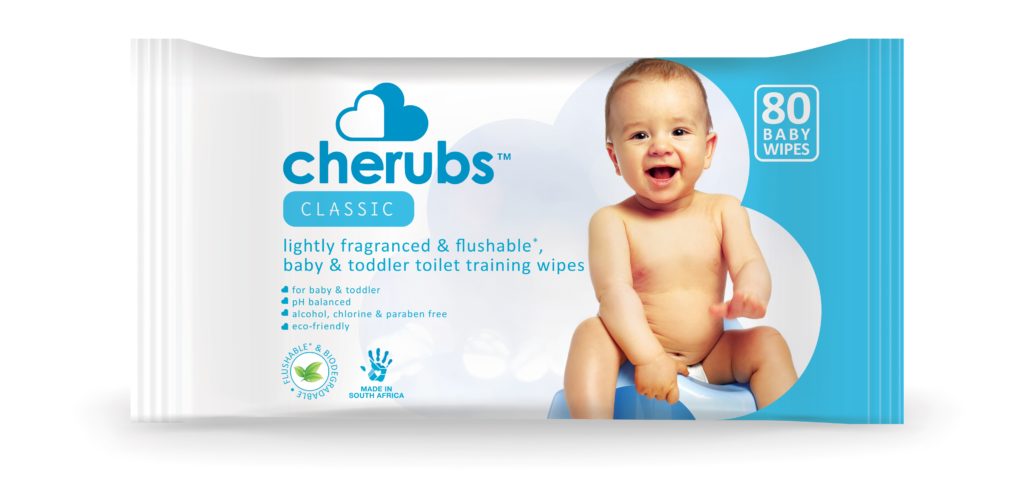 Cherubs Classic Flushable Baby & Toilet Training Wipes Fragrance Free Wipes 80's: R31.96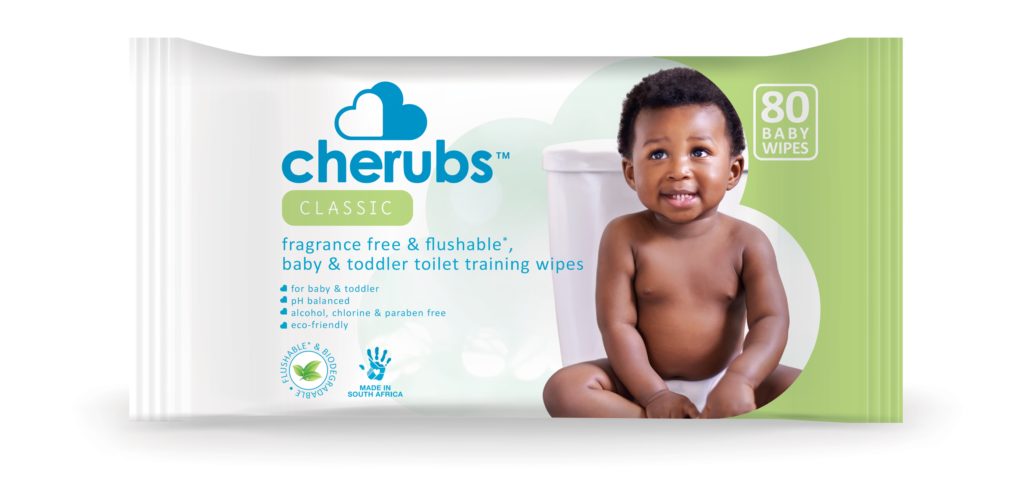 The CHERUBS Classic Wipes are also available in Triple Packs with a convenient carry strap – R69.99 (320's)
Available at all leading retailers nationally