Squish
Category

Advice Column, Recently, Recipes, Squish, Toddler
Fruit and veg purees are a quick and easy way to add natural goodness to your toddler's mealtimes. These yummy recipes all include Squish 100% Fruit and Veg Purees, which means you can simply grab a pouch from your pantry or fridge and get cooking – how convenient is that?
Cheesy Veg Balls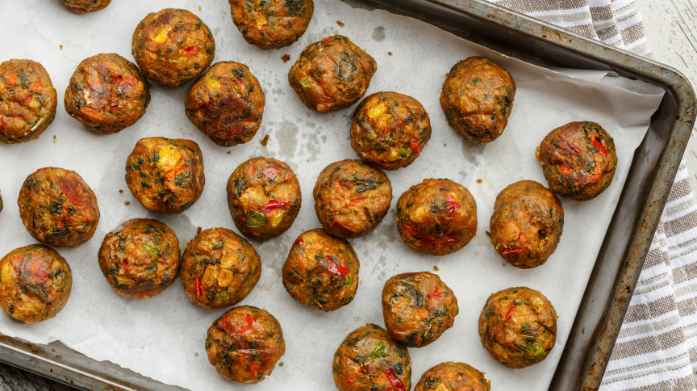 Little ones love finger foods – and these nutritious and delicious veggie balls are perfect for a meal on their own or as on on-the-go snack when you're out and about with your child. We made these using a whole sachet of Squish 100% Mixed Veg Puree, but you can switch it up and use any of your child's favourite Squish flavours, including Butternut + Carrot and Apple, Sweet Potato + Sweet Corn. Squish 100% Fruit and Veg Purees contain no nasties, which means they're free from preservatives, colourants and flavourants and have no added sugar or starch.
Ingredients
1 cup cheese
1 x 110ml Squish 100% Mixed Veg Puree
¼ small onion finely grated
2 cups breadcrumbs (simply put several slices of bread into your processor and blitz)
½ cup wholewheat flour
2-3 large courgettes, finely grated
2 large carrots, finely grated
½ clove garlic grated, finely grated
2 tablespoons olive oil/coconut oil
1 teaspoon dried herbs
Method
Combine all the ingredients then leave to rest for 20 minutes. Roll into small balls. Place on a baking tray lined with baking paper and bake in a preheated oven at 180 °C for 20-25 minutes. (If you have an air-fryer, 10 minutes tops.)
For a dipping sauce, simply mix some full-cream plain yoghurt with Squish 100% Veg Puree.
Veggie Mac and Cheese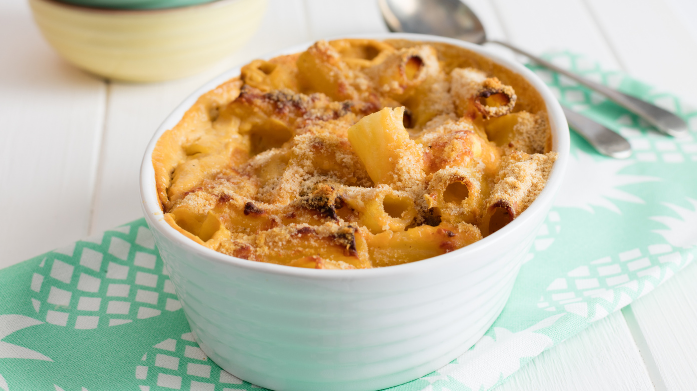 The great thing about Squish 100% Veg Purees is that they allow you to add veggie goodness to some of your children's favourite meals, like scrambled eggs, bolognaise, or this delicious mac and cheese. It's a good idea to double this recipe so that you can freeze the extra portions and have a whole batch of ready to heat-and-eat meals for those evenings when you're short on time. And because every toddler loves mac and cheese, they're great to have on hand when your little one has friends over for a playdate too.
Ingredients
1 x 110 ml Squish 100% Butternut + Carrot Puree
250 ml (1 cup) milk
Salt and freshly cracked black pepper
250 ml (1 cup) cooked macaroni pasta, drained
125 ml (½ cup) cheddar cheese
65 ml (¼ cup) cream cheese
1 ml (¼ tsp) ground nutmeg
65 ml (¼ cup) breadcrumbs
15 ml (1 Tbsp) butter
Method
Cook the pasta according to the package instructions. Mix the Squish Puree and milk together, then add the drained pasta.
Add the cheddar and cream cheeses and stir well to combine. Season to taste with salt, pepper, and nutmeg.
Spoon into ramekins, top with breadcrumbs and a dot of butter. Bake in an oven pre-heated to 180°C for 20 minutes or until lightly golden and crisp.
Allow to cool slightly before serving.
Apple, Cinnamon and Rice Pudding
This rice pudding is perfect for winter – it's warm, nutritious, and full of flavour. Add even more fruity goodness by topping with sliced banana and a sprinkling of raisins. You can try different variations on this rice pudding by using a combination of different Squish 100% Fruit Purees – this is a great opportunity to finish up any half-pouches in your fridge. For a dairy-free option, you can use almond milk instead. Remember, even children with special dietary requirements can enjoy Squish 100% Fruit and Veg Purees – they're free from egg, soya, wheat, nuts, dairy, and gluten. Only Squish 100% Fruit Yogi Purees contain cow's milk.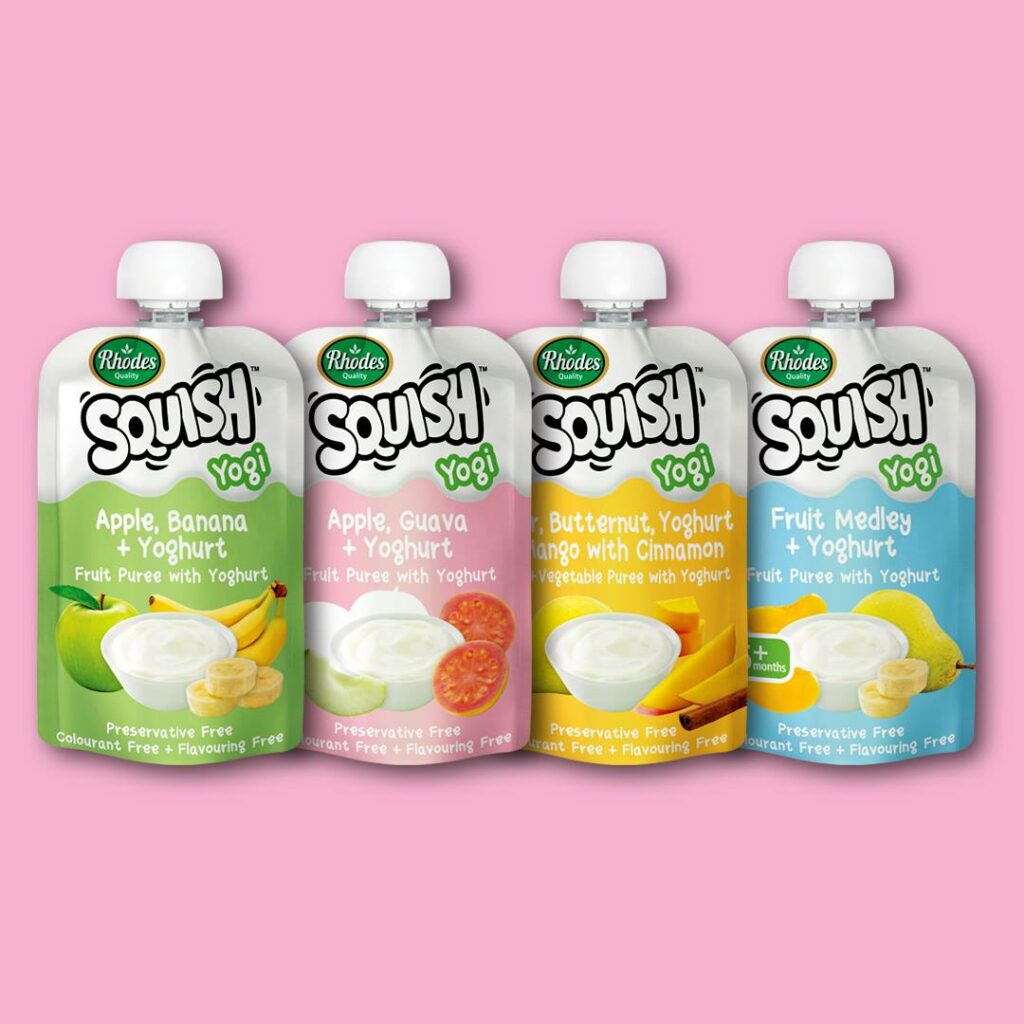 Ingredients
750 ml (3 cups) milk
pinch of salt
30 ml (2 Tbsp) coconut sugar or brown sugar (optional)
2.5 ml (½ tsp) vanilla essence
100 g (½ cup) white rice
2.5 ml (½ tsp) ground cinnamon
1 x 110ml Squish 100% Apple + Banana Puree
Method
Place milk, salt, sugar (if using) and vanilla essence into a saucepan and bring to the boil. Reduce the heat to a low simmer and add the rice and cinnamon. Cook stirring occasionally for 40 minutes or until the rice is tender and the pudding thick and creamy.
Remove from the heat and stir in the puree.