Squish
Category

Advice Column, Health, Lifestyle, Recently, Recipes, Squish, Toddler
As every busy parent knows, there often simply aren't enough hours in the day to get everything done. But one thing you don't want to compromise on is being able to give your child nutritious meals and snacks. These quick and easy freezer-friendly recipes will help make your life easier – and keep your toddler happy and well fed too!
SNEAKY VEGGIE-LOADED MAC AND CHEESE
The great thing about Squish 100% Veg Purees is that they allow you to add veggie goodness to your child's favourite meals, like bolognaise, scrambled eggs, and mac and cheese, without them noticing – a great solve for picky toddlers. Squish 100% Fruit and Veg Purees contain no nasties, which means they're free from preservatives, colourants and flavourants and have no added sugar or starch. Double this recipe so that you can freeze the extra portions and have a whole batch of quick and easy suppers ready to simply heat and serve when you're pressed for time.
Ingredients
1 x 110 ml Squish 100% Butternut + Carrot Puree
250 ml (1 cup) milk
Salt and freshly cracked black pepper
250 ml (1 cup) cooked macaroni pasta, drained
125 ml (½ cup) cheddar cheese
65 ml (¼ cup) cream cheese
1 ml (¼ tsp) ground nutmeg
65 ml (¼ cup) breadcrumbs
15 ml (1 Tbsp) butter
Method
Cook the pasta according to the package instructions. Mix the Squish Puree and milk together, then add the drained pasta.
Add the cheddar and cream cheeses and stir well to combine. Season to taste with salt, pepper, and nutmeg.
Spoon into ramekins, top with breadcrumbs and a dot of butter. Bake in an oven pre-heated to 180°C for 20 minutes or until lightly golden and crisp.
Allow to cool slightly before serving.
MINI FRUITY MUFFINS
These mini muffins are perfect grab-and-go snacks and are great to add to your little one's lunch box. Bake a batch (or two!) and freeze so you always have on hand when you need. These muffins are made using Squish 100% Fruit Puree, which adds natural sweetness meaning you can use less cane sugar. You can switch up the flavours by choosing different purees each time you bake a batch – try Summer Berries, Banana + Strawberry, or Pear. To make a variety in one go, divide the batter, and add the leftovers from your Squish pouches (even the Squish 100% Veggie Purees work well). Squish pouches come with a resealable lid, meaning you never need to waste a drop. Just use what you need then put them back in the fridge for later.
Ingredients
375 ml (1½ cups) cake flour
7.5 ml (1½ tsp) baking powder
5 ml (1 tsp) bicarbonate of soda
5 ml (1 tsp) ground cinnamon
125 ml (½ cup) brown sugar
1 egg
65 ml (¼ cup) sunflower oil
1 x 110 ml Squish 100% Banana + Apple Puree
1 x 110 ml Squish 100% Apple Puree
Method
Sift flour, baking powder, bicarbonate of soda and cinnamon into a large mixing bowl.
Stir in the brown sugar. Mix the egg and the oil together and stir in the puree.
Add the puree mixture to the dry ingredients and fold gently until just mixed.
Spoon the muffin batter into a muffin tray that has been lined with paper muffin cups.
Bake the muffins in an oven that has been preheated to 180˚C for 15 minutes or until the muffins are golden and firm to the touch.
CHEESY VEG BALLS
These Cheesy Veg Balls are delicious and packed with natural goodness too. They are great as a meal on their own, a lunchbox filler, or as an on-the-go snack when you're enjoying a day out with your toddler. This recipe uses a whole sachet of Squish 100% Mixed Veg Puree, but you can switch it up and use any of your child's favourite Squish flavours, including Butternut + Carrot and Apple, Sweet Potato + Sweet Corn. Squish Purees are made using 100% fruit and vegetables with no dilution, which means they provide parents with convenience, without compromising on quality.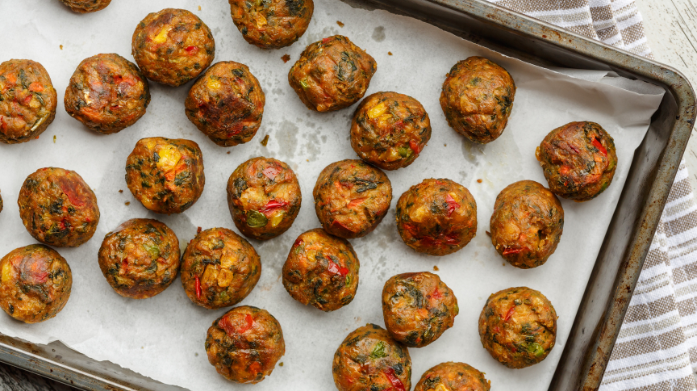 Ingredients
1 cup cheese
1 x 110ml Squish 100% Mixed Veg Puree
¼ small onion, finely grated
2 cups breadcrumbs (simply put several slices of bread into your processor and blitz)
½ cup wholewheat flour
2-3 large courgettes, finely grated
2 large carrots, finely grated
½ clove garlic grated, finely grated
2 Tbsp olive oil/coconut oil
1 tsp dried herbs
Method
Combine all the ingredients then leave to rest for 20 minutes. Roll into small balls. Place on a baking tray lined with baking paper and bake in a preheated oven at 180 °C for 20-25 minutes. (If you have an air-fryer, 10 minutes tops.)
For a dipping sauce, simply mix some full-cream plain yoghurt with Squish 100% Veg Puree.
FREEZER HACK: Keep a stash of Squish Yogi pouches in your freezer. Pop into your toddler's lunchbox and by snack time it will have gently melted creating a refreshing slushie (and keeping their lunchbox contents cool!).
Looking for more toddler-friendly recipe inspiration? Click here.