Parenting Hub
Category

Advice Column, Baby, Parenting, Pregnancy & Baby
Introducing PURITY Toiletries range, with the trusted expertise from Elizabeth Anne's. Clinically tested to ensure it is mild and gentle, PURITY provides only the best, gentle, and effective products for parents and their little one. Free from sulphates, parabens and colourants, and Consultant Dermatologist and Paediatrician approved, ensuring your little one's skin and hair are protected and cared for throughout their journey of a lifetime. Launching  11 September  2020, PURITY's panel of experts will host a discussion on the significance of the improved formulation, pertinent issues around parenting and PURITY as a longstanding, reliable brand. 
Part of the panel will be Clinical Psychologist, Jenny Perkel; Registered Nurse, Midwife and Childbirth Educator, Lynne Bluff and Specialist Paediatrician and Certified Allergist Dr Thulja Trikamjee. As host, media personality and mom, Jo-Ann Strauss, will lead the panel, which will inform, support and engage both moms and dads in their parenting milestones.
The panellists will discuss the importance of PURITY's improved range with no parabens, sulphates and colourants for sensitive skin. The types of skin conditions that babies may experience vary. Guidance will be given on how to identify, treat and prevent particular conditions. This will give light to understanding the delicacy of their baby's skin and how they can better care of and nourish it, through clinically tested products.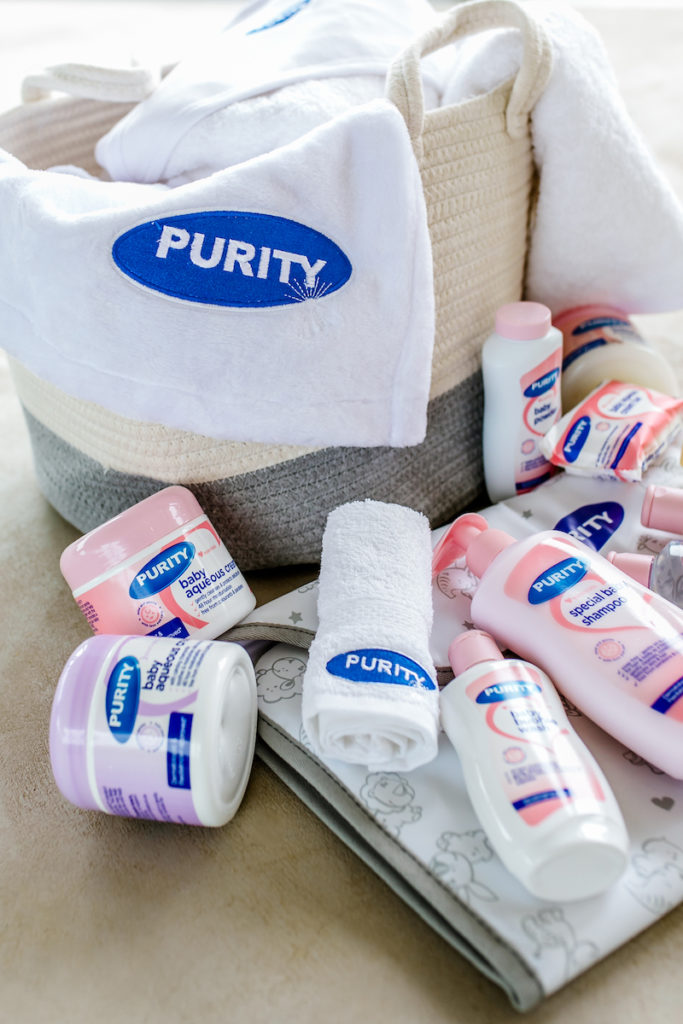 PURITY's has a comprehensive range of products suitable for the entire family. Starting your pregnancy journey with their Nipple Cream and Stretch Mark Cream proven to decrease the appearance of stretch marks within 4 weeks of use. The Petroleum Jelly with moisture control and Aqueous Creams range with 48-hour moisturisation protects the most delicate skin.
PURITY Soap Bars free from sulphates, colourants and with a non-allergenic fragrance gently cleanse and moisturise little hands and bodies.
With a tear-free formulation PURITY's Shampoo and Bath range is perfect for bath-time splashes. Treat little one to a after bath massage with PURITY's moisturizing Oil range keeping little one's skin smooth and cared for to enjoy many more cuddles.
Keep baby comfy and fresh all day with PURITY's Baby Powder Range which absorbs excess moisture without drying out little one's delicate skin.
Help prevent, soothe, and protect your little one from nappy rash with PURITY's Bum range enriched with Zinc Oxide, and with the new spray format it is easy to apply and mess free.
PURITY's Laundry range is great for cleaning and protecting baby's delicate clothes and blankets. The Laundry Wash, Stain Remover and Fabric Conditioner, are tough on stains and gentle on the fabrics as its free from chlorine & colourants. Their Disinfectant Solution is specially formulated to kill up to 99.99% of germs. It is chlorine and colourant free thus safe to use to cleanse bottles, teats, soothers, toys, surfaces and other objects which come to contact with your baby.
PURITY also offers product ranges in: Fragrance Free for sensitive skins; Good Nights for bedtime calming, with non-allergenic fragrance Fresh range, suitable for the whole family with non-allergenic fragrance
"The PURITY's Toiletries launch is a culmination of two years' worth of research and development. We reviewed local and international trends. We spoke to parents to get a deeper understanding of their needs and challenges when it came to the care and protection of their children's delicate hair and skin. We were also guided by our Panel of Experts which includes a dermatologist, a paediatrician, and an allergist in developing a range of Toiletries that meet parents and their babies' needs.
At PURITY we want to partner with parents along their journey. We believe that our range of specially developed Toiletries are a step in the right direction of helping little ones reach their full potential," says Managing Director of Tiger Brand's Baby Division, Mpho Toolo
The new PURITY range, now available in retail stores, provides only the best, gentle and effective care products by offering an enriching formula for mom, dad and baby.