Parenting Hub
Category

Advice Column, Baby, Pregnancy & Baby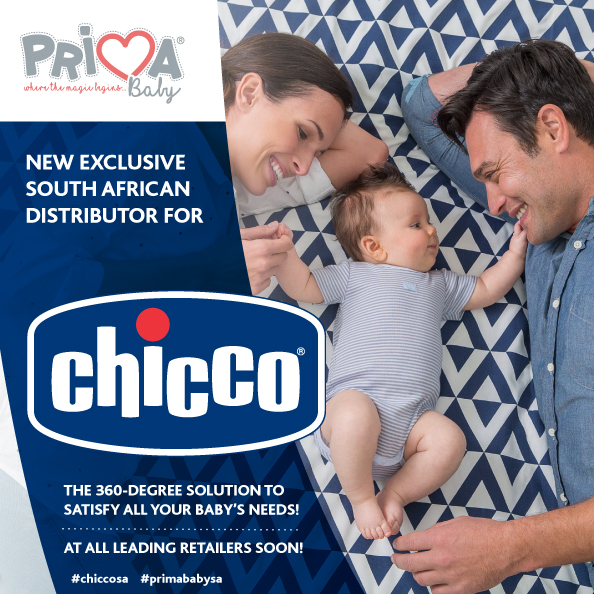 Prima Baby is thrilled and proud to announce the newly acquired, exclusive distribution rights to one of the world's biggest baby products brands, Chicco, in South Africa.
Founded in 1958 in Italy, Chicco has become more than just a household name.  The brand offers a comprehensive 360-degree solution to satisfy all aspects of a baby's needs. They strive to be the brand of choice for quality, baby safety products – each especially Italian designed for every phase of a child's growth.
Chicco is backed by a strong sense of tradition, whilst constantly looking towards the future by researching the most technologically advanced solutions to respond to the needs of parents and children. Through this need for knowledge they have created the Chicco Baby Research Centre a.k.a. The Observatory in Como, Italy that collaborates with medical-scientific professionals, day-care workers and paediatricians, as well as constantly gathering data from mothers, fathers and children themselves. 
The commitment to gain as much knowledge as possible and develop specific solutions for each growth phase is what has kept Chicco one of the most trusted companies in the world.
Divisional CEO for Prima Baby, Wanda Ambrosini, is excited and honoured for the partnership, "Chicco is the perfect example of a top quality, one-stop solution for birth and parenting that doesn't break the bank.  We at Prima Baby align ourselves with brands that we feel speak directly to the consumer and their needs, and we aim to widen the accessibility and reach of this incredible label right here in SA", she states.
Prima Baby's aim is to ensure the growth of Chicco in SA through more product options and more retail accessibility than ever before, offering consumers far more product choices for every stage of pregnancy, birth and parenting. 
Developed with love, a sense of responsibility and a deep commitment to let children grow in a better world, Chicco's 60 years' experience is gained through constantly listening to the needs of mom and dad and building upon already concrete foundations of trust.
Chicco will soon be available in all major retailers and online retailers.