Parenting Hub
Category

Advice Column, Fertility, Pregnancy, Pregnancy & Baby
According to the World Health Organisation (WHO), infertility in women was ranked as the 5th highest and most serious global disability. Further to that, the Infertility Awareness Association of South Africa (IFAASA) confirmed that as many as one in six couples are impacted by infertility. Infertility occurs in both men and women with a number of risk factors such as occupational and environmental risks, age, smoking and alcohol use. Another common risk factor though for infertility in women is Polycystic Ovary Syndrome (PCOS).
What is PCOS and how is it linked to infertility?
Polycystic Ovary Syndrome, or PCOS, is a hormonal disorder that involves reproductive, cosmetic and metabolic problems with 8 – 13% of women suffering from this condition. Due to ovarian dysfunction, it is the most common cause of infertility. Despite the increasing numbers and people impacted by infertility, the subject of infertility is still not a topic openly discussed and carries with it an unfortunate stigma. 
What is Salome Fertility and how can it help in cases where infertility is linked to PCOS?
Just as there are various factors that impact fertility, there are also many different treatment options and recommendations out there, some more invasive than others. According to 3Sixty Biomedicine's CEO, Boitumelo Sebambo, in cases where infertility can be linked back to the hormonal imbalances caused by PCOS, patients who make use of products like Salome Fertility that contain Myo-inositol and D-Chiro-inositol, have seen an increase in their ovulation, a reduction in their hyperandrogenism and in the oxidative stress in their follicular fluid. The efficacy of the Salome Fertility product lies in it containing a patented ratio of Myo-inositol and D-Chiro-inositol that have been extracted from the pod of the Carob Bean Tree. Clinical studies have shown that these natural extracts are instrumental in helping manage the regulation of ovarian function in PCOS patients.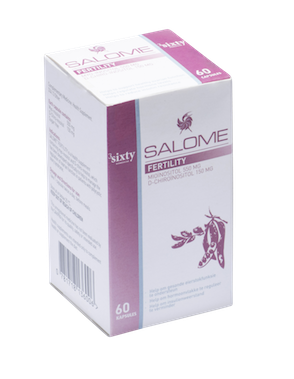 "We locally manufacture our Salome Fertility product, as well as the other products within the Salome range. All the products in the Salome Range are based on herbal extracts which have limited side effects AND because they are nappi coded, they are recognized and reimbursed by certain medical aids," explains 3Sixty Biomedicine CEO, Boitumelo Sebambo.
Who to turn to for help
Health experts play a critical role in diagnosing and providing solutions on how one can manage PCOS, which could include prescribing a range of natural fertility supplements that can boost your chances to conceive. Understanding the importance of access to experts in the field of fertility, Salome is giving away on their social media platforms free all-access passes to the virtually hosted Fertility Show Africa on 09 & 10 October 2021.
Salome has sponsored a talk by Dr Marienus Trouw about PCOS during the Fertility Show Africa on Saturday 09 October 2021 at 11am, as well as an exciting edu-tainment production of 'Curse of the Womb' being screened for the first time ever at Fertility Show Africa on Sunday 10 October at 2:30pm. We encourage you to meet and engage with our Salome experts at the show because we believe #YourJourneyMatters and we would love to walk with you on your fertility journey.
To find out more about the event, click on www.fertilityshowafrica.com and book your ticket to visit Salome's virtual booth and engage in insightful discussions by top fertility experts at the show. You can also find great advice and insights after the show on Salome's social media platforms: