Parenting Hub
Category

Advice Column, Fertility, Health, Lifestyle, Parenting, Pregnancy & Baby
September is international PCOS Awareness Month and Salome is determined to do their bit in creating awareness & empowering women with the option of a naturally based solution to this common hormonal disorder. An estimated 8 – 13% of women suffer from Polycystic Ovary Syndrome (PCOS) that involves reproductive, cosmetic and metabolic problems. The long-term effects of this condition, if not diagnosed and treated early, are infertility due to ovarian dysfunction, as well as the risk of developing diabetes, cardiac problems linked to hypertension, sleeping problems and high cholesterol.
Common symptoms and diagnosis
Symptoms of PCOS include irregular or prolonged menstrual cycles and elevated levels of the male hormone androgen, which results in excess body hair and acne, and polycystic ovaries where the ovaries are not able to function properly.
Getting a diagnosis by a health practitioner is key to effectively managing PCOS. The onset of PCOS can start from as young as 14 or 15 years old and if left undiagnosed and untreated for years – will cause further health complications down the line, including possible infertility. Parents are encouraged to talk to their daughters about what is considered 'normal' and 'abnormal' periods. Just by having these conversations, we can normalize these common women's health conditions and debunk myths and the unfortunate stigma attached to it.
What is Salome and how can it help with PCOS?
The Salome range was developed by local pharmaceutical company, 3Sixty Biomedicine, and is based on consumer insights that South Africans are wanting more natural alternatives to treat common female health conditions.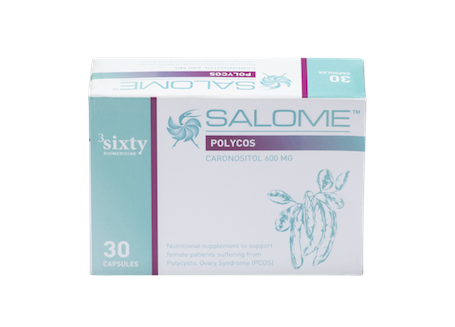 Salome Polycos assists with the management of symptoms commonly associated with PCOS by helping to decrease testosterone levels, increasing progesterone levels in women with irregular or absent periods and thus regulating the menstrual cycle, as well as reducing blood pressure levels.
It also plays a role in increasing insulin activity in women diagnosed with PCOS, as many suffer from insulin resistance. Due to these hormonal imbalances women living with PCOS often battle with acne, irregular periods, male pattern hair loss or experience excessive body hair growth (hirsutism). Salome Polycos's main active ingredient is D-chiro-inositol (DCI) which is a natural extract obtained from the carob tree.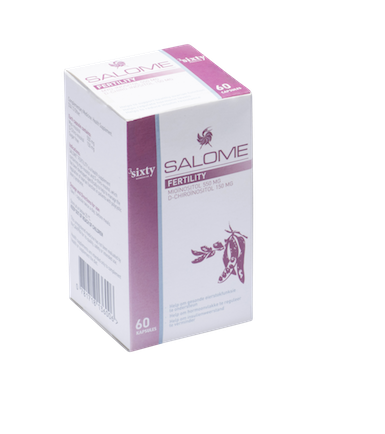 In cases where infertility can be linked back to the hormonal imbalances caused by PCOS, patients who make use of products like Salome Fertility that contain Myo-inositol and D-Chiro-inositol have seen an increase in their ovulation, a reduction in their hyperandrogenism and in the oxidative stress in their follicular fluid.
The efficacy of the product lies in it containing the correct ratio of Myo-inositol and D-Chiro-inositol that have been extracted from the pod of the Carob bean tree. Clinical studies have shown that these natural extracts are instrumental in helping manage the regulation of ovarian function in PCOS patients.
Who can use this?
Due to the herbal extracts and use of natural ingredients in the products, the Salome range has minimal side effects and can be reimbursed by certain medical aids. The products are available online at www.3Sixtybiomedicine.co.za or on Takealot.com, and can be purchased over the counter at leading pharmacies nationwide.
We believe #YourJourneyMatters so follow the Salome range on their social media pages to hear from Salome experts who are committed to educating and normalizing conversations about common women's health conditions.
Visit: 3sixtybiomedicine.co.za
Facebook: Salome Range
Twitter: SalomeRange
Instagram: SalomeRange