Squish
Category

Advice Column, Health, Lifestyle, Recently, Recipes, Squish, Toddler
These one bowl meals will be gobbled up by your toddler and are packed full of natural goodness.
As busy parents we don't always have time to prepare an elaborate meal at the end of a non-stop day, but we do want to make sure that our little ones are getting all the goodness they need to grow big and strong. These one bowl meals are a simple solution and freeze well, so you can make ahead and freeze in portion sizes for grab-and-heat meals. Serve with a box of Squish 100% Pressed Fruit Juice – they are preservative free and have no added sugar – and that's it, supper sorted!
BUTTERNUT AND CARROT MASHED POTATO
This is hearty enough as a meal all on its own, but if you have leftover chicken or tuna in the fridge you can add it into the mix for added flavour and protein.
Ingredients
1 cup mashed potato
1 x 110 ml Squish 100% Butternut + Carrot Puree
Optional: Steamed tenderstem broccoli for dipping
Method
Heat mash in microwave and stir through Squish Puree.
Steam broccoli and serve alongside mash as dippers.
CHICKEN AND SWEET POTATO RISOTTO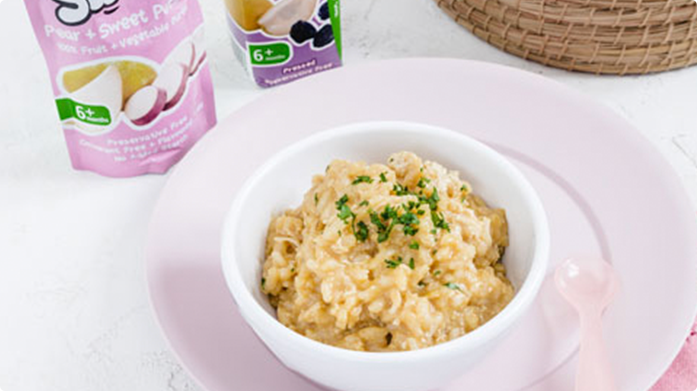 This tasty risotto includes Squish 100% Pear + Sweet Potato Puree. Sweet potato contains beta carotene and vitamin C which helps keep the immune system strong. Squish 100% Fruit and Veg Purees are a smart choice for your growing child – they are made with fresh fruit and vegetables and are free of nasties like colourants, flavourants and preservatives, and have no added sugar. This recipe makes 4-6 portions which means you can freeze the leftovers for super-easy suppers when time is short.
Ingredients
2.5 ml (½ tsp) butter
65 ml (¼ cup) risotto rice
375 ml (1½ cup) vegetable stock, warmed
1 chicken breast, steamed and shredded
1 x 110 ml pouch Squish 100% Pear + Sweet Potato Puree
Method
Melt butter in a small saucepan. Add the risotto rice and stir to coat all the grains.
Add 65 ml (¼ cup) of stock and stir gently until the liquid is absorbed by the rice.
Continue cooking and stirring, adding one measure of stock at a time until the rice is tender.
Stir in the shredded chicken and Squish Puree then remove from heat.
Veggie Mac and Cheese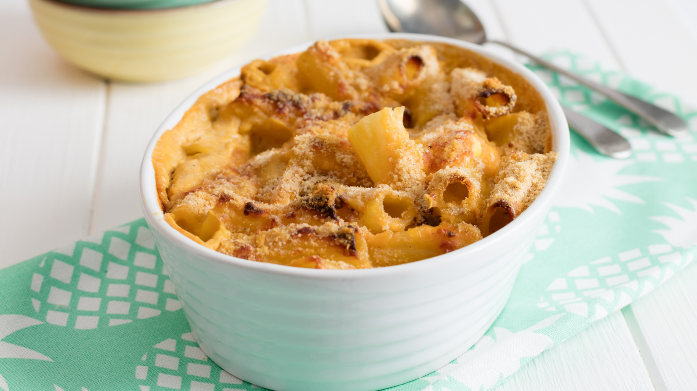 Everyone loves mac and cheese! We've sneaked in a healthy dose of veg making it even more delicious and packed full of natural goodness. This recipe includes Squish 100% Butternut + Carrot Puree, but you can switch it up by trying a different flavour like Mixed Vegetable or Apple, Sweet Potato + Sweetcorn.
Ingredients
1 x 110 ml Squish 100% Butternut + Carrot Puree
250 ml (1 cup) milk
Salt and freshly cracked black pepper
250 ml (1 cup) cooked macaroni pasta, drained
125 ml (½ cup) cheddar cheese
65 ml (¼ cup) cream cheese
1 ml (¼ tsp) ground nutmeg
65 ml (¼ cup) breadcrumbs
15 ml (1 Tbsp) butter
Method
Cook the pasta according to the package instructions. Mix the Squish Puree and milk together, then add the drained pasta.
Add the cheddar and cream cheeses and stir well to combine. Season to taste with salt, pepper and nutmeg.
Spoon into ramekins, top with breadcrumbs and a dot of butter. Bake in an oven pre-heated to 180°C for 20 minutes or until lightly golden and crisp.
Allow to cool slightly before serving.