Squish
Category

Advice Column, Recently, Recipes, Squish, Toddler
With a little careful planning – and an extra change of clothes! – heading off for a day out with your toddler in tow needn't be daunting. Packing a variety of nutritious single-serve snacks and treats is essential to keep hunger at bay. These recipes are tasty and packed full of natural goodness – your little one will love them!
FRUIT CRUNCHIES
These treats are full of sweet fruit which means less cane sugar. We used Squish 100% Apple Fruit Puree in the recipe, but you can switch it for any flavour you choose, or use a combination of leftover Squish Purees from your fridge. All Squish 100% Fruit and Veg Purees have a screw-on lid, which means you can just pop the lid back on and save leftovers for later.
Ingredients: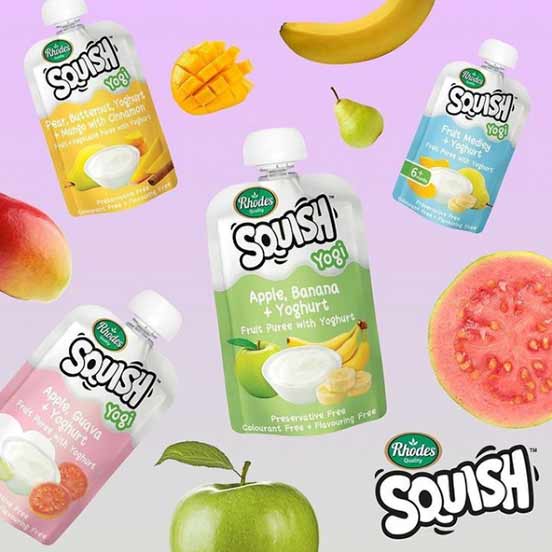 230 g (1 cup) rolled oats
60 g (½ cup) desiccated coconut or ground almonds
125 g (¾ cup) cake flour
2.5 ml (½ tsp) baking powder
1 ml (¼ tsp) bicarbonate of soda
60 g (⅓ cup) dried apricots, finely chopped
65 g (¼ cup) butter
55 g (¼ cup) brown sugar
1 x 110 ml Squish 100% Apple Fruit Puree
Method:
Place the oats, coconut (or nuts) and cake flour into a bowl and stir to mix. Add the baking powder and bicarbonate of soda. Add the apricots.
In a small saucepan melt the butter and the sugar together. Whisk in the Squish Puree and leave to cool.
Add the apple mixture to the dry ingredients and stir well until evenly blended. Press the mixture into a baking pan that has been sprayed with non-stick spray and lined with baking paper.
Bake in an oven that has been preheated to 160°C for 30 minutes or until golden brown.
Remove from the oven and slice into bars in the pan. Leave to cool.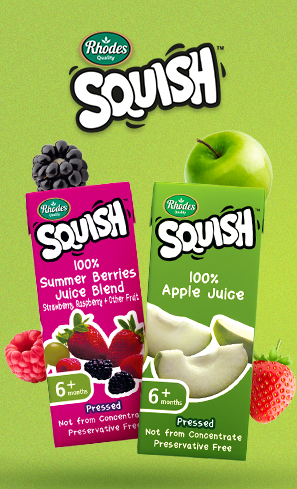 TIP: Use a frozen Squish 100% Pressed Fruit Juice as an 'ice pack' in your cooler bag. Your little one can drink it later in the day once it has melted.
CREAM CHEESE DIP AND CRUDITÉS
This snack is so quick and easy to make and travels well. Plus, it provides a perfect combo of protein, dairy and healthy fruit and veg. Squish 100% Fruit and Veg Purees are made from quality fresh fruit and veg and are free from preservatives, colourants and flavouring, which means they're just like homemade. And there is no added sugar or starch.
Ingredients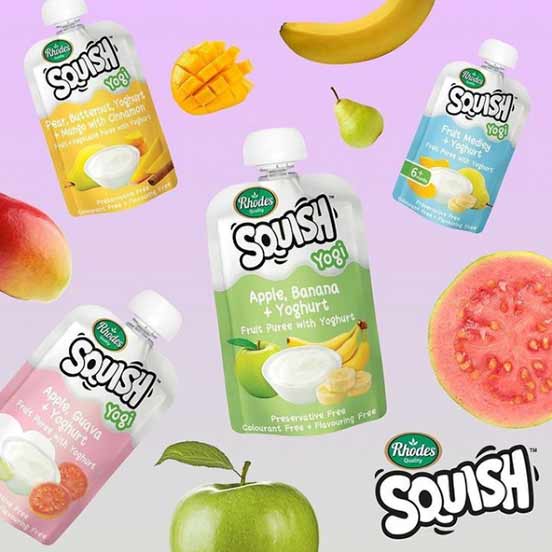 ½ cup plain cream cheese
½ pouch of Squish 100% Fruit and Veg Puree
Fresh veggies or fruit, for dipping.
Method
Place cream cheese in a bowl and add your child's favourite Squish 100% Fruit + Vegetable Puree. Stir well to blended. Serve with washed and cut fruit and vegetables.
TIP: Switch the cream cheese for cottage cheese for a different taste and texture.
POTATO POPS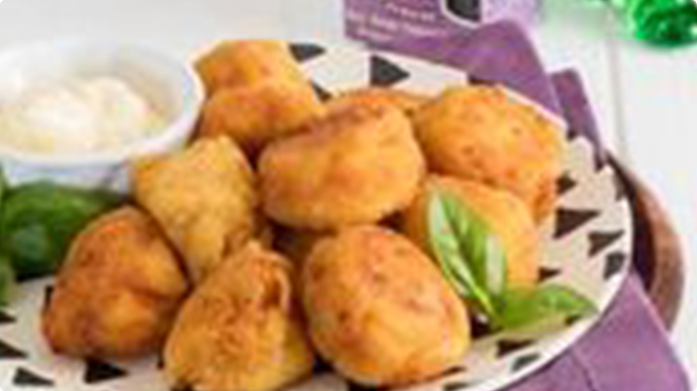 These filling and delicious pops are mess-free and easy to serve. You can switch the regular potatoes for sweet potato if you like.
Ingredient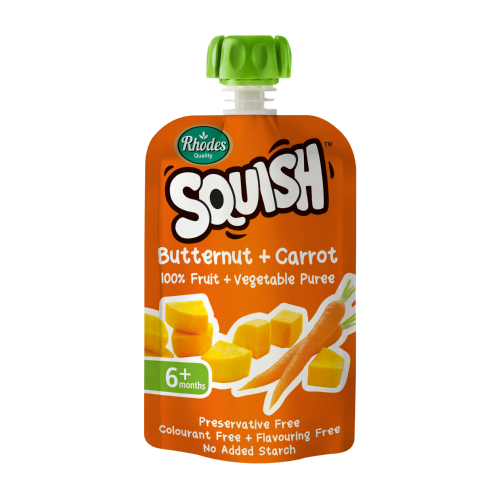 500 ml (2 cups) mashed potato
1 x 110 ml Squish 100% Veg Butternut + Carrot Puree
250 ml (1 cup) grated cheddar cheese
1 egg
295 ml (1 cup + 3 Tbsp) breadcrumbs
salt and freshly cracked black pepper
30 ml (2 Tbsp) sunflower oil
Method
In a large bowl, combine the mash, Squish Puree and cheese. Add the egg and 45 ml (3 Tbsp) of breadcrumbs and mix well. Season to taste. Shape into balls and roll in breadcrumbs. Heat the oil in a non-stick frying pan. Fry the potato pops in batches for 3 to 4 minutes until golden brown. These can also be cooked on a baking tray in the oven at 180°C for 15 minutes.
TIP: These pops freeze well. Make a double batch and keep a stash in the freezer for lunchbox fillers.
For more delicious delicious toddler-friendly recipes, visit www.squish.co.za