RediscoverDairy
Category

Advice Column, Health, Lifestyle, Nutrition, Parenting, Rediscover Dairy
"Cow's milk is a versatile and convenient source of essential nutrients for everyone. It is one of the top food sources of calcium and also contains a unique combination of valuable nutrients, of which some are typically lacking in many South Africans' diets," says registered dietitian at Rediscover Dairy, Maretha Vermaak. These include calcium, potassium and vitamin A. Milk is also an affordable source of good-quality protein, and its overall nutritional value stems from more than just the sum of its individual nutrients. What's more is that milk is a filling food item, ready to be enjoyed just as it is or as a base in other dishes.
Here's what you should know when choosing the best milk options for everyone in your family.
Your milk choices
The only difference between full-cream, low-fat and fat-free milk is the amount of fat per serving, which is also reflected by the energy value (kJ). A 250 ml serving full-cream milk contains 8 g fat and 640 kJ compared with 4 g fat and 518 kJ in low-fat milk. Fat-free milk contains 0.5 g fat and 362 kJ per 250 ml serving.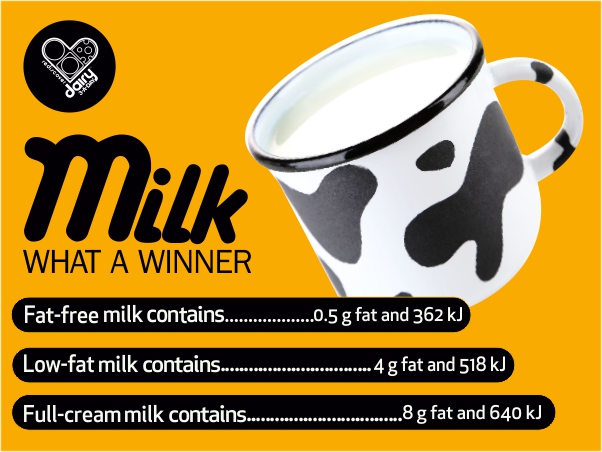 You can also choose to buy fresh (pasteurised) milk or milk that keeps for longer, such as long-life or powdered milk. It doesn't matter which one you choose – each offers you all the goodness of cow's milk. Always keep fresh milk in the fridge. Long-life milk can be stored in the cupboard until you need it, but put it in the fridge once it has been opened. Powdered milk is convenient because you can prepare only as much as you need at one time.
Know what's in your basket
Be sure that what you buy as powdered milk is made from real cow's milk. The list of ingredients will be short and the first item will always be full-cream or fat-free (cow's) milk. If not, it's not real milk.
Don't be fooled: coffee creamer is not cow's milk! Coffee creamer is made from unhealthy plant fats and contains very little protein (0.1%) and no calcium or any of the other important nutrients of milk. Coffee creamer is not a substitute for milk and can never replace milk or formula milk in the diet of children or babies.
Take your pick: you'll get the same unique combination of nutrients and the taste you love whichever milk option you choose!
Did you know?
Want to use milk later? Simply freeze it in smaller containers, and then let it thaw in the fridge before use. A quick shake once thawed and it's ready to drink or use in your favourite recipes.
Do you have any questions about dairy? Rediscover Dairy has your back, just visit the AskDAIRY page and find an answer to any of your questions. We now have more than 100 questions and answers listed: https://www.rediscoverdairy.co.za/ask-dairy/