Parenting Hub
Category

Advice Column, Parenting
Two delightful stories intertwine as we start the count down to 25 December. The first is the tale of the origin of the Christmas stocking. It is said the Saint Nicholas, in the spirit of Christmas, threw three bags of gold through an open window on Christmas Eve and one landed in a stocking. When the girls and their father woke up the next morning they found the bags of gold and were, of course, overjoyed.
Another feel good story is that of a group of women in the tiny settlement of Kylemore in the Western Cape, who sew to ensure a sustained income. Through a partnership between Community Conservation Fund Africa (CCFA) – a registered non-profit company active in educating and empowering local communities and implementing sustainable wildlife management systems – and Baby Cuddles, these 'team of seamstresses' design and produce the CCFA animal mascots. These beautiful handmade toys, each with an individual character and personality, are ideal gifts for tourists. However, during lockdown they adapted their business and started making masks, according to the Department of Health guidelines. Now they have turned their talents into making Christmas stockings, available in three different sizes. The stockings represent a trilogy of 'all things good' in the spirit of Christmas.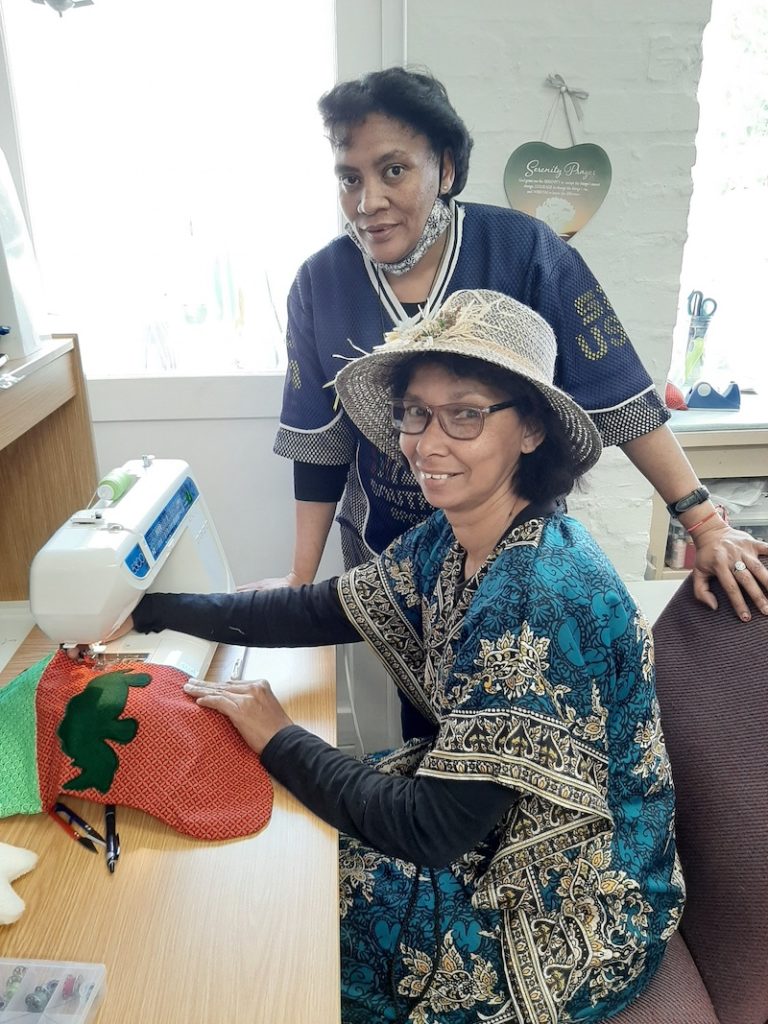 Melanie Laing of Baby Cuddles says, 'I am blessed to have been given the opportunity to work with a team of very talented, wonderful women who are always happy and full of smiles, no matter what life throws at them. This time life threw them a pandemic but, as with so many South Africans, we turned this situation around and from mascots to masks we are now producing Christmas stockings.
'Four of our sewers are working on this project and we are so grateful to our guardian angels, CCFA, for constantly bringing us new ideas, providing sustainable work for our team and using their network to sell our crafts.'
Di Luden, Executive Director of CCFA says, 'We decided to look at making Christmas stockings to create work for the team while raising money for our environmental and community upliftment projects. The more orders we receive, the more work generated which means these ladies have higher earning potential and will be able to enjoy a Christmas of their own.
'By ordering our stockings you will not only be assisting the sewing group but also their immediate and extended families who rely on this income to stay afloat financially. But, more importantly it will make it possible for us to give others the opportunity to join the team, learn to sew and produce beautiful items made in South Africa. And finally, you will also be helping us raise money for the many projects we support, who are desperately in need of funding.
'The ladies initially made samples and the response has been very positive – so everyone is raring to go and we're hoping to complete around 60 stockings a day,' says Luden 'There are three sizes available, the large stocking also proudly displays a rhino motif as a reminder of the support for the CCFA and its wildlife, environmental and community projects. However, the design is flexible and we are able to customise the stockings for corporates and include a company logo. '
Orders are via the CCFA website and the stockings will be shipped directly from the group of sewers to the client. CCFA is appealing to corporates to support this initiative. To be a 'secret Santa' and help stimulate employment and financial independence for this group of women and their families, while also contributing towards the work being undertaken by the NPC.
The pricing of the Christmas stockings are as follows:
Large stocking, around 50cm long @ R220
Medium stocking, around 45cm long @ R180
Christmas tree decoration size, around 13cm long @ R20
To order go to:
https://www.ccfa.africa or email info@ccfa.africa.