Parenting Hub
Category

Advice Column, Health, Recently, Tween & Teen, Tween & Teen Advice
The 28th of May is recognised globally as Menstrual Hygiene Day and encourages people globally to promote good menstrual health and hygiene for all women and girls. As a local business that produces a range of women's reproductive health products, 3Sixty Biomedicine with their naturally based Salome range is committed to playing an active role in educating and promoting a better understanding about common women's health issues. Menstrual health issues are among the most common reproductive health issues that women deal with on a regular basis; these can impact their quality of life and act as a barrier to schooling and participation in sports and other activities if not identified and managed properly.
It is thus important to discuss menstrual health openly; like if PMS (premenstrual syndrome) is real or a myth, how to know if period pains are normal or not, or if the amount of menstrual blood flow experienced is normal, because these conditions can add further complications to women's reproductive health.
Common Menstrual Health Issues unpacked
Menorrhagia or heavy menstrual bleeding is a common condition experienced by many women; this condition is often painful and debilitating for 30% of women who suffer from it on an ongoing basis. Symptoms of menorrhagia include soaking through one or more sanitary pads or tampons every hour for several consecutive hours, needing to use double sanitary protection to control your menstrual flow, needing to wake up to change sanitary protection during the night, bleeding for longer than a 7 days and / or passing large blood clots.
Dysmenorrhea, the technical term for period pain, is also a common women's health issue that affects women of all ages and races. According to the American Academy of Family Physicians; up to 20% of women experience menstrual cramping that is severe enough to interfere with their daily activities. Symptoms that may include lower abdominal or pelvic pain with or without radiation to the back, typically begin in adolescence and may lead to school and work absenteeism, as well as limitations on social, academic, and sports activities.
Premenstrual Syndrome (PMS) is another common problem that is characterised by a set of physical, emotional and behavioural symptoms that start the week leading up to a woman's menstrual cycle. In a published article on the epidemiology of premenstrual syndrome (PMS), it stated that 23 – 31% of women of reproductive age experience PMS to a degree that affects their quality of life. Some of the psychological symptoms associated with PMS are irritability, mood swings, depressed mood and crying, low self-esteem and anxiety to name a few. To add to this, there are also cognitive symptoms such as forgetfulness and physical symptoms such as bloating, fluid retention, constipation and headaches, all of which can feel debilitating.
How to tackle Menstrual Health Issues
The Salome product range offers over the counter treatment options to help manage common female reproductive health issues. The range is based on herbal extracts and aims to manage conditions such as primary dysmenorrhea (period pain), menorrhagia (heavy menstrual pain) and premenstrual syndrome (PMS) with minimal to no side effects.
Salome PreMens is the newest addition to the Salome range and contains a natural extract known as vitex agnus-castus which is more commonly known as chaste tree or monk's pepper. Salome PreMenS is used to help manage psychological and emotional well-being during premenstrual syndrome (PMS). Vitex agnus-castus is considered a progestogenic herb as it encourages ovulation, increases progesterone and helps rebalance oestrogen/progesterone ratios. Vitex agnus-castus assists in alleviating physical symptoms of PMS such as fluid retention, breast tenderness, and premenstrual weight gain.
"Part of building a period positive world is acknowledging that we have a collective responsibility in changing the way society views periods in the 21st century. We have to ensure that young menstruators should be able to talk openly and celebrate their transition into adulthood without having to hide it in secret or manage their period in isolation. After all, menstruating or having a period is NORMAL and occurs as part of a woman's monthly cycle. At the very least we should be able to talk openly about our menstrual cycles so we can identify when there are abnormalities in order to get the necessary help and treatment when required," says 3Sixty Biomedicine's CEO, Boitumelo Sebambo.
Visit www.salome-range.co.za for more information about the full Salome range of products that helps to manage menstrual pain, heavy menstrual bleeding, premenstrual syndrome, infertility in women with Polycystic Ovary Syndrome (PCOS), and menopause. Salome Menstrual Pain, Salome Heavy Menstrual Bleeding and Salome PreMens are available to the public from pharmacies nationwide or online at Takealot.com and Salome's website and can be reimbursed from medical aid savings.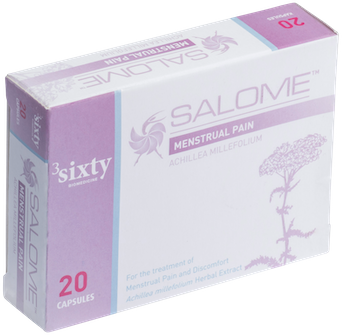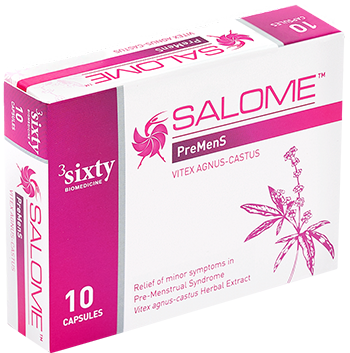 Connect with Salome on their social media platforms:
Facebook: Salome Range
Twitter: @SalomeRange
Instagram: SalomeRange