OneAid
Category

Advice Column, Baby, Health, Lifestyle, Motor safety, Parenting, Pregnancy & Baby
It's Child Passenger Safety Awareness Week and I have decided to talk a little about the car seat harness. The car seat harness holds a child down in the car seat so they cannot slide up, forward and out the car seat in the event of a crash.
There are two different types of harnesses; the 5-point and 3-point harness. What this really means is that the harness comes into contact with your child in 5 or 3 points. The 5-point harness has straps over both shouldres, both hips and one between the legs whereas the 3-point harness only has straps over the shoulders and one between the legs. Not only is a 5-point harness more secure but it also allows the forces from an accident to be distributed more evenly across the body.
Using the harness incorrectly is one of the most common mistakes parents make. In this short post I have outlined 3 really simple steps to take to correctly position your child in a car seat. Please remember to always check the manufacturer's instructions first before using your car seat.
Place your child all the way back in the car seat
Your child must sit snugly in the car seat with the bum and back firmly against the backrest.
Correctly position the shoulder straps
Rear-facing car seats: the shoulder straps should be at or just below shoulder level (+- 2.5 cm)
Forward-facing car seats: the shoulder straps should be at or just above the shoulder level (+- 2.5 cm)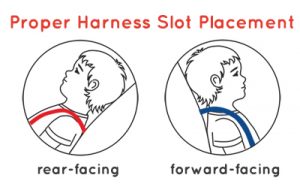 Tighten harness straps snugly
The straps should be tight enough so there is no excess webbing (check this using the pinch test).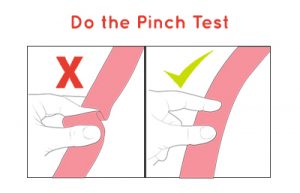 The harness should also not be too tight that it pinches your child's skin or forces them into an unnatural position.
HARNESS RETAINER CLIPS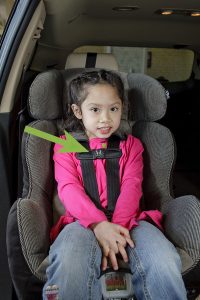 Car seats made in Europe, Australia and South Africa do not come with harness retainer clips. You will most likely only see these clips if you are in the United States or Canada. These clips are not for added safety and are not designed to keep your child in their car seat in the event of a crash. In fact they are more likely to open up from the impact and slide down the straps. These clips are positioning devices and used to keep the shoulder straps in position pre-crash.
South Africa adheres to European car seat safety standards so you will not find car seats in this country with retainer clips. European regulation requires all car seat harnesses to be released in one motion and therefore a chest clip is simply not allowed. European car seats use other methods to keep the harness in place.
There are many other gadgets and devices available to use together with your harness to provide added comfort or extra protection. These are generally not safe since most of them are not crash tested and therefore can cause serious harm in the event of a motor vehicle accident.
RESOURCES
https://cpsboard.org/cps/wp-content/uploads/2014/01/Technician-Guide_March2014_Module-8.pdf