Parenting Hub
Category

Advice Column, Parenting, Pregnancy, Pregnancy & Baby, Toddler, Toy Box
As parents we always want the best for our children and so we strive to do the right thing to ensure our children grow and develop into well rounded little humans. Experts say toys are one thing parents could use to improve brain development, but do we really know what kind toys to use for this purpose?
We continually hear specialists in early childhood development tell us what occurs during the first five years of life can have an enormous impact on not only how well the baby's brain develops but the overall development of your child. Talk about the pressure of parenting!
"Playing is a great way for parents and caregivers to build that vital bond with their baby, while sensory stimulations helps baby's brain grow." says Amanda Gummer, a research psychologist specialising in child development and spokesperson for the Genius of Play, a movement to raise awareness about the importance of play in kids' lives. By choosing the correct toys and activities that match your child's developmental stage, you can pay a big part in baby hitting key milestones and gaining skills.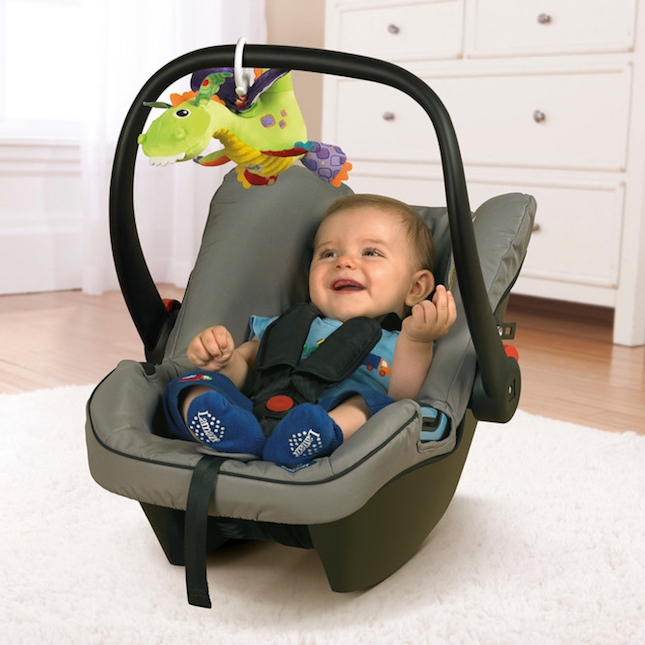 In the first month of life baby learns a vital movement – stretching. They have grown up in a curled-up fetal position and now need to stretch out and develop strength and dexterity. Try to position objects away from the centre (not just overhead), which encourages baby to turn her head and check out their outstretched hand. Suggested Toy: Lamaze Flip Flap Dragon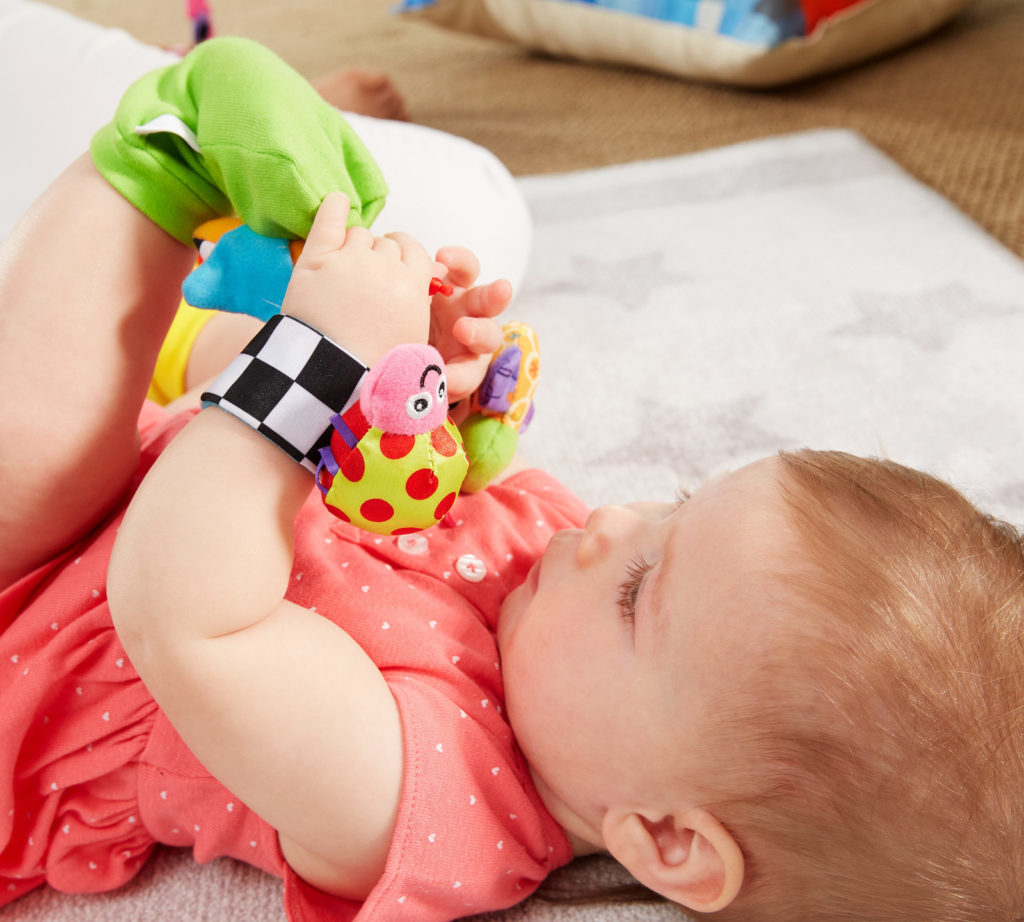 As baby grows so does their muscle tone. By two months you may also notice baby kicking a bunch while lying on his back, which helps strengthen the belly muscles needed to eventually roll over. Baby may begin to intentionally reach for and grasp toys but knowing how to let go of objects hasn't set in yet. Keep in mind that babies at this stage are relying on their senses (sight, hearing, touch and smell) to navigate around the new world around them, so offer up some healthy stimulation. – Suggested Toy: Lamaze Garden Bug Food Finders and wrist rattles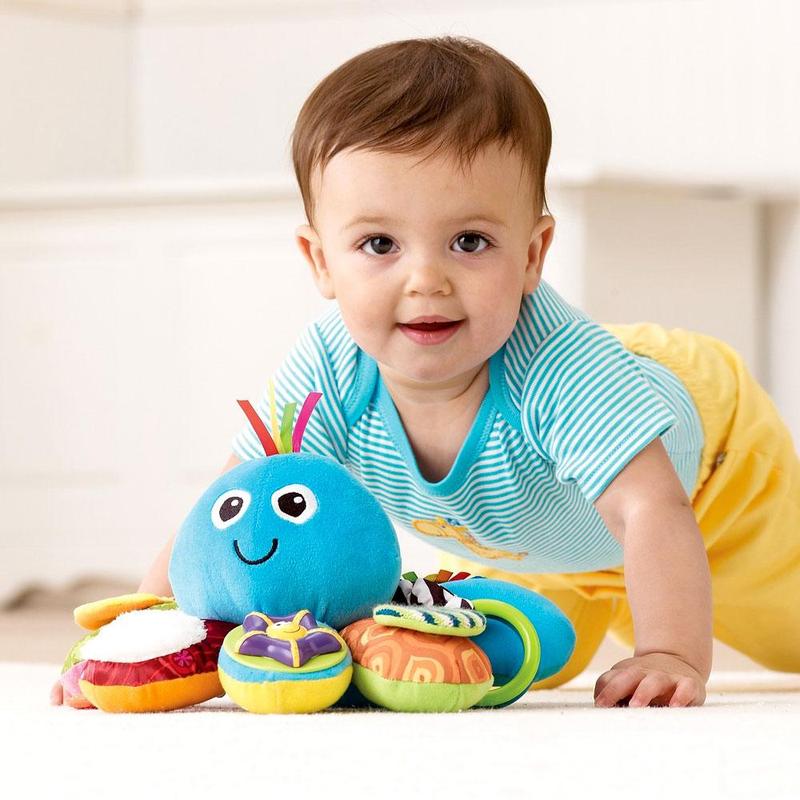 Between 3- and 4-months baby is busy coordinating their new senses (sight and touch) as well as developing motor skills needed in the future. With their eyesight getting stronger, baby becomes especially interested in faces and other circular designs. Suggested Toy: Lamaze Octivity Time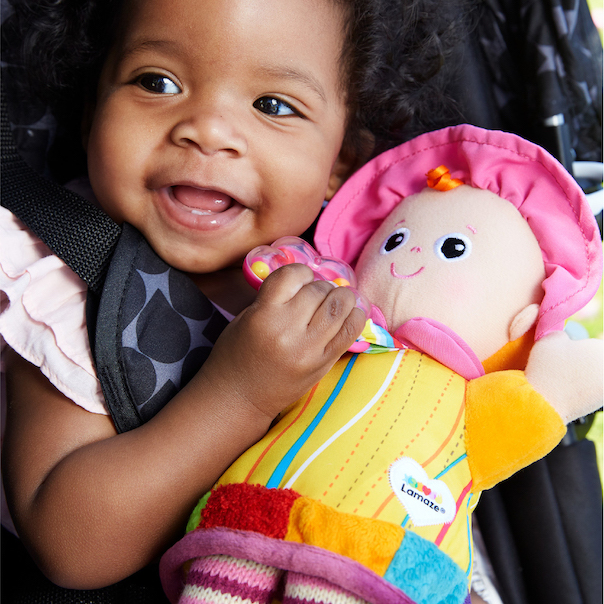 Your baby will start to learn cause and effect between the ages of 4 and 5 months, so they may start to shake noisy toys (think: rattles) and bring them to his mouth. This is also the start of social development and attachment to favourites develop. Toys help develop social skills like sharing and caring. Suggested Toy: Lamaze My Best Friend Emily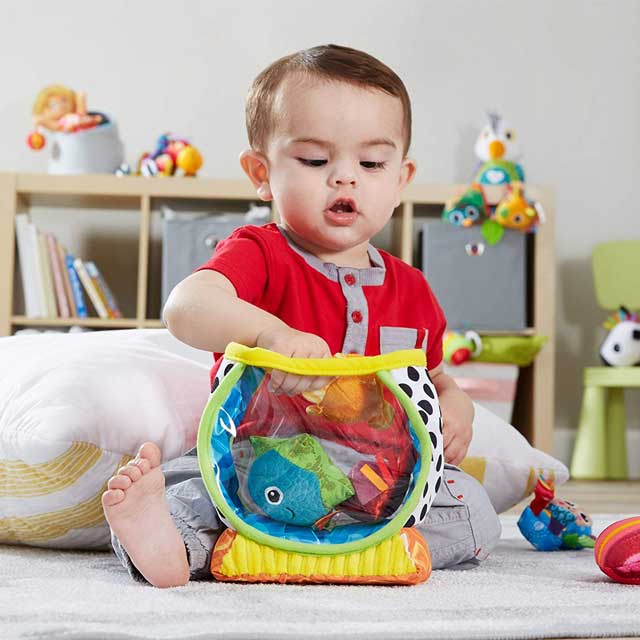 From 4 to 7 months baby starts to gain more muscle control and want to sit on their own. Encourage them to strengthen important trunk muscles by putting toys in front of them and encouraging them to reach for the toys. Once baby can sit without needing to put their hands in front of them, they will be free to use those hands to play with toys and, hopefully, entertain herself for short periods of time. (But remember, never leave baby unattended). Suggested Toy: Lamaze My First Fishbowl

Lamaze hopes that your baby has fun bonding with you by using and enjoying their toys.
About Lamaze Toys
Lamaze toys are designed to spark little triumphs at every stage of baby's development. Created in conjunction with child development experts, Lamaze toys inspire healthy play and learning. Lamaze toys encourage baby to grow and develop through features that promote together time between parent and baby and activities that encourage baby to explore and learn independently. The high quality, bright colors, friendly faces, crinkly fabrics and contrasting patterns of Lamaze toys have made them a favorite of parents, babies and experts for more than two decades.
"When we make Play the foundation of learning, we teach the Whole child." ~ Vince Gowmon