Sugar Bay
Category

Advice Column, Child, Parenting, Tween & Teen
The word "camp" may conjure up memories of slurry porridge and compulsory exercise, but fortunately there is one camp in South Africa that will have your kids remembering the complete opposite.
In addition to their delicious dining experience, Sugar Bay Kids Camp is also unique in the following seven ways:
1. Activities are not compulsory
Sugar Bay offers over 100 activities, none of which are compulsory. This means that your children are free to choose what they would enjoy every day. Sugar Bay has all the usual camp activities like ropes obstacle courses, paintball, arts & crafts, BMXing, and kayaking, but they also have activities that are not found at most camps like water slides and a 4-station bungee trampoline.
2. This camp has a beach!
One of the best perks about Sugar Bay is that it has private access to the lagoon and beach. If you live inland and your children seldom have the opportunity to see the ocean, they will love being at Sugar Bay. Free-choice of activities means that they could spend the whole day at the beach if they wanted to, learning how to surf, kayak, stand up paddle board or build sand sculptures.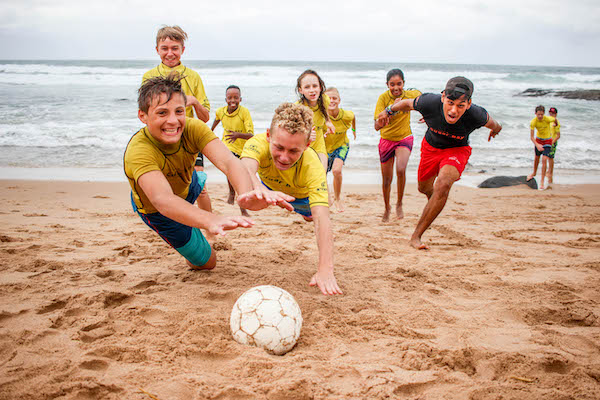 3. Each child receives individual attention
Although, Sugar Bay can accommodate up to 210 campers at a time, the company is committed to giving each child individual attention. To do this, the camp strictly upholds a 1:3 staff to child ratio to ensure that each child is properly supervised and their needs attended to.
4. Kids from all over the world attend
Your child will make friends from all over the world, because Sugar Bay is an international holiday camp. Children from France, England, America, Mozambique (and more) attend the holiday camps at Sugar Bay. The camp also caters for a broad age group (7 – 17 years old). When children turn 17, they can enrol in a Camper In Training course to become camp counselors.
5. Safety is their most important priority
If you are apprehensive about sending your children to camp, you can rest easy knowing that at Sugar Bay, they will be supervised 24/7. All supervising staff are trained in Emergency First Response and basic child psychology; and all water activities are supervised by qualified lifeguards. There is also an electric fence surrounding the property, CCTV cameras and patrolling night watchmen. The camp also has a zero tolerance policy towards bullying.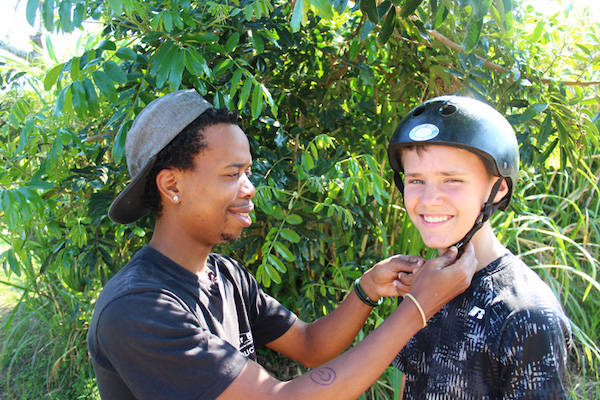 6. No cellphones allowed
Children may feel a little apprehensive about giving up their cellphones for a week. However, when they experience the benefits of reconnecting with the real world, they will gladly give up their phones again to spend another week at Sugar Bay. Unplugging from technology is especially important for children and has many benefits. It can improve communication skills, sleeping habits and general quality of life. You will still be able to contact your child by phoning the camp directly.
7. American-style
Sugar Bay is the only American-style children's camp in South Africa. If you have ever seen an American movie about a summer camp (typically in a woody area with kayaking and camp fires) Sugar Bay is a lot like that.  However, unlike American camps which only run during summer, Sugar Bay hosts 5, 6 and 7-day holiday camps during all the school holidays. They are also open throughout the year for school tours. The other difference is that, while pulling pranks on other children is common in American camps (think of "The Parent Trap"), at Sugar Bay, only the staff members (known as camp counselors) are allowed to be pranked. This contributes to the safe and inclusive ethos.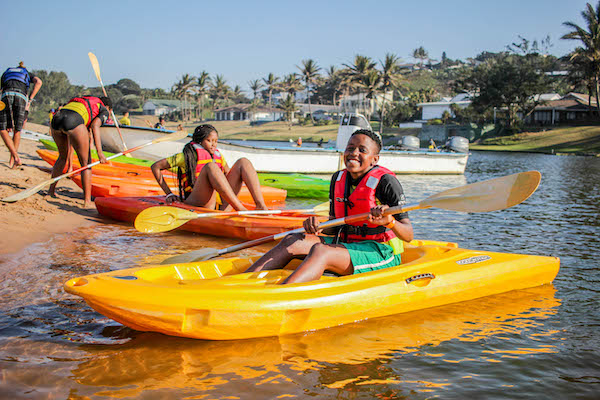 As a parent, you want the best for your children. Experts in child development agree that a camp experience can help children mature socially, emotionally and morally. In her article, "What's So Great about Summer Camp?", Dr Hartwell-Walker, licensed psychologist specialising in parent education, says that a "camp can open a whole new world of friendship, interests, skills and independence for your child." She goes on to say, "When a camp program is well-conceived and well-executed, your child will come home with an expanded sense of self and enhanced self-esteem."
Sugar Bay is one such camp. Plus, your kids will enjoy the camp food so much that you'll be phoning for their recipes.
For more information or to book a camp, please call Sugar Bay on 032 485 3778. Alternatively you can send an email to holidays@sugarbay.co.za or check out their website. The camp is located in Zinkwazi Beach, KwaZulu Natal – but they do offer transport from Sandton and King Shaka International Airport.