Parenting Hub
Category

Advice Column, Baby, Early Learning, Pregnancy & Baby, Toddler, Toy Box
Many babies learn how to crawl at the same time they learn to sit on their own. Crawling, however, takes longer to perfect than does sitting without assistance. At six months, expect your baby to sit for a second, but balance will come later; also, you will probably notice your baby get into a crawling position, but not know how to proceed after that. Even though 'crawling' usually means progress on hands and knees, many babies use other moves to get them where they're going. Rolling, slithering, 'bottom shuffling' (when a baby pushes around while sitting, using one hand to make the propelling motion), and pulling along on elbows are all manoeuvre used instead of the conventional crawling, so don't be surprised if you see those first. Still other babies learn to crawl in the ordinary way, and then figure out that they can move faster on their hands and feet than their hands and knees.
If something is out of reach of a six-month-old baby, you may see that baby pull up the knees under the body, push up with hands and often manage to get the tummy off the floor. For that moment, the baby is in a crawling position, but needs encouragement to actually add forward motion to the mix. By the ninth month, early crawlers start to make some real progress – though it's often backwards, away from the object they're trying to reach! Upper-body control is more developed than leg-control, so a baby tends to push harder with hands and arms than with knees – propelling the baby backwards. Not to worry (and try to reassure your frustrated baby, too!), this is just a short-lived phase.
The biggest advantage baby has when it comes to solving problems is with the development of large and small muscles over the course of the first year, helping various tasks become easier. The two-block stack that will seem too complicated for your little architect one month will become an easy three-block stack just a few weeks later.
When baby starts to focus on lower muscles (around 10-12 months), you might want to put favourite toys on the couch, encouraging your child to stand in order to reach them. This helps build balance and strong leg muscles necessary for cruising, a forerunner to walking. Once a baby solves the problem of how to stand and balance, and how to move one foot in front of the other, watch that glowing smile of accomplishment – your baby is now beginning to walk. Who'd ever thought it would happen so fast? Once you've reached this stage, you know your baby really 'did it' – and your family will never be the same. Talk about an accomplishment you can be proud of!
Our parenting advice is given as suggestions only. We recommend you also consult your healthcare provider, and urge you to contact them immediately if your question is urgent or about a medical condition.
A perfect product to help a child develop like this would be the Fisher-Price® 4-in-1 Ultimate Learning Bot available at retailers nation wide.
The Fisher-Price® 4-in-1 Ultimate Learning Bot is a transforming playtime buddy for baby featuring 4 ways to play and lots of fun music, lights and hands-on activities. Each bot has its own fun for little ones to discover, from spinning eyes to silly popping balls to exciting crawl-and-chase play.
Baby can play and explore each bot individually or build them up into one big interactive buddy with fresh music, sounds and phrases! And with Smart Stages® technology, you can switch up the learning content to best fit your child's age and stage.
4 toys in 1 to keep playtime going as baby grows from infant to toddler to preschooler (ages 6 months-5 years)
Each individual toy is filled with fun activities for babies to explore. Put them all together to build an interactive electronic robot buddy!
3 Smart Stages® learning levels with 120+ songs, sounds and phrases about numbers and counting, the alphabet, shapes, colors and more
Press any button on the motorized bot to send it zooming forward with music & lights, encouraging baby to crawl and chase
Lots of hands-on activities for sitting babies, including press-down antenna, twist & flip gears, ball-popper, and spinning & clicking arms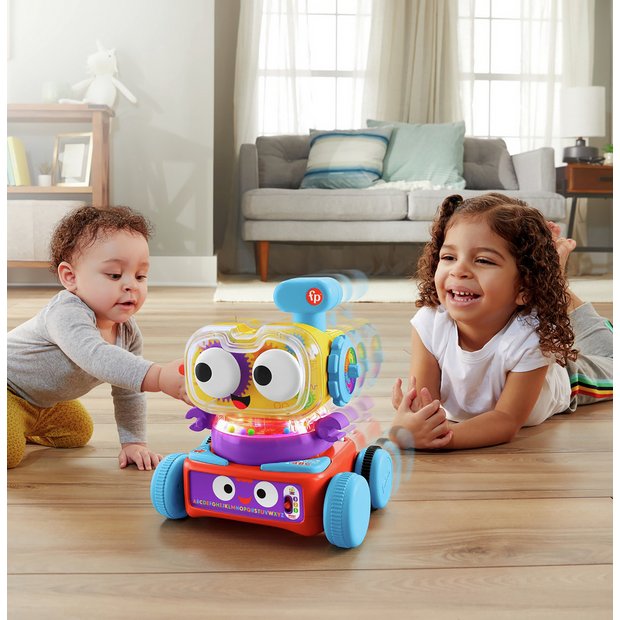 By Dr. Bettye M. Caldwell Ph.D. Professor of Pediatrics in Child Development and Education.