Parenting Hub
Category

Advice Column, Nintendo, Parenting, Tech
If you are anything like me, you like when a product works seamlessly from one device to another. And while this may be a small feature, it really can make life a little easier.
Imagine a life where you can ask your child to immediately disconnect their console from the TV because your favourite show is starting and there are no ooohhhsss or ahhhhh's because he can continue playing? This is what makes the Nintendo Switch an easy Switch to make.
One of the core features of the Nintendo Switch is being able to continue playing no matter what!
Your child will be able to switch from the TV and then comfortably to the hand-held console, even to splitting the console up and playing with a friend. Yup that's right… the Joy-Con (controller) can be split so that friends can play too. By turning your Joy-Con into two units, either party is able to play with either side or with motion control games, one is able to use the Joy-Con much like a Wii remote.
However, if you want to purchase another Joy-Con you certainly can. We found a large variety are available in the Nintendo Online Store which makes the experience even more personal.
So how many ways can you play?
The Nintendo Switch is a "hybrid" console that can be used at home on a TV, and also as a portable console.
#1 TV Mode
Your gaming experience can start on your television when connected via an HDMI cable. The unique configuration allows the Nintendo Switch to adopt a number of different forms. From either splitting the controller up into two separate Joy-Cons for multi-player games or keep it connected to the grip and play alone.
#2 Tabletop Mode
With the Nintendo Switch built-in LCD screen one is able to either play hand held or you can detach the Joy-Con Controllers, open the stand at the back of the screen and place it on a flat surface. Perfect for when you do not have a television available.
#3 Handheld Mode
Easily reattach the Joy-Cons to the unit and play hand held and when you are done simply place the Nintendo Switch in the docking unit to charge…. It has never been easier.
The Joy-Con controllers snap to the sides of the tablet making the device a hand-held unit.
Accessories and Games?
With accessories galore from themed Joy-Cons, cases, HORIPAD and Racing Wheels, you can make your gaming experience everything you ever hoped it would be.
With the Nintendo e-Shop, one is able to purchase multiplayer games as well as Free-to-start Games. With all your favourites available in their online store, you could be bouncing around with Super Mario or taking on a Pokemon in no time!
Online Membership starts at R52 per month and there is a family membership available for up to 8 members at R459 for 12 months. This ensures that all your gaming data is safely stored to the cloud so that all those achievements unlocked are never lost.
The Nintendo Switch can be connected online for a greater Nintendo Experience or download the Mobile App. The Nintendo Switch Online App is designed to enhance your online gaming experience on the Nintendo Switch. You can view your stats, or chat to friends while racing through the streets in your game. The App is available in both the Google Play and Apple App Stores.
Cool Features:
The unit is easy to transport and with a longer life battery of between 3 and 4 hours, your child will be entertained during load shedding or even a long car trip.
Can't find your Joy-Con? No problem, activate the search for controller feature and you will locate them in no time.
The Nintendo Switch is a touch screen.
Adjust the menu to dark mode… easier on the eyes for sure!
See how long a player has played for.
We all had so much fun playing Super Paper Mario, thank you Nintendo for helping us make the switch! This unit is certainly one of the more affordable gaming consoles at a retail price of R7999. You can purchase online at the Nintendo Online Store or at participating retailers.
Included in the box: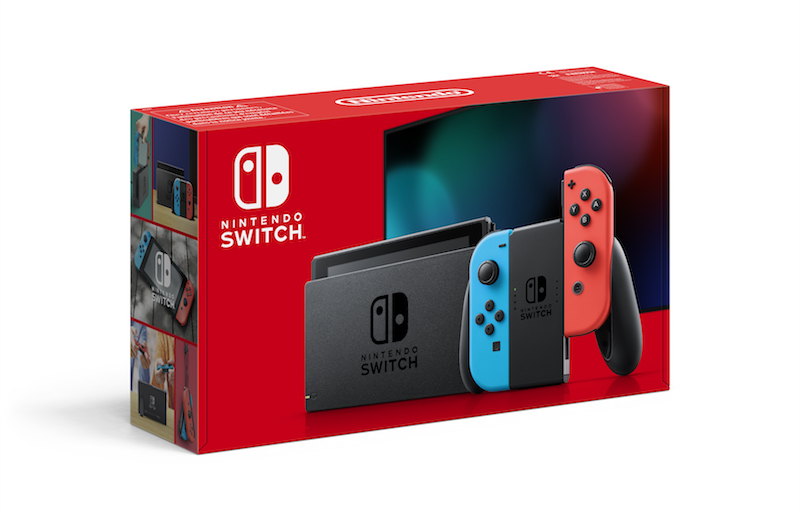 2x Joy-Cons (left and right) with built-in rechargeable battery 
Nintendo Switch console 
Nintendo Switch AC adapter 
Nintendo Switch dock
A Joy-Con grip 
Joy-Con strap 
High speed HDMI cable 
Hand held remote
Paper Mario- The Origami king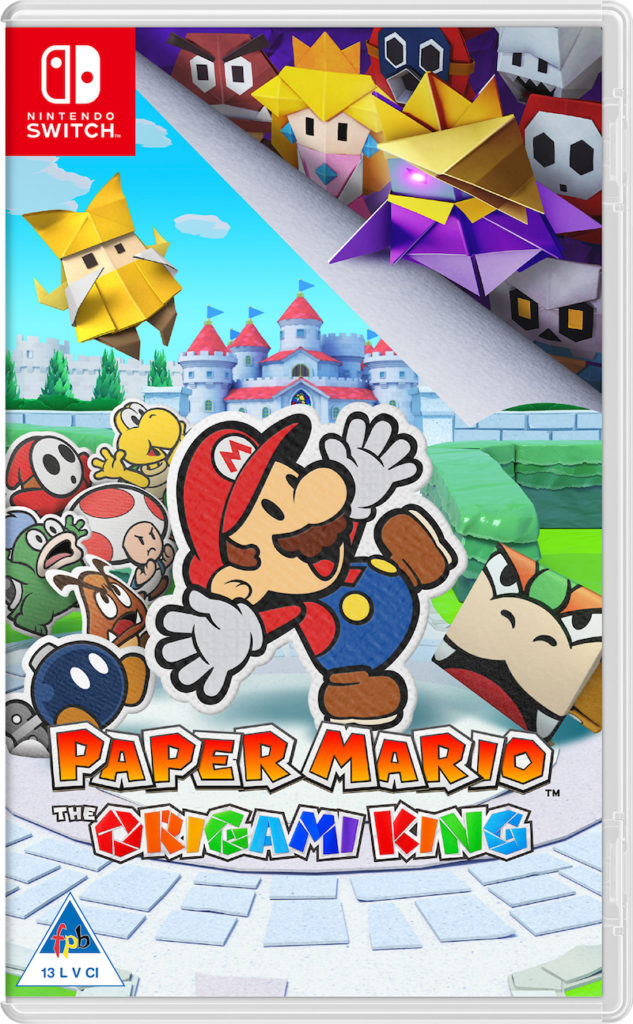 Nintendo's Paper Mario – The Origami King – is a fun game for individuals aged seven and above. The game centres around Mario and his new friend Olivia. They are tasked with stopping Olivia's brother, Olly, who is the Origami King. Olly has folded Princess Peach and many other characters into origami shapes. The only exception is the toads, which Mario and Olivia save throughout the game. The main objective of Mario and Olivia is to remove various coloured streamers that enclose Princess Peach's Castle and which will lead them to Olly.
Each streamer level provides a fun new task for the player to go through. As they go through each level, they are able to unlock Vellumentals, which are a group of god-like creatures found in their own Vellumental Shrines and Temples. To gain the ability to use Vellumentals, players need to defeat each of them throughout the game on each different streamer level.
A Bibliofold will eventually be revealed to the player. This contains instructions for Olivia on origami folding. This will allow Olivia to Transform into a Vellumental through the corresponding magic circle. The magic circle will allow Mario to also use the elemental powers during a Boss battle and even waive battles where the enemy has a magic circle above its head.
As well as collecting toads through the game, Mario and Olivia also collect confetti. They are tasked with repairing the broken world by using the confetti that they collect throughout the game. Once each streamer level is complete the confetti intake of the bag will increase. The increase in the amount of confetti collected is helpful as there are larger holes in that game that will require more confetti than others to repair.
Not only do Mario and Olivia rescue toads and fix broken pieces from their world, they also make friends along the way, such as Bob-omb or as Olivia calls him Bobby, Professor Toad and many more. These characters help Mario and Olivia through their journey and can even help in battles by reducing the enemy's life, which can help defeat enemies faster.
Throughout the game the player can purchase accessories and more, that can be used in battles (such as heart plus, guard plus and time plus which provides extra life, time and protection during battles). Players also receive alerts (for toads, hidden blocks or treasure) or miscellaneous accessories, that help make exploring the game more enjoyable. These accessories can give discounts on weapons and items, accessories that change what the confetti looks like and more!
Paper Mario -The Origami King – is an insanely fun game to play and definitely recommend to anyone that's likes adventure.
Dr Kawashima's Brain Training for Nintendo Switch 
A fun game to play with friends or by yourself! The game has two sections. The first is quick play which involves getting your fingers moving and to challenge your friends or family. This section has six games (three for challenging and three for moving your fingers). These games are really fun and I enjoyed playing with my sister in this section.
The second section is daily training which has many brain training activities like sudoku, calculations, reading out loud and many more. It also has post-training relaxing games like Germ Buster! These brain training games have been really fun to do and you are able to see improvements everyday.
In this training section you get to stamp on a calendar as you completed it each section. This game is really fun and perfect for anyone to either play just for fun or to improve on memory, calculating, reading out loud, multitasking and many more.