Parenting Hub
Category

Advice Column, Health, Lifestyle, Parenting
KURO-Bō's message is simple. It is now 100% easy and 100% convenient to create the best-tasting water using 100% natural filters that are kind to the environment and sustainably produced. It's a promise!
Since launching in 2017, KURO-Bō has rapidly (r)evolutionised water filtering systems in South Africa.  Through their innovative use of Japanese-inspired activated charcoal (or "Binchotan"), KURO-Bō has changed the way South Africans can access purified and mineralised water, at home and on-the-go, and with zero single-use plastic. 
After introducing their first Gō-Ecō 1L Bottle in January 2018, KURO-Bō has extended their planet-changing range even further to make their eco-filtering technology appealing to even more active people on the gō. Those seeking a more compact bottle and volume, will welcome the new 550 ml size Gō-Ecō bottle with a sustainable bamboo lid, and a removable neoprene sleeve that doubles up as a sports-grip and insulation, keeping your KURO-Bō naturally purified water cool.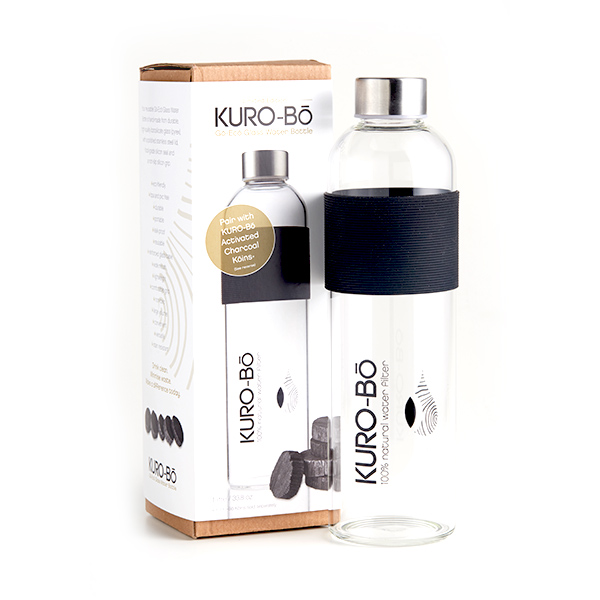 Refill the Gō-Ecō bottle with tap water using the clever detoxing KURO-Bō Activated Charcoal Kōins, which have been specially designed to fit into the bottles, purifying, mineralising and pH-balancing your water while you're active and on the move.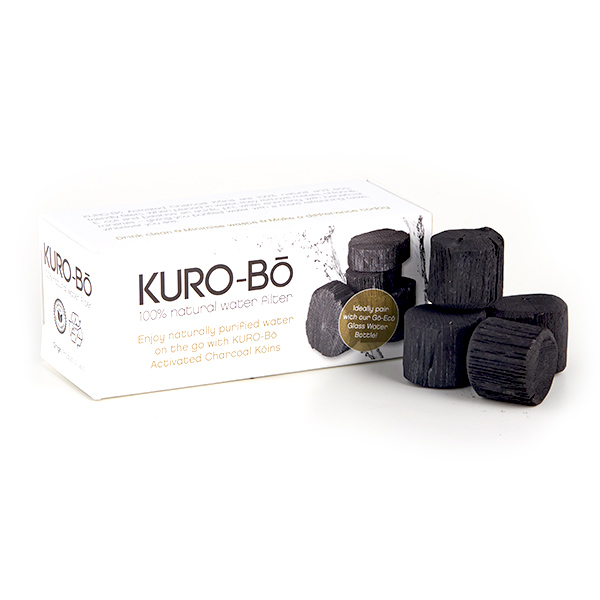 KURO-Bō hasn't stopped there. Frustrated by the lack of 100% plastic-free, long-lasting and effective bottle cleaners on the market, their new KURO-Bō Gō-Ecō Natural Cleaning Brush fills a real gap.  The bristles are made of natural sisal, and the practical long handle is sustainable bamboo.  It's eco-friendly functional beauty in action!  
KURO-Bō blends elegance and style with practical functionality when it comes to naturally filtering water, but of equal importance is the message inherent in their whole range. 
Their new symbolic image speaks to the importance of placing care of land, water and our health – in other words, the whole of Nature – at the forefront of our awareness in whatever we do in the world.  And that certainly includes how we filter our water. 
KURO-Bō natural water filters are fully recyclable, zero-waste and plastic-free.  That's a message they hope their Gō-Ecō bottles will carry far and wide.
KURO-Bō Gō-Ecō bottles retail from R260 for the 1 litre, from R220 for the 550 ml. The bottle brush retails from R100 and a box of Koins from R180.   
KURO-Bō products are available in good independent health shops country-wide, in all Wellness Warehouse stores, selected Spar, Dis-Chem and @Home stores, and online at Faithful-to-Nature and Takealot, as well as directly from KURO-Bō.
Please note that the 550ml bottles are available from 1st Feb and brushes are available from 1st Mar in stores
(We do however, have the 550ml bottle available now, directly from our online store)