Parenting Hub
Category

Advice Column, Recently
The average person – that's you and me – spends approximately two cumulative years throughout our lifetime cleaning our house. Two years of cleaning and household chores calculates to more than 17 500 hours exposed to detergents, chemicals and harsh solvents inside your home.
Conventional cleaning products impact human beings, with links to health concerns such as asthma, cancer, reproductive disorders, hormone disruption, accidental poisoning in children and rising numbers in neurotoxicity, not to mention the toll these cleaners take on the health of our environment.
In the wake of the pandemic, as we approach a new year, we are witnessing a rise in consumer passion in addressing environmental challenges, together with a renewed commitment to changing our own behaviours to advance global sustainability.
Green alternatives to household cleaning products have been scant on the retail shelves until now, but true to Nature, Earthsap is a brand which has been healing our plant at grassroots level for more than twenty years, refining their wide range of household cleaning products which contain ingredients such as coconut, palm oil, citrus and botanicals scented with pure essential oils.
Today, with more than 25 target-specific cleaning products for maintaining hygiene in your home safely and naturally, you have an opportunity to choose responsibility when you purchase cleaning products that contain no irritants that could potentially cause allergies or skin irritants. The good news is that everyone within your home can be safely exposed to Earthsap cleaning products including pets, children and the environment.
Earthsap provides eco-friendly, biodegradable, anti-fungal and vegan alternatives to keeping your home spotless and your loved ones healthy, from the kitchen to the bathroom, floor to countertop, without you having to come into contact, inhale or store harsh and poisonous solvents in the kitchen of bathroom cupboard. Child friendly, kind to your skin and safe for your septic tank, Earthsap's range of targeted cleaning products are the reason there should be no other alternatives to cleaning our homes if we really want a greener world.
Let's take a look at just three of Earthsap's super stars; those specific cleaners we use most often over wide areas within our home.
Earthsap's All-purpose Cream Scrub (R54.99) has anti-bacterial and anti-fungal properties and degreases and removes stains without scratching surfaces. It eliminates mould and mildew making it suitable for cleaning countertops, sinks, tiles, metal and other work surfaces. If you prefer a liquid to a cream scrub Earthsap's Kitchen Cleaner (R69.99) is a twin alternative. It comes in a spray bottle and effectively dissolves grease and grime which builds up on stoves, microwaves, kitchen counters and sinks.
Earthsap's Dishwashing Liquid (59.99) also has anti-bacterial and anti-fungal properties as well as a strong formulation that lasts to ensure your dishes are sparkling clean without impacting the environment or your health. It is also kind on your hands and suitable for mild to sensitive skin thanks to the natural ingredients.
For those sticky messes on the floor try Earthsap's Floor & Tile cleaner (R74.99) uses soap and citrus oils to loosen the dirt as well as microbials, which release organisms that break down dirt, fats and odours.
Earthsap's Citrus Bathroom Cleaner (R69.99) will leave your bathroom not only looking fresh but smelling fresh too. It cleans and disinfects all bathroom surfaces, removing stains and dirt without scratching or yellowing surfaces, as well as eliminates mildew using only pure, safe and natural ingredients.
With just four of Earthsap's heavy lifters in your cleaning arsenal, you can make a big difference to your health and the future of the environment. With a cleaning solution for every part of your home, Earthsap has more great advice and natural cleaning remedies for you to try when you view the range at www.earthsap.co.za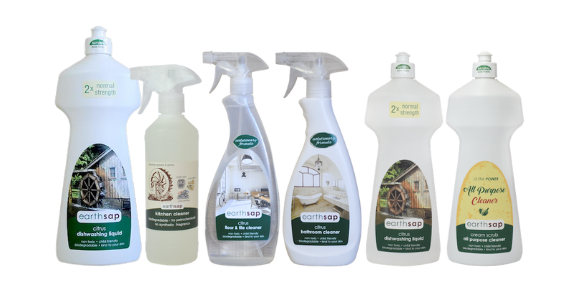 Earthsap products can be purchased at Wellness Warehouse health shops nationwide, www.faithful-to-nature.co.za and selected Spars and Pick 'n Pays.