Lamelle Research Laboratories
Category

Advice Column, beauty, Lamelle, Lifestyle, Recently
If you've got dry, sensitive skin, you'll know that the winter months can be tough. Aside from becoming even drier, your complexion can end up looking dull and ashy. Fortunately, with a cutting-edge hydrator and a super star anti-ager, specially formulated for sensitive skin, there's nothing stopping you from enjoying plump, radiant-looking skin, regardless of the season.
First things first
To beat the winter "blahs", your first step is to bump up your skin's hydration levels. Many make the mistake of assuming they should swap out their lighter-textured moisturisers for those with a heavier, thicker formulation. However, instead of getting something gloopier, rather choose smarter – opting for the world's most sophisticated hydrator, Lamelle Correctives HA+ Serum.
Our groundbreaking serum contains several different types of hyaluronic acid (HA) to help hydrate your skin on multiple levels – from the surface all the way down to the deeper layers. One of these HA types is something we call HAFi fragments, hydrating micro particles that also stimulate your skin to make even more of your own natural HA while boosting your skin's ability to rejuvenate and regulate inflammation. You can use this serum on its own or add it to your daily moisturiser to enjoy deeply moisturised, plumper-looking skin. Bye bye fine lines, hello lush hydration!
Get your glow back!
Right! That's moisture sorted – how are we going to beat the winter "blahs" and get your glow back? When you have dry, sensitive skin, creating an anti-aging skincare routine can be tricky. Many of the golden standard anti-aging actives such as retinol, can irritate sensitive skin. The same can be true for vitamin C, one of the best collagen-encouraging ingredients on the block. (It stimulates your skin's fibroblasts – essentially your skin's "collagen factories", to produce fresh, new collagen – the protein that gives your skin it's youthful-looking firmness.)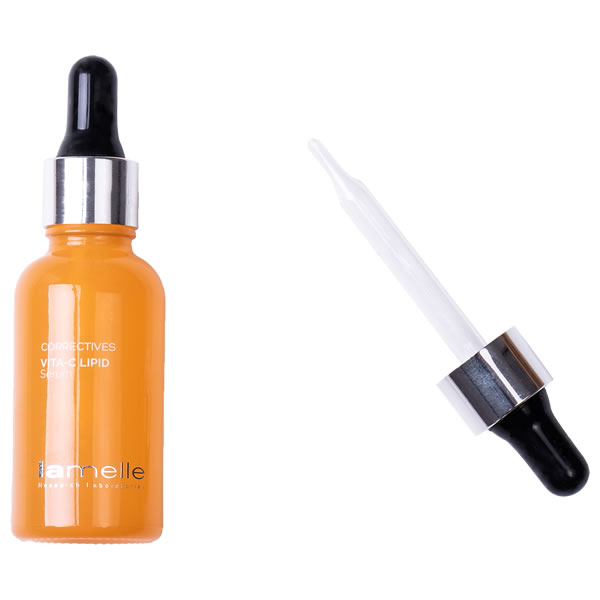 However, just because you have sensitive skin doesn't mean you have to feel left out. Again, it just comes down to choosing smarter and a great pick is Lamelle Vita-C Lipid Serum.
A high potency vitamin C serum, our lovely lightweight, oil-based elixir is suitable for all skin types including the sensitive sort as it contains a form of vitamin C that's well tolerated by dry or sensitive skin. Better yet, because it's lipid-soluble, it can penetrate much deeper into your dermis where it can get to work, delivering results that are comparable to ascorbic acid, one of the most potent forms of vitamin C. In short, you get all the benefits, but without stinging, redness or irritation! 
A bit more about vitamin C
As we said, vitamin C is one of the most hard-working skincare ingredients around. Sure, it's an excellent collagen stimulator, but that's hardly all it can do! It's also a powerful antioxidant that can protect your skin from the scourge of cell damaging free radicals.
Last, but not least, there's another reason why you really want to include vitamin C in your anti-ageing skincare routine – it's a wonderful brightener! As it helps regulate your skin's tyrosinase production (a chemical involved in melanin production), it can put the brakes on hyperpigmentation and help you create a more evenly-toned, radiant-looking complexion.
Ready to glow?  
Ultimately, if you've got dry, sensitive skin, there's no reason why you can't hydrate, plump, protect, rejuvenate and even create a more luminous-looking complexion. When you choose and use cutting-edge skincare, Lamelle Research Laboratories believes everyone can look and feel their very best, regardless of the season.
To find a stockist near you – visit: www.lamelle.co.za , and follow us @lamellersa