Parenting Hub
Category

Advice Column, Education, Mainstream Education, Parenting, Tween & Teen
History helps one understand the world by examining the struggles, failures and successes of our predecessors. Through this we learn how to examine ourselves and improve the world we live in. Studying History, equips us with all the qualities we require in a modern society: understanding, compassion & tolerance.
The table below highlights the main topics covered in Grades 10, 11 and 12.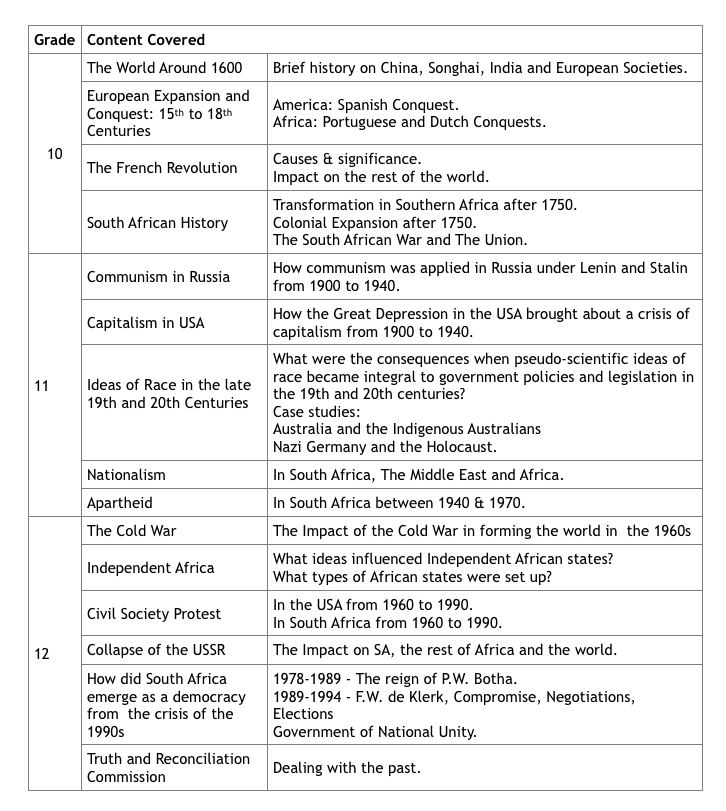 Studying History prepares one for various different career opportunities. The more obvious ones being: educators, professors, scholars, historical consultants, researchers, writers. History students also make very good journalists, archivists, librarians, lawyers, advocates, judges, archaeologists, philosophers and politicians.
Most people overlook the value of a history major in preparing an intelligent person for a career in business. Historians track historic trends, an important skill for those developing products to market or engaged in corporate or financial planning. They also learn how to write persuasively, and this training gives an edge in advertising, communications, media, and marketing.
Industries depend on an intimate knowledge of government policies and historical trends thus history majors have found their skills useful in extractive industries and in public utilities.