Prima Baby
Category

Advice Column, Baby, Pregnancy & Baby, Toddler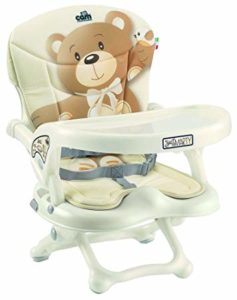 Let baby join in all the fun with the CAM Smarty Table Chair.  A vibrantly coloured stand-alone chair that allows your child to be part of any meal time occasion – indoors or outdoors.
CAM baby furniture from Italy is one of the leading manufacturers of high quality baby products and with the Smarty Table Chair they have provided a well-priced item that allows moms the confidence to include baby in outdoor social outings in a quick, hassle free manner.
The Smarty Chair is one of the most popular chairs for eating out, particularly at a picnic or barbecue.  Adjustable to 4 heights, the chair has adjustable harnesses and a wide, removable tray for easy cleaning.  With the anatomical seat in soft, removable fabric and bright colours, this beautifully deigned chair is yet another item from CAM that parents won't feel the need to hide away when guests come over.  
The non-slip stoppers allow the chair to sit comfortably on any surface.  
The Smarty Char is also amazingly compact and can be easily popped into its carry bag.
A growing baby necessity, the Smarty Chair is now available in South Africa at Hamleys stores, selected Kids Emporium stores, www.takealot.com, www.loot.co.za, www.thebabyzone.co.za & www.purplepepperz.com