Prima Baby
Category

Advice Column, Baby, Pregnancy & Baby, Toddler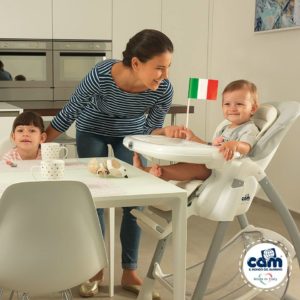 Let your little one join in at meal times with the Campion High Chair from CAM.
The CAM company from Italy is one of the finest producers of baby furniture in the world, and being forerunners in the industry they have not only the best quality products, but also mastered the art of the aesthetic.  
Famous for unconventional and always gorgeous enough to not have to store away after meals, the Campion High Chair is one of the products that is now being distributed in South Africa through various retailers.  With 6 adjustable heights, a reclining backrest in 4 positions, 3 trays and storage compartments, the Campion is comfort, convenience and functionality all rolled into one easily folded unit.
The character-based designs include owl or bear and are designed in easy-on-the-eye colour palettes, making it neutral enough to match most homes.
The Campion High Chair is now available at Hamleys stores, selected Kids Emporium stores, Me Mom & Dad in Greenstone, www.takealot.com, www.loot.co.za, www.thebabyzone.co.za and www.purplepepperz.com