Parenting Hub
Category

Advice Column, Child, Parenting, Toddler
Kids love birthdays. Not only because it usually signals spoils and presents but they adorably cannot wait to get older. With each year comes more opportunity and freedom. Unlike adults they often 'round up' their age, proudly saying 'I'm nearly 5', when they are still quite a few sleeps away from the actual day.
For adults, these birthdays can be a little more daunting, especially parents who try hard to make their child's birthday a special and memorable event. It's the stress of deciding who to invite, what food to serve, the party games, a theme and cake, decorations … not to mention budget.
A starting point for any party planning is deciding on a date and then setting a budget. Remember, that there are plenty of fun and inexpensive ways to make a party entertaining. Once you know your budget you can decide on a venue, the number of children you can invite, set a theme, design invitations and sort out entertainment. Catering can be tricky, especially with allergies and dietary requirements, so it's best to make sure the guests let you know if they have food preferences.
If you have a child's birthday approaching and are finding even the prospect of this 'to do' list too overwhelming, perhaps you should consider using a venue that offers a comprehensive party service. There are loads of child-friendly venues that host kiddies parties.
One of the newest on the block in Cape Town's Southern Suburbs is Playstation by Rush – an indoor adventure park for children aged 2 to 13. Playstation has a dedicated event organiser and also allocates a party host to make sure things run smoothly and the kids have the best time.
Why not opt for the simple, no-fuss but full of fun birthday party at a suitable venue …without feeling guilty?
Fuss-free fun
Playstation has two private party rooms that can accommodate from 5 (minimum) to 20. It's about more than just good food, cake and fun. It's about family and friends sharing special moments without having the worry of organising the party! It's simply a case of showing up and enjoying the occasion.
There are three party plan options, either catered or self-catered. This includes two hours of play, party packs for the little guests and a gift for the guest of honour. The team sort out everything from the setup to the fun and catering. And of course they clean up afterward. No mess, no fuss, for you!
Entertainment galore
And to keep the kiddies busy there is loads of action and something for everyone. The adventure maze is a world of challenging levels, swing bridges and lots of nooks and crannies. There's a 4m climbing wall and a 40m bike track – you can bring your child's own bike or borrow one from the park so they can race around and try to beat the clock. For younger children there's the little kids' city and mini-slides. But one of the highlights, which even adults enjoy, are the super 6m long slides, definitely for the brave hearted!
A thumbs up
Recently the playpark received a high five from a mom who hosted a party and posted her FB review: 'What a wonderful 5th party at Playstation by Rush. The kids had a ball. They took care of everything from start to finish. Hassle free and you return to a clean house.'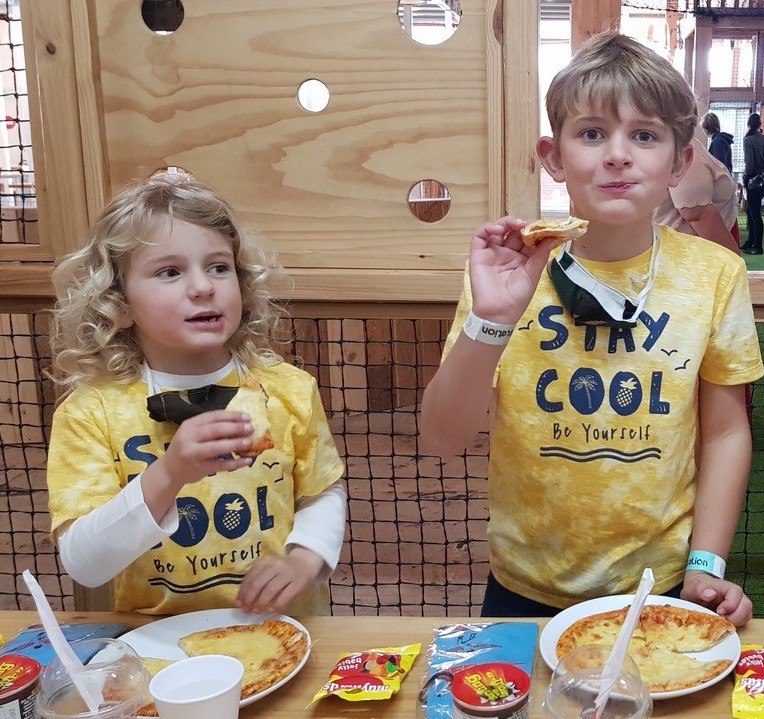 General Manager, Damon Walmsley, who is a father of 3-year old twins says that the party offering is designed to allow parents time to enjoy their children's parties. 'My kids are only just three but I know how stressed my wife and I were hosting their first two parties. We were so busy keeping an eye on everyone, making sure the kids were having fun, that there was enough food, we hardly got to share in the experience.
'But their 3rd birthday was held at Playstation and what a difference. We were able to enjoy the time with our kids and their friends. Parents of the friends didn't 'drop and go' but stayed to enjoy some good food in the restaurant while their kids enjoyed the party.'
So, end those sleepless nights about party planning … as a parent you too can tap into your inner child and count down the sleeps knowing everything is under control!
For more information on the party plan options available from Playstation go to www.playstation.rushsa.co.za