Vital Baby
Category

Advice Column, Baby, Parenting, Pregnancy & Baby
Should my baby use a soother? When should I introduce a soother if I choose to use one? What if it causes confusion? Who do I speak to if my baby becomes too reliant on a soother?
All of these are common questions that every parent thinks about and there are many benefits to introducing a soother to your baby such as distracting and soothing a fussy and uncomfortable baby, assisting with lulling a baby to sleep, easing pain and discomfort during a flight and it may reduce the risk of SIDS. A soother may even lead to a shorter hospital stay for a preterm baby.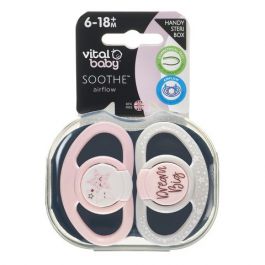 The vital baby® SOOTHE™ Airflow Soothers (R119.99) have been developed with the care of you and your baby in mind. The range helps soothe your baby when they – and you – need it most.
Vital Baby symmetrical soother teats make the soother easy for baby to hold in their mouth. 100% soft silicone is taste and odour-free and comfortable for baby.
The wide-open Airflow shield helps to protect delicate cheeks against skin irritation.
The simple safety ring folds neatly and inconspicuously against the soother and comes with a microwave steriliser box for easy sterilising and storing. The soothers are also dishwasher safe.
Available in 0 – 6m and 6m – 18m sizes and available in two different shades.