Parenting Hub
Category

Advice Column, beauty
Bright and lively with Pure Pink Grapefruit
Creightons cruelty-free Pink Grapefruit range is aimed at cleansing and purifying your skin, acting as a natural alternative for clearing away blemishes and achieving a brighter skin at the start of each day. Creightons Pink Grapefruit Daily Face Scrub (RSP R 69.95) offers active ingredients to gently exfoliate, helping to unclog pores, remove dirt and excess oil that builds up leaving your skin feeling clean and cared for with a noticeably brighter complexion. Grapefruit is an energetic skincare ingredient, containing anti-oxidants that add radiance to your skin and reduces any redness, swelling or inflammation.
Boosted Beauty with Refreshing H2O
Containing Hyaluronic acid, a highly demanded skincare ingredient, the Creightons H2O Boost range gives a complete hydrating skincare routine that moisturises and freshens the skin. Hyaluronic acid is a naturally occurring molecule that binds to water, trapping it in the skin and keeping your face fully hydrated. This allows for the skin to achieve that full, plump and glowing appeal. The H2O Boost Hydrating serum (RSP R179.95) combats moisture loss, especially when out and about during the hotter summer months. Containing the key ingredient of Hyaluronic Acid as well as Marine Algae, this hydrating serum is excellent for toning and revitalising your skin.
Sun Safe Vitamin C Superfruits
This superfruit ingredient is becoming increasingly more popular in the skincare industry, boasting a large variety of benefits for happier and healthier skin. Creightons Skin Radiance Moisturiser (RSP R89.95) is a moisturising, lightweight lotion to soothe and care for blemish-prone skin without clogging pores or being too heavy on your pores. When you use a purely plant-based product on your skin, you will experience how Vitamin C not only brightens your skin, but also protects against UV damage, and helps prevent signs of ageing by assisting in the skin's regeneration process. Vitamin C also inhibits melanin production, meaning it reduces pigmentation and evens out your skin tone. Enriched with many superfruits that contain Vitamin C, including orange, pineapple and papaya, the Skin Radiance Moisturiser leaves your skin refreshed, renewed and soft to the touch. Creightons Vitamin C 2% Bright Eye Serum (RSP R115.95) contains the same beneficial ingredients and works to reduce dark circles under the eyes, getting rid of that tired look that our busy lifestyles can so often cause.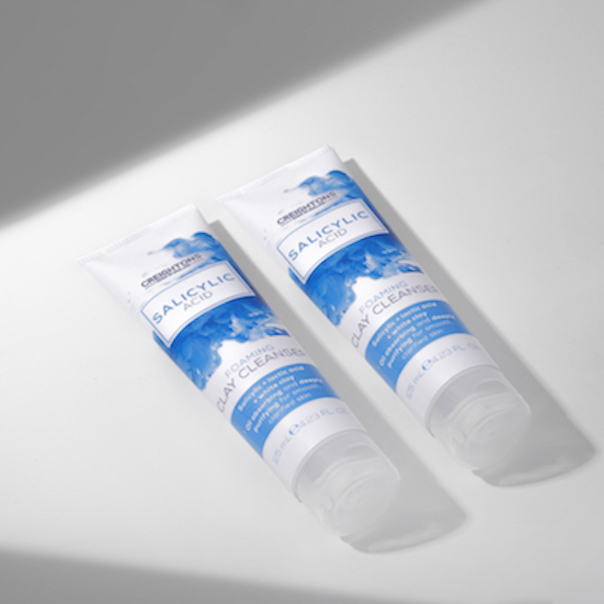 Soothing Salicylic Acid for Complexion
This trending ingredient is proven to fight blemishes appearing on the skin, especially from friction caused by material against the skin, something we experience everyday now due to mask wearing protocols and the pandemic. Salicylic Acid is beneficial in penetrating your skin and acts as an exfoliator, clearing any dirt or oil from the pores. Creightons Salicylic Acid Range is dermatologically tested to soothe problematic skin, promoting clearer skin tone every day. The all natural, cruelty-free Salicylic Foaming Cleanser (RSP R75.95) works to absorb excess oil and clear skin irritations, with its combined ingredients of Kaolin Clay with great anti-bacterial properties, and Lactic Acids which reduce the appearance of pores. Their Exfoliating Tonic also works to maintain clearer skin with Niacinamide acting to improve uneven skin tone and texture and leave your complexion brighter, clearer and more radiant than ever before.
When looking for eco-friendly beauty this summer, consider choosing to be a cruelty-free shopper with an alternative beauty brand that is verified to offer you the double benefit of spreading kindness to animals and at the same time avoid the harsh chemicals found in other beauty products. Creightons products are never tested on animals during production.
Creightons is available at Dis-Chem stores.