Impaq
Category

Advice Column, Child, Education, Home Education, Parenting, Tween & Teen
So, you want to know what a typical day is like for a homeschooling family? That's one of the best things about home education (also known as homeschooling) – there are no typical days! When educating your children at home, a "typical day" is as unique as each of the families choosing this education option.
While homeschooling has become increasingly popular over the past few years, many parents feel intimidated by how to go about it. The good news is that you don't have to do it alone – the resources and support exist to make home education possible for your family.
In addition, whether you're a seasoned homeschooler or you're just starting out, seeing what works for other families is always a great way to draw inspiration for planning the schedule for your homeschooling family.
Meet a multi-grade homeschooling family
Mariëtte Kroukamp, whose daughters are in Grade 1 and Grade 3, respectively, relies on Impaq, a curriculum provider, to help her educate her girls. For her, home education is everything but the lazy or easy way out of following a traditional school routine.

A homeschooling family needs routine
"While home education offers flexibility, routine is very important to us," explains Mariëtte. "When you decide to teach your children at home, finding your household's rhythm and setting your routine accordingly is a good place to start."
The Kroukamps follow a four-day week – they do "serious school" for four days and use the fifth for outings, revision and getting creative. "We try to incorporate as much creativity as we can and enjoy doing arts and crafts. The girls also enjoy science experiments and, of course, going on outings with friends."
As part of their routine, the start of the school day and the end of break is announced by a "bell". However, Mariëtte prefers playing fun music that gets the girls moving rather than ringing a traditional school bell.
Their day runs from 9:00 until 14:00, with a break at 11:00. On a typical day they cover Mathematics (worksheets and repetitive verbal work such as tables, counting etc.), Languages (worksheets and quizzes), and reading which, Mariëtte says, they leave for last as a way of unwinding. "We also often do our work outside and enjoy playing and laughing in between."
Home education can meet each child's needs
Teaching kids in different grades can be a challenge. However, with this homeschooling family, Mariëtte has adapted quickly and has found ways to work around tricky multi-grade situations. In addition, she relies on Impaq's products, services and support systems to help her successfully educate her daughters.
"We do most subjects together, at each child's level. However, if I want to tackle a specific topic in more detail, I keep one child busy or let her rest while I work through the specific topic with the other," says Mariëtte. "That is actually one of the greatest benefits of home education. If my children struggle to grasp a specific topic, we can take as much time as they need to understand. Being taught at home means they can learn more effectively and at their own pace."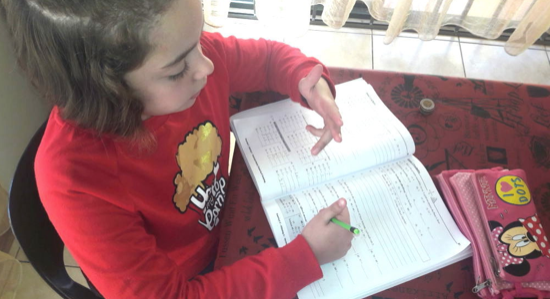 Homeschooling families: The good and the bad
"I am new to homeschooling, but I've had plenty of ups and downs," says Mariëtte. "Teaching your children at home takes careful planning, creativity and endurance. To be honest, some days can be hard. But we all have those days." Her advice? "When you are having a bad day, just take it easy and try again the next day."
Mariëtte says she is proud of her homeschooling family and pleased to be using Impaq. "Impaq's lesson material is based on the CAPS curriculum, which means that we are on par with school levels. The material is of a good standard and easy to use, and I believe that we are making great progress."