Squish
Category

Advice Column, Recently, Recipes, Squish, Toddler
Toddlers can be strong-willed, especially when it comes to sitting down and eating, which can turn mealtimes into a battle of wills. These tips will help make things a little calmer.
1. Understand your limits
To minimise mealtime stress, it is important to have a clear understanding of who is responsible for deciding what – and some things, unfortunately, are beyond your control! As the parent of a toddler, you get to decide what food is prepared, when it is served, and where it is served. Your child gets to decide whether they will eat it and how much they will eat, and no amount of fighting and arguing is going to change that. There are, however, some things you can do to encourage them along the way…
2. Watch how you react
The methods you use to encourage a reluctant toddler to eat their food plays an important role in their mealtime behaviour. If your child decides they don't want to eat, do not tickle them, make them laugh, sing or dance to get them to take a bite. If you do this, it might stop them from eating next time, so that they get a little 'entertainment' from you. Save your praise for when they do eat – that's when you can do a happy dance!
3. Stick to their favourites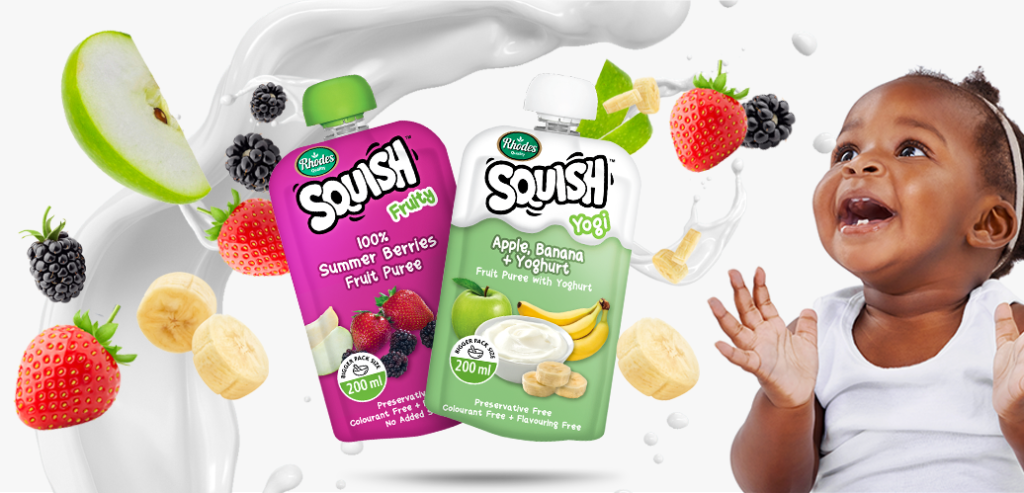 If your toddler is going through a tricky eating phase, hold off on introducing new foods. Instead, save your energy – and minimise waste – by rather serving some of their tried and tested favourites. Our Squish 100% Fruit and Veg Purees come in a variety of naturally delicious flavours, including Apple + Guava, Pear + Prune, Mango + Banana, Butternut + Carrot and Sweet Potato, Apple + Cinnamon. And our Squish Yogi range contains a mix of fruit, veg and double cream yoghurt. All Squish pouches have a convenient resealable lid, so you can just use what you need and save the rest for tomorrow.
4. Step back and see the big picture
As parents it is our natural instinct to want our child to enjoy a nutritious, balanced diet, so it is natural that we feel concerned – and frustrated – when they don't. Force yourself to stop and look at the big picture. Does it really matter if your child skips one meal? If your child is really hungry, they will eat the food that is offered to them. If your child won't eat breakfast or lunch, make sure you have healthy snacks on hand to offer them later if they decide they are hungry. You'll find a whole host of naturally delicious snack ideas under the Quick + Easy Recipe tab on the Squish website, all containing Squish 100% Fruit and Veg Puree as a key ingredient. Try these Mini Banana Muffins or Chocolate Popsicles, which are packed full of fruit and yoghurt. Squish 100% Fruit and Veg Purees contain no added colourants, flavouring, and preservatives, and have no added starch or cane sugar. They're made using quality fresh fruit and veg, which means they're as good as homemade, but without you having to lift a finger!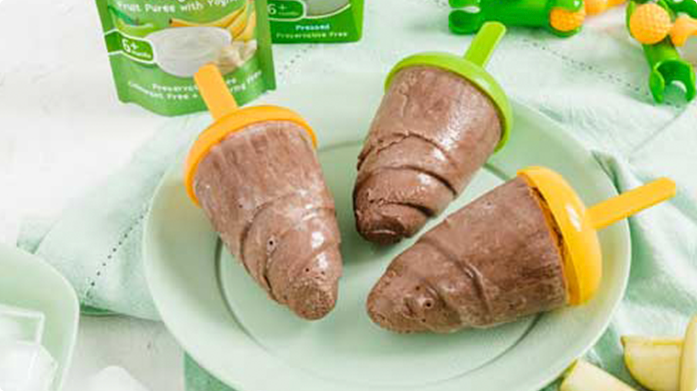 5. Ask for their help
By getting your little one involved in mealtime prep they might feel more invested in the meal and be keen to taste their culinary creations. Prepare this Cream Cheese Dip and Crudites recipe and get them to mix the dip together, or help them cut cute shapes from their toast with a cookie cutter for this Cheesy Mixed Vegetable Egg Scramble. Even if your child still shuns the meal they helped you prepare, be sure to give plenty of praise for being such awesome kitchen helpers.