Win with Happy Family Organics
THIS COMPETITION IS NOW CLOSED
Happy Family Organics Hamper
valued at R1000!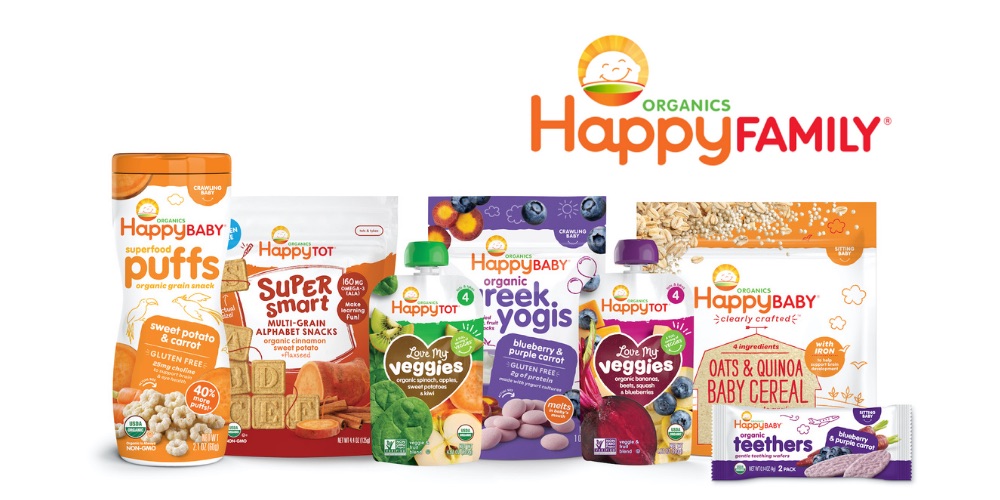 We launched on Mother's Day 2006 as Happy Baby, with the mission to change the trajectory of children's health through nutrition. We've grown into Happy Family since then, but our mission remains the same. We're proud to be changing the way we feed our children through a wide and comprehensive assortment of organic meals and snacks that everyone can enjoy!
When our Founder and Chairmom Shazi Visram saw her friend, a new mom of twins, struggle to find healthy food options for her baby, she found her purpose: give babies their healthiest, happiest beginning by offering parents organic, thoughtfully-made food. She didn't just envision a business—she saw a social imperative to address the health issues linked to childhood nutrition.
This prize will consist of a multitude of products:
Clearly Crafted Jars: Introduce your baby to solid foods by the spoonful with Happy Baby Clearly Crafted™ Jars. Every delicious fruit & veggie is listed on the jar. This is goodness you can see. 
Nutty Blends Pouches: We blended familiar fruits with 1g peanut or tree nut protein to provide a smooth, easy to swallow puree to help you feed baby new nutty tastes! We created Happy Baby® Nutty Blends™  so you can conveniently introduce baby to peanuts and tree nuts, one at a time, and continue to include them in baby's regular diet.
Teether Crackers: Our easily-dissolving crackers are perfect for your crawling baby. Made with ancient grains and organic fruits and veggies, this tasty snack is easy on the gums and encourages self-feeding. Our Teether Crackers are a tasty organic baby snack. Gentle on baby's developing gums during the next phase of teething, and made with ancient grains, they support self-feeding and dissolve easily, leaving no mess!
Super Smart Pouches: Nourish your growing tot with this tasty blend of organic mangos, bananas, and spinach. To help support brain health, each pouch contains 20mg of DHA and 100mg of choline making this pouch perfect for wholesome, on-the-go eating!
As South Africa is on lockdown, delays are expected in prize delivery.
Competition Closes: 30 April 2021