Child's Farm
Category

Advice Column, Baby, Pregnancy & Baby, Toddler
Eczema can be incredibly uncomfortable for children and it's upsetting for parents to see their child suffering with itching, cracked and bleeding skin. Parents may feel they have to stop their children playing and swimming outside because of high pollen counts and chlorine or even avoid having a bubble bath with their siblings for fear of irritation. It's clear to see why so many parents are left feeling pretty desperate, but eczema doesn't have to limit children any longer!
Here are some Do's and Don'ts to deal with eczema in children and ensure they don't miss out on important childhood experiences:
Do:
Allow your child to participate in fun activities. Just be sure to plan a good treatment afterwards. For example, you can take your child swimming, but ensure they have a good shower afterwards to get rid of the chlorine that might aggravate the skin.
Dress your child in soft clothing. Cotton clothing will allow the skin to 'breathe', rather than polyester or wool which can irritate the skin.
Ensure your child drinks plenty of water. This will add extra moisture to the skin and help alleviate dry skin irritations.
Help your child remain stress-free. Stress is known to worse eczema, so if your child is anxious or stressed, try help them find ways to deal with these feelings, such as exercise or deep breathing.
Moisturise the affected areas. It's important to moisturize often, the best time being after a bath or shower.
Don't:
Run hot baths or showers. Hot water will actually dries the skin out more and opens the pores, allowing irritants from the air to get in.
Use scented products. These kinds of creams or moisturizers contain chemicals that may cause a flare up.
Dress your child in too much clothing. This will cause them to sweat, which triggers irritation and itching.
Keep in mind:
No child should feel ostracized due to their condition. Dealing with eczema does take a lot of planning, but establishing a good routine will mean your child won't have to miss out on daily, fun activities.
Suitable for Sensitive and Eczema prone skin:
Childs Farm products are clinically proven to be suitable for sensitive and eczema prone skin and is paediatrician and dermatologist approved, so you can use it on the most delicate of skin with confidence.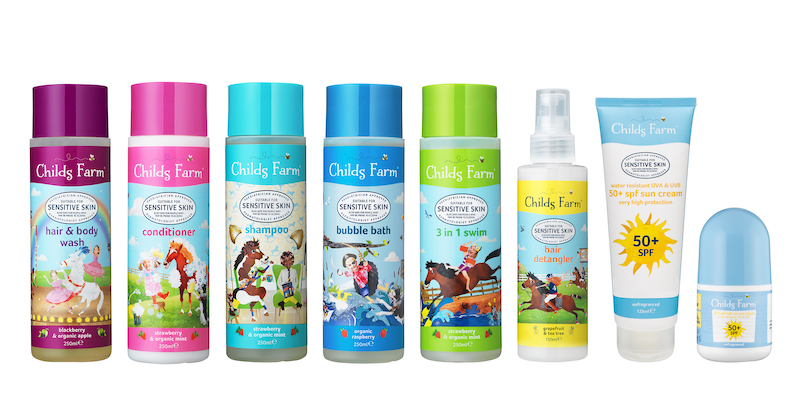 Childs Farm products are available at Baby City stores nationwide, selected Clicks, Pick 'n Pay and Babies R Us stores, selected Checkers stores in Gauteng as well as takealot.com and www.babiesafrica.com.