Parenting Hub
Category

Advice Column, Parenting, Toy Box
Not long ago, and somewhere close by, a glowing mist filled with Transformers power called ENERGON came down from the sky and covered a shopping mall. The objects inside were brought to life as little Transformers robots. These bots can hide in plain sight as everyday objects, meaning no one knows what a bot is and what's not!
Mischievous, funny, and super silly, say hello to new Transformers BotBots!
Hidden BotBots characters are little mystery figures with big personalities! 2-in-1 Collectable BotBots charactersare around 2-cm tall and have two fun modes converting from totally normal items you'd find in a shopping mall – like a backpack, football or a doughnut – to adventurous little robots.
BotBots convert between modes in three to five simple steps and have movable parts to imagine fun stories and adventures. Each bot belongs to a themed team based on the type of store they belong in. Meet the Backpack Bunch, Sugar Shocks, Techie Team, Jock Squad, Greaser Gang, Shed Heads, Toilet Troop, and Lost Bots.
Enjoy an exciting unboxing surprise with the BotBots mystery blind bag – pop them out to see what's inside. BotBots are also available in a five-pack assortment.
Look for all the BotBots Series 1 assortments (each sold separately, subject to availability) and start building your BotBots collection! There are over 190 BotBots to collect in 2019 – these sharable, swappable, tradable BotBots are great fun for everyone.
Find hidden BotBots at Checkers, Toy Adventures, Toy Kingdom, Toys R Us, Toy Zone and Takealot.com
@TransformersSouthAfrica #FindTheBots
Meet the Transformers BotBots:
Greaser Gang is a team of greased up and chilled out rulers of the food court who put the fast in fast food. Series one Greaser Gang characters include Shredder Jack, Duderoni, S'up dawg, Spud Muffin, Angry Cheese, Hawt Diggity, Fottle Barts, and Twerple Burple
Jock Squad is crew of super sporty bots who love to win and are always ready to gear up and get their game faces on. Series one Jock Squad characters include Laceface, Batsby, Kidd Klobber, Pucksie, Fitness Monster, and Arctic Guzzlerush.
Techie Team is a cutting-edge crew of got-to-have-it phones, gadgets, electronics, and gamer gear. Series one Techie Team characters include: Screen Fiend, Chilla Gorilla, Skillz Punk, S.A. Cheez, Raddhax, Fomo, Goob Toob, and Dr. Moggly
Toilet Troop is a clean-up platoon of bathroom defenders who take care of business by cleaning the bathroom and beyond. Series one Toilet Troop characters include: Sergeant Scrubadub, King Toots, Sudsbeard, Nobeeoh, Stinkosaurus Rex, Poo Sham, and Frohawk.
Sugar Shocks are a squad of sweet treats who share their own unique sugar rush and kick things into overdrive. Series one Sugar Shocks characters include Sippy Slurps, The Plop Father, Waddlepop, Lolly Licks, Remorsel, Sprinkleberry D'uhnut, Unilla Icequeencone, Cocoa Crazy, and Nrjeez.
Also discover the Backpack Bunch, Shed Heads and Lost Bots with even more exciting characters to find. Download the BotBots series one collectors guide and start collecting!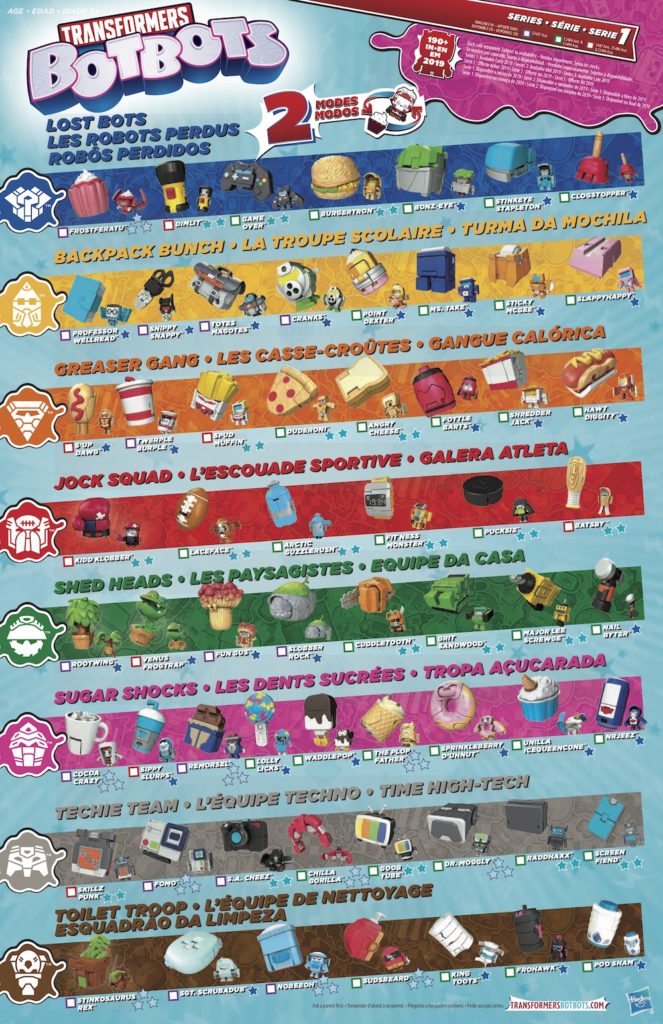 Transformers and all related characters are trademarks of Hasbro.